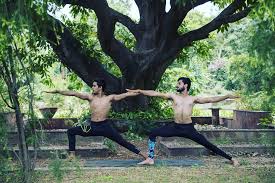 You may be practicing yoga for a long time, but there are always some poses which are difficult to perform. If you are unable to perform a pose it doesn't mean that you have to push your body beyond the limits nor does it mean that you should forget about it. It can be interpreted as that your body needs external assistance. If you practice yoga at home and you think that only a yoga instructor can be of help; it is certainly not true. A yoga centre in Delhi can guide you on how to use a yoga equipment for better self-practice at home.
The following article is addressed to yoga equipment which can be used to improve yoga asana practice.
•Right clothing needed to start yoga
Yoga pants: The basic difference between a yoga pant and a legging is that yoga pants allow your body to stretch till a comfortable extent. It absorbs the sweat to its best without making you feel uncomfortable.

A yoga tank top: A yoga tank top allows muscles of your upper body to expand and relax appropriately. Try to choose clothing material that absorbs most of your sweat.
•For the beginners:
Yoga mat: While buying a yoga mat, make sure it is comfortable, sticky so it doesn't let you slip when you are sweaty and matches your body's dimensions.

Yoga bag: It is important that your yoga mat doesn't lose its shape; you need a yoga bag to carry your yoga mat around.

Water tumbler: You must keep yourself hydrated during the yoga sessions. Hence, a tumbler comes handy for water or lemonade.

Towel: Though yoga may look peaceful it is an intense workout, especially if you have chosen hot yoga. A handy towel will help you clean your sweat.

Yoga strap: This equipment will help you in a number of stretching exercises. You may also use this equipment to challenge your body for an upgrade.

Yoga blocks: These blocks help you attain a pose that you may feel difficult to perform. They are also useful for those who are unable to perform a specific pose because of some injury. Using the block provides better ease and comfort
•For Bikram yoga or hot yoga:
Whether you are practicing Bikram yoga or hot yoga at some yoga centre or at home; it is obvious that you will sweat a lot. Hence, getting the correct equipment is a necessity which includes
Yoga shorts instead of yoga pants

A water flask (With a capacity of at least a litre)

An extra yoga towel

Yoga socks and gloves (While choosing yoga socks and gloves you must take into account that they have anti-slipping soles)
•For aerial yoga:
If you are practicing aerial yoga at a yoga centre in Delhi then you will only need basic equipments such as clothing, towel and water flask. If you have plans of having an aerial yoga studio then, you may need
A yoga's hammock

Aerial hoops

Aerial double point i.e. a long fabric same as the hammock

Hardware and accessories for installing aerial hammock and double point to the ceiling
The equipment required for the most popular styles of yoga are mentioned above. If you follow any other style of yoga, it is recommended that you must check the equipment required for the same. Since you are interested in learning yoga, you must learn every aspect of it; be it different styles of yoga, the equipments, etc.
It may surprise you but the equipments mentioned above are also used during yoga certification courses across the world be it yoga teacher training in Gurgaon, Rishikesh, Nepal.