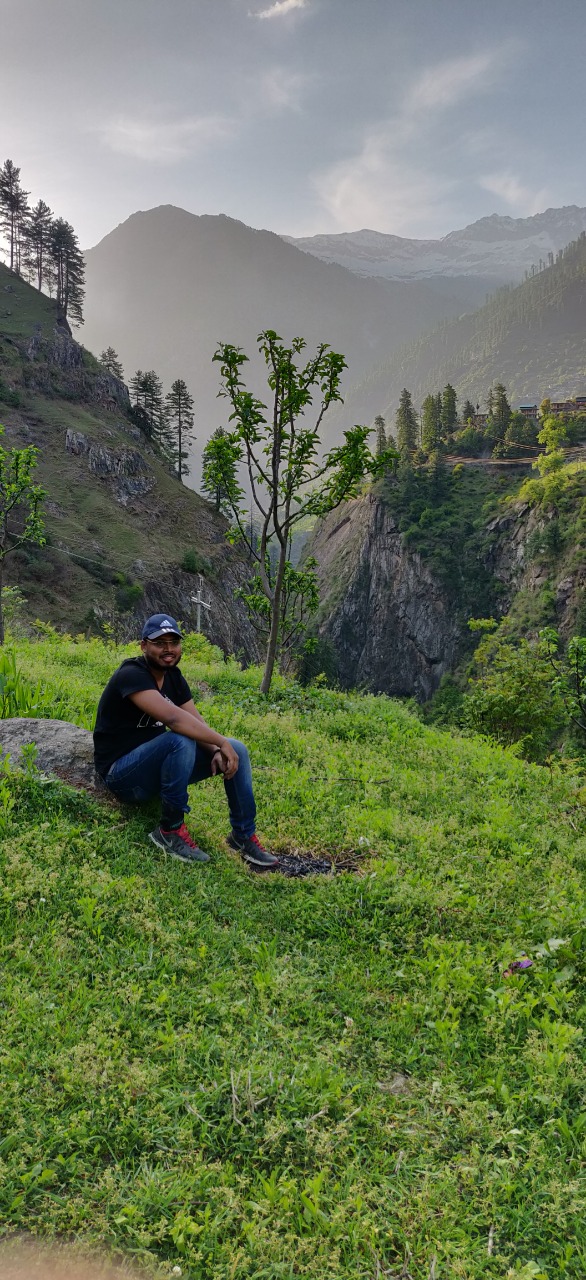 In the middle of the day, I was standing puzzled in the place known as Kasol. I had no idea how this place would be and what I would do alone there. The foreigners definitely were visible in the majority. Hebrew (Israel official language) was used in many restaurants along with English and Hindi.

I usually don't eat before the bus travel, so I was hungry and decided to Visit holy Manikaran first (3 km uphill from Kasol). Manikaran has mesmerizing beauty. A grand Gurudwara besides the God Shiva temple on the bank of violent Parvati river. This place is also blessed with a hot spring. In this hot spring, delicious food of the Gurudwara is cooked. The gateway to Gurudwara led to a bridge to cross Parvati River and the hot spot for profile pictures.

Right inside the Gurudwara, there is a pond of hot water from spring in which freezing water of Parvati is brought through a pipe and mixed. It is believed that if you take a bath in this pond all your skin disease will vanish. In the vicinity where water is mixed, the water temperature varies from hot to cold. So you can enjoy lukewarm water. I took the bathe and then I headed up to Langar food. This has been my first ever Gurudwara visit. I would skip the traditional beauty of Gurudwara. I had delicious food there. Most people miss they also serve sweet (Halwa) in form of Prasad upstairs. Never miss that. You can book your room in Gurudwara if you want to stay there. It's free. Free food and free stay make many foreigners crazy. Next, I visited the temple. Clicked some pictures.

Here was a thing that no-one told me before. Manikaran is beautiful, but you can hardly spend 3-4 hours only not the entire stay. So I chose to go Kasol again.
There are buses every 10 minutes, but I chose to hitchhike. Those two guys were high on weed like most people there. They asked me to take a puff.
I said I don't drink and smoke.
They said that there is nothing here for you then. They told me from here on, every place is Kasol, where you want to go?
I was confused, this situation was never written on any blog. They dropped me at the market.
I walked through the market, there was nothing new in that place. There were just ordinary hill station shops and few hotels. I felt cheated by the place and decided to go back.

At the bus station while I was waiting for the bus. Some locals suggested me to go to Tosh or to Kheerganga trek. Since I had a healing leg and a luggage, so I was avoiding the difficult long trek. Then this guy appeared, he told me that he has a cafe on the top of Sheela village. It's an easy trek, and he showed me some pictures too.

It was a risky choice this guy could be anything. But going back was not the best option either, so I said yes.

The bus stopped near a small shop named Naina cafe. It was 4 pm already. As long as the Sun is visible mountains are mesmerizing, beautiful but once it sets they become scary. I wanted to make sure before it happened, I should be in a room. Just beside this cafe, the trek started it lasted around 1 hour going through some easy and rough terrain. Entire time the sound of Parvati River was just adding magic to the journey.

I don't even remember when it was the last time when I witnessed the pattern of leaves.
Or I danced to the music of water or screamed my heart out, or I was only physically exhausted. Facing the fear of death every moment, I only felt what it meant to be alive. It was the first time when I saw something beautiful and did not capture it because I knew no camera can capture what I was feeling while trekking. That's how beautiful little Sheela village trek was.

It would be unfair to travellers if I try explain what I felt in words. It was in the true sense, the first night I ever spent in nature. Itwas magical from the Sunrise to the Sunset. It turned out that I was the first customer for that new homestay and their place was in construction. I chipped in my bit. There were a few guys who have left their jobs from metro cities and intended to live forever in this place. Obviously, they all were shouting 'Bum Bhole'. Later that turned out to be a problem that they all were so high when they slept, it was hard to wake them up. I and one more guy had to check out, but there was no one to receive payment. We called on their phone too. Even we left a message that we would pay online in whatever means they would say when they will wake up. Later, around after an hour when we were walking through the long route just to spend more time on this, they came to us and misbehaved.

That 5 km walk from that place to last bus stop point, is the best part of my entire journey. Most people who go even further up during camping generally take a taxi to come back. That walk around the Sheela Village is beyond words, I came across places where adventure was the only mean to go ahead. It was scary in between when we realized we two guys were all alone walking through that place and it started to rain too but luckily it stopped.
Walking through that unusual route I realized how beautiful life could be, how much we can do in a day. In our usual life we don't even realize its value. Every day, every place is beautiful as long as you are not stuck there.