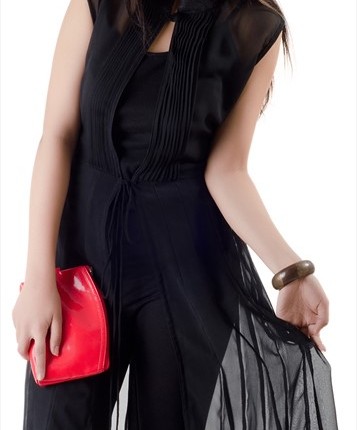 "Don't trust labels – trust logic." ― Isabella Poretsis
Check the logic in the following statements
Statements
400 million of the Indian population lives in cities.
The urban female to male ratio is 929 women per 1000 men.
Only 20% of Indian urban women work outside their homes.
Conclusion
The approximate number of the female urban workforce is 74.3 million.
Statements
The female CEOs of banks in India have reached where they are, draped in the ubiquitous Indian saree.
Fitted western wear does not look good on all body shapes.
Closed shoes and hosiery are not meant for tropical climate conditions.
At times, western wear looks incongruent with Indian hairstyles ( buns and braids), make-up ( bindi or sindoor) and jewellery ( mangalsutra or chooda).
Certain corporates have programs designed to prepare women for positions in Boards, and to get back the sabbatical population to work.
Conclusion
Indian women will choose how they wish to showcase their personalities in the office.
The talents and competencies that they bring to the office are well-appreciated.
The logic in the latter is not so direct. There are unlisted assumptions involved.
The case for individuality and balance
We need to be seen as we are – aware, updated, intelligent, responsible and contemporary. The visual image should open the right window to the total personality, not a distorted perspective.
The globalization of business has led to work wear becoming increasingly westernized. The socially all-pervasive salwar/churidar kameez is not considered corporate wear, due to the baggy and flowy shapes. The saree is high on the scale of formality, but low on convenience, and hence, not favoured in urban lifestyles. The moral police does not dictate corporate wear, but the style czars and czarinas do, and the verdict is Business Suits. Sure,they look great on those who can carry it off, but there is a large section of the 74 million, that looks for Indianized versions, and a BALANCE.
Western workwear for women is a modified version of male corporate attire and maybe the original intention was to be seen as equals. The Glass Ceiling has been a contentious issue in the workplace for ages. The perspective needs to be reviewed and updated. Capability and professionalism are not synonymous with Suits.
The norms for Indian attire for women have been largely dictated by modesty, climatic conditions and symbolism inherent in the local culture. The soft and flowy nature of the garments perhaps represented the traditional view of femininity. The same needs to be updated as values and lifestyles change. If a sari is Indian, so is a long skirt with an elegant blouse and stole. If a cardigan is Indian, so are jackets and shrugs. If a dupatta is Indian, so are stoles and scarves. If a salwar or churidar are Indian, so are trousers. And let us face facts – we do not wish to be bothered about managing dupattas and saree pallus, in the course of work and travel.
If giving in to outdated Indian norms is subservience, so is the blind adaptation of western wear . We need not overlook the richness inherent in Indian fabrics, weaves and styles, and the grace in our personalities. A strong and capable individual will always score higher than one that has merely walked out of the pages of a fashion mag.
So, what are the factors that can influence the choice for clothes for women ?
Elegance
Comfort
The image of the organization.
Expression of the feminine side ( it is okay to wear pink florals at times).
The level in the hierarchy ( a saree says 'professionalista', more than 'stylista'.
"Originality is nothing but judicious imitation"- Voltaire.
All the norms for western corporate wear remain valid and uncontested – no danglers, no flashy pieces, judicious skin show, no elaborate nail art – in short, nothing that distracts.
In addition to it, glance at fusion wear, which suits our style and expresses our individuality.
Inspirational fusion wear ideas
Sherwani kurtas qualify as suits. Silk or starched cotton dupattas falling in straight lines from the shoulder lend grace.
2. Sarees with jackets are elegant, but meant only for tall and slim women. Others would end up looking boxy, since it amounts to adding bulk on bulk. A blouse styled in the form of a jacket can be a stylish alternative, that serves the purpose.
3. Straight pants coupled with kurtas are both trendy and formal.
4. Indo-western panache. These jackets qualify as layers.
5. Ankle length skirts with a long shirt and stoles are Indian. They are less flared versions of traditional outfits.
"You are so busy being YOU that you have no idea how utterly unprecedented you are."
― John Green, The Fault in Our Stars
The case for Professionalism
The rules for professionalism do not change for women. There cannot be a compromise on the following factors :
Punctuality and time discipline.
Work ethics.
Efficiency and excellence.
Professional behaviour ( Warmth and graciousness are part of it)
Staying above slander and gossip.
Not using feminine wiles to seek professional favors.