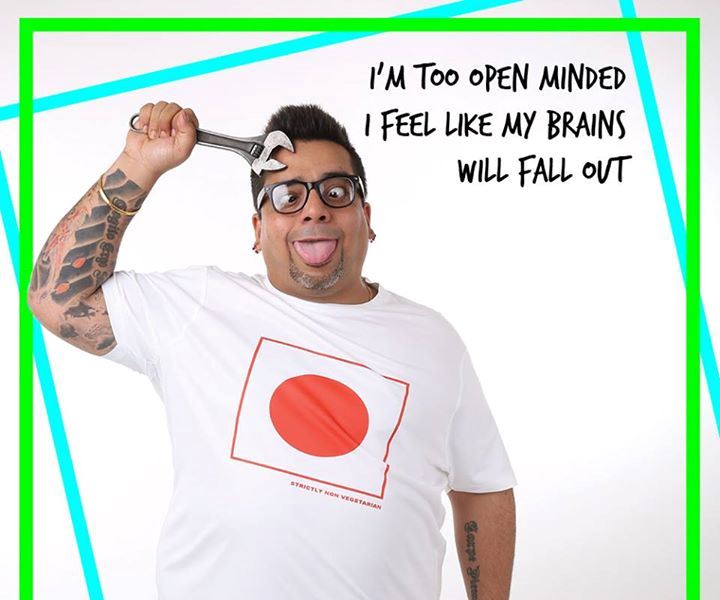 Jeeveshu Ahluwalia
Jeeveshu Ahluwalia is the best Stand-Up Comedian I have ever come across. He has tried in and out of the lives and become what he is today. His aura is so positive, that when you watch him or read about him, you can actually feel that. Whenever I read things about him, I sit back and think what am I doing with my life? Yes, his words make you do that.
He strongly believes that one should learn from his or her mistakes, because there is not ctrl + z in life. One can simply not undo things. Going back in life and correcting things is beyond human energy. Therefore, repeat no mistakes you committed earlier. Be honest with yourself. You can lie to the entire world but not you.
He got married several years ago and got divorced just an year after that. That might be the worst thing in somebody's life but he looks at it affirmatively and according to him it was the best thing that could ever happen to him. Because only after that he realised what he wanted in his life. He doesn't want kids in life. He wants to adopt one as there are so many kids out there who want love.
Earlier, he had diabetes 400.
"I smoked like a chimney and ate red meat platter in breakfast."
A normal guy might have given up on life at this point. But Jeeveshu decided not to. He walked 10 km each day for a month and got his diabetes controlled. When it got to 168, he started walking 15 km a day. It went to 118. That is quite an achievement. But can he undo that part of hi life. Certainly, not. But can he manage it? Surely, yes.
When people poked him about what he wanted from his life? His answer is definitely going to win our hearts,
"I don't want to die tonight. I want to get up tomorrow morning."
It is that simple. Unlike us, we have so many plans of the future and at the same time we keep on brooding over the past and therefore cannot concentrate on just one thing in the present. We always want something big to happen in life only then we can be happy.
But no, "happiness is in small things." Jeeveshu teaches us to be happy in small wins and not big rewards. Because nothing is big enough to keep us happy for the entire life.
The problem with us is that we always confuse happiness with excitement. That is not how it is suppose to be. Happiness is a phase of contentment and not thrilling momentarily.
His father was no more when he was 4. Most of us can't even think of that. He spent a very poor childhood and took up odd jobs to earn petty wages. His first job was that of a door to door salesman, selling juices and biscuits. He used to earn just 30 rupees a day and made livelihood out of it. Later he worked as a torch man at a PVR. He was beaten and kicked out of the place for selling tickets in black. Then he picked a job as a delivery boy in Pizza hut for three years. Then he started working in a call centre. 14 years later, he quit, when he was a director.
He had his life lesson from that. 'NO STEALING.'
"I never stole a day, I never stole a moment, I never stole from my work, I never stole a property in the office."
"Don't cheat, it's a very conscious choice. Learn from it."
"Never be rude to people who are not fortunate enough".
When he was a door to door salesman, it taught him to tip heavily to delivery boys, which most of us don't. Slamming doors on faces of delivery boys, when they deliver food in odd weather, be it rain or cold, is so rude. It is an implication of your upbringing. Imagine it happening to you!
He scored just 45% in his graduation and now he is a public figure. That's how life can change. But it doesn't just happen. Life whips you hard, once you are done with the 'happy days' of your college life.
When you take up a job in a company, that's when you understand how life is. Most of us die as corporate slaves at the age of 25.
Make something out of your life. You are here for a purpose. Don't ruin it. Money is only a by-product, don't let it eat up your dreams.
Jim Carrey said,
"Everybody should get rich and famous and do everything they ever dreamed of so they can see that it's not the answer."
Jeeveshu didn't had 35 memories till he was 35. Not a single memory in a year. Though it just takes a moment to create one!
"If your parents die tonight, if you have a pet, it gets hit by a car, your girlfriend cheats on you, husband dumps you. You lose every piece of penny that u ever saved. What is one thing that will make u happy that evening? If you figure that out, run for it."
He said that if you die today and do not wake up tomorrow, will you die as a happy man? Sleep on it.