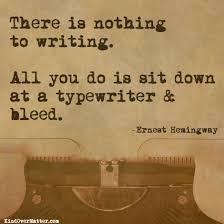 Good content writing is an art which needs a few rules to stand out from other writings.I will discuss them step by step,so anyone wanting to be a good content writer can follow these rules-
Making writing a habit: as it is said practice makes a man perfect,a good content writer needs to write on a daily basis to hone his talents.It improves style,efficiency and vocabulary.
Learning basic grammar skills: a writer has to follow grammatical rules to make his writing error-free.Easy,simple,grammatically correct language helps a writer connect well with his readers.
Cross-check the write-ups:the first draft can never be perfect,so proofread several times before publishing.
Don't get distracted: don't get distracted while writing,be focussed. Switch off from the digital and physical world,just concentrate in writing well.
Use wide vocabulary:intelligently select good words but don't become overbearing.Words should impress not disgust.
Develop your own style of writing: don't ape other peoples' style of writing but give your own voice to reach the audience.
Be a voracious reader:good reading gives more inspiration to write.It will help to improve your style and imagination.
Don't battle the writer's block:don't sit for hours staring at a blank screen or paper to pen down ideas.If there is a mental block go hit the gym,socialize,sleep and then restart fresh.
Find a writing partner: this will help a writer to be motivated and get a feedback to improve the writing skills.
Join a writing workshop: it will be beneficial and fun to learn from strangers.
Construct an outline before writing: having a blue-print before writing is like a road-map before starting on a trip.It will help a writer steer well instead of being lost.
Don't beat about the bush: be clear and focussed while writing so that there is an instant connect with the readers.
Don't be afraid to voice your opinions: don't feel scared or shy to express yourself,only if a writer expresses himself can he prove himself to be worthwhile.
Research Well:to write well ,go in for deep research.Don't copy-paste other peoples' work but prove your point with a good,original write-up.
Use a spellchecker:it eliminates spelling errors
Remain organized:use a content calender to schedule writing.
Know your audience:one should know the type of people one would be writing for,this will help to sharpen a writer's skill.
So don't wait,keep the following rules in mind and write well