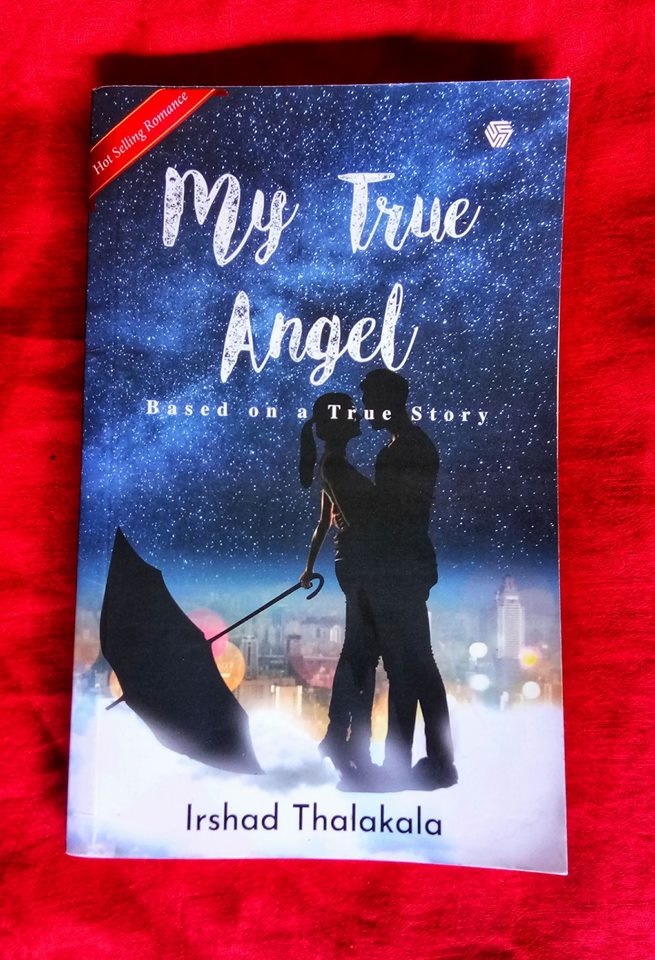 Book Title: My True Angel
Author: Irshad Thalakala
Format: Paper Back
Total Number of Pages: 216
Language: English
Publisher: Invincible Publishers
Publishing Date: 16 January 2018
ISBN-10: 9387328201
ISBN-13: 978-9387328204
This is a sweet tale of finding true love.
Iqbal who works in an IT company Bangalore, meets the beautiful Rubina.
Iqbal's love is unfortunately not reciprocated by Rubina.
When he is trying to overcome from Rubina, he finds his true love from Payal.
Were these meant to be together?
Whether they could able to crack the religion barrier?
Does destiny has other plans for Iqbal and Payal?
My Take
The title of the My True Angel gives a hint of love story and the cover of the book is simple and beautiful. The plot is a blend of emotions, love, friendship, affection, loneliness, humor, religion, and most importantly family values.
This is the story of the protagonist Iqbal software engineer from Kerala and moves to Bangalore for a job hunt and with the dream of finding an angel. Iqbal joins a software company and meets Rubina a Muslim girl from Delhi falls in love with her but Rubina rejects the the proposal and also complains the higher authorities of the company about harassing her because of it Iqbal was fired out. Then he joins new company and there he meets Payal. Payal was the first angel of his life who loves unconditionally without any expectation. Payal is Hindu and Iqbal is from Muslim orthodox family where chances of getting married with to other religion is strictly prohibited. Payal father was supporting to the marriage for the sake of his daughter's happiness but on the other hand Iqbal's family were not supporting to the relationship. Payal and Iqbal breakups there relationship for the parents happiness and try to move on in life with other proposal and promise to keep in touch. Later Iqbal gets engaged with third angel of his life Nazriya. After engagement he was back to Bangalore and meets his first angel of his life Rubina. Rubina apologize him for what she had done with him. Rubina and Iqbal becomes friends and Rubina asks whether his love for her still remains in heart. Iqbal met with accident. What happens to Iqbal and his angels to know more read the book.
The author has portrayed each and every character with utmost significance of their own and every one of them has done justice to their respective roles throughout the story. Narration of the book is done well.
Language is simple and lucid to read and connect with the story and being engaged throughout the story. All in all, a good easy book to read, a book which won't require the use of a dictionary, a book which even an amateur reader would love to get indulged in. Pace is slow. The story flows like a movie. The book have been portrayed in such a way, that any reader will be able to connect with the story and live the journey with them.
She was the true angel that God had sent with a healing touch. When I was low and depressed in life, she was the one who inspire me to live and not give up on loving people.
I recommend this book to the readers who are seeking for a quick read or a light-heated romantic novel.
Overall Ratings 4.5/5 Stars
Grab the book here Amazon.in Amazon.com
About the Author
Irshad Thalakala, presently works as Technical Teach in IBM Bangalore. In the past he worked with Tech Mahindra, Tata Technologies and DRDO. He is a serious writer and frequent writer of blogs and small stories. His latest novel "My True Angel" getting good response and appreciation from all over.
He is from Thalakala, which is a town in the northern part of Kerala, situated in the lap of Western Ghats. He finished his primary education from Kasaragod, Kerala and his higher education from Mangalore, Karnataka. Other than writing he likes to explore different varieties of food. He also likes to travel.
Here are some of links via you can contact Irshad- Facebook |Instagram