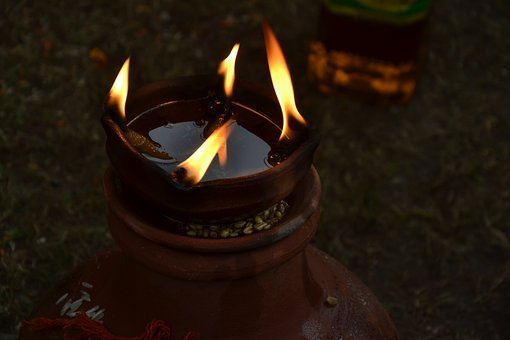 The epicentre of positive energy in your home is your Pooja room. The Pooja room has a pivotal role in your home. It is not only a sacred place meant for your prayers and meditation, but it also is known to ooze positivity. Most homeowners often don't pay a lot of attention to this room's Vastu due to lack of space or any other issue. If you have a Pooja room in your home, you must make sure that it adheres to the Vastu guidelines.
Let's get to know more.
Your Pooja Room and Vastu Shastra
Setting aside a separate place for the Almighty to reside in your home can invite a lot of positivity in your home. As per Vastu Shastra, the Pooja room is crucial in harnessing and spreading positive energy in your home. But, if the Pooja room is not Vastu-compliant, this positive energy can get affected by the house's negative energy. Therefore, it is crucial to ensure that the design, layout, and the way the room is decorated should be as per Vastu guidelines so that the room can help create an atmosphere charged with positivity.
When the Pooja room is Vastu-compliant, it spreads positive energies that can offer you solace and calm your worries. It also ensures a healthy and positive environment for you and your family to live comfortably. Therefore, it is essential to incorporate Vastu tips for your Pooja room so that you can calm your mind, rejuvenate your senses, and lead a positive life. If you want to know about Vastu or Vastu tips for your Pooja room, get in touch with Vastu experts. You can find Vastu experts online on credible platforms like Astroyogi.
Know the Vastu Guidelines for Pooja Room
Given below is a list of Vastu tips for your Pooja Room.
The location of the Pooja room is crucial for defining its auspicious and positive aura. The best place for your home's Pooja room is North-East, followed by East and North. These locations are seen as auspicious because the Sun rises from the East, and the Sun's rays will enter this room from the North direction. These directions also are considered peaceful and suitable for offering prayers. If your house permits and you are thinking of building a large Pooja Room, get it constructed in the centre or Brahmasthana of the house.
Tranquillity should be maintained in the Pooja room. This is why Vastu Shastra says that you should opt for subtle colours. Colours such as white, yellow, light blue, cream, etc., are some soothing shades considered good. These colours can offer you relaxation and aid you in experiencing a deep meditative state. Always steer clear from dark colours in the Pooja room as they won't provide any sense of calm or relaxation, which are a must for a Pooja room.
Vastu experts say that it's better to avoid having the Pooja room against the wall of a bathroom or under a staircase as it's considered inauspicious. The Pooja room or the temple in your home must not share its wall with the kitchen, toilet, or bedroom as it brings bad luck for the inhabitants of the house. The toilets or bathrooms, especially, are the source of the negative energies; hence, the Pooja room should be situated far away from these places.
The idols in the Pooja room must not face each other or the doorway. Additionally, you should also make sure that they are not too close to the wall. You must also ensure that the idols are in proper condition. If there are any damaged idols, they can bring misfortune to the house. This is why they must be immediately removed from the Pooja room. The idols must be placed in the East or West, or North-East direction.
These Vastu tips can make your Pooja room a place that will offer you positivity. A Pooja room is a sure-shot way to enhance your home's positivity and keep negative vibrations at bay. The positive aura of a Vastu-compliant Pooja room can bring positivity and happiness to your home. These were only some Vastu tips; if you want to know more, get in touch with Vastu experts.
Looking for a Vastu consultant? Astroyogi can help. Astroyogi can help you connect with Vastu experts to clarify all your doubts and confusion regarding the Pooja room.