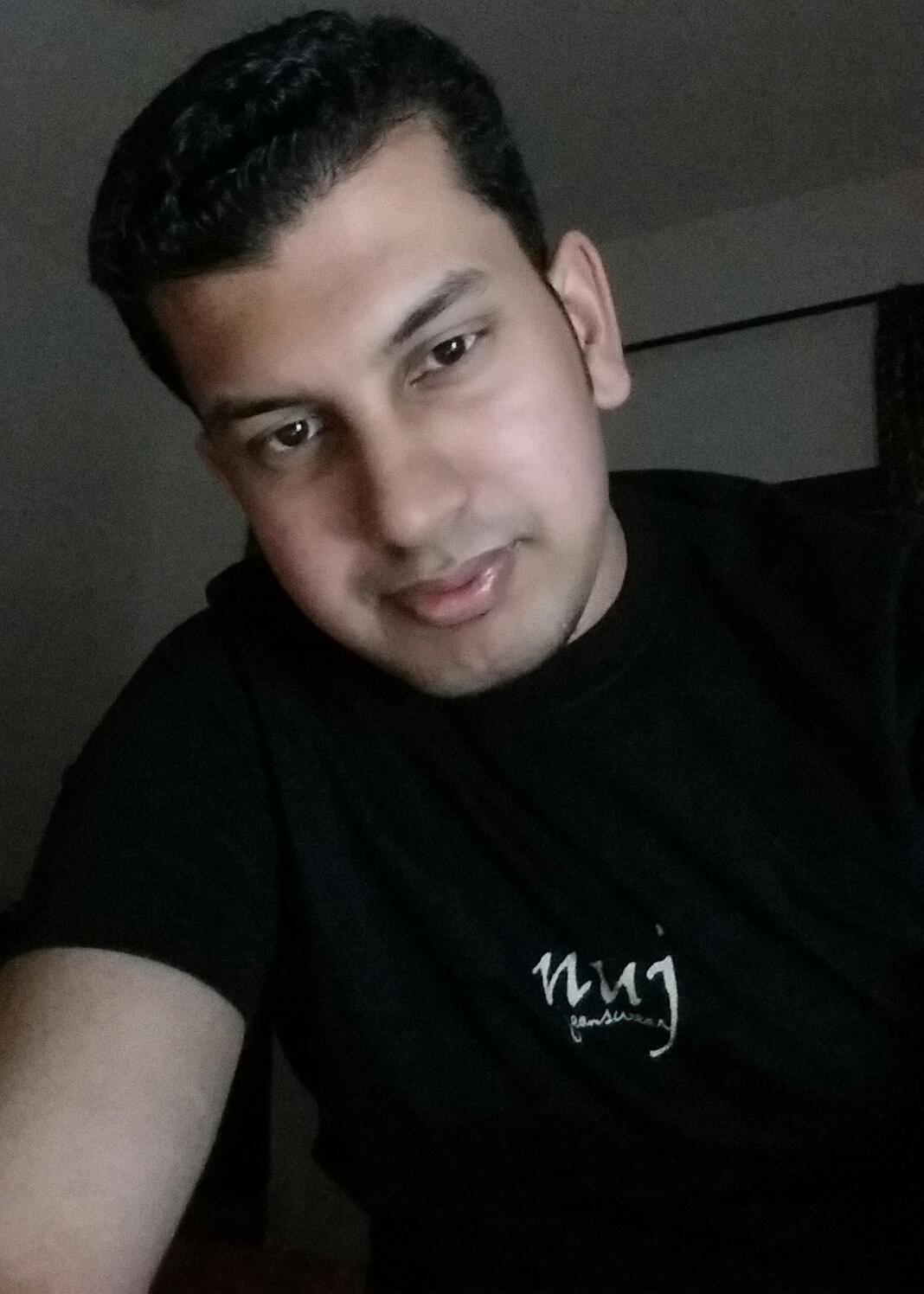 Please give details about your initial education and forming years of life.
I had completed my High School from Our Own High School, Al Warqa', Dubai, I am a Bachelor of Business Administration graduate from Heriot-Watt University, Dubai and a Master of Business Administration graduate majoring in Finance from Manipal University, Dubai.
How did you get interested in literature? What inspired you to write?
When I first wrote a poem, I was in grade 10, say before the CBSE board exams started off.
There isn't exactly a how I got interested in literature because back then and even now music has been my inspiration, and how various genres bring out what you feel from within was one of the keys that triggered me into writing. It helped me dive deep into my imagination and what I felt inside.
What difficulties did you have to face with respect to literary work?
The difficulties while writing can be just one or many things combined to be honest.
Like one of the difficulties I faced was loss of words, there will be times where you are trying to describe a certain thing or a feeling and you know how the lines should be formed but you are not getting that word that can complete it, and then you may be like ok this is not working and you strike off the line you wrote and then start from scratch to use a similar word or phrase that expresses the same.
Another difficulty that I have faced and I guess the other writers too would agree on this is continuity or simply called a flow. When we are in a flow of writing not just poetry, fictions or anything for that matter, we can generate ideas within a few minutes or less depending on how often we write or how deep our imagination goes. I did have difficulty in getting back my flow after I was done with school and it took me around 2 years to get back in writing and I thought I was back but then again with various things happening around you, it does become difficult to carry on. After a pretty much on and off in between, I got my flow back again after my MBA.
Yes, we all struggle at one point or the other but the only important thing other than imagination, creativity is the flow. The stronger your flow, the more confident you become and the more you can dive into your imagination bringing out the best in you.
What is your view about the present-day literary work?
Literature has been evolving over the years, now people not only write about what they imagine or feel, but they also write on current issues too.
There are people who have come out speaking about out about their difficulties, abusive relationships, etc that have in turn encouraged others to come out and speak. Words always had the power to inspire people, bring people together in times of oppression, many singers/songwriters have done it, like Bob Marley and many more, whose words had inspired people, brought peace around.
Now, Literature has got a new platform that is digital media, where millions can connect and express what they feel, what they may have gone through and help each other out in the process.
Do you think that the emergence of digital and social media has given a new opportunity to creative writers?
Definitely, Digital and Social Media has now become a hub of new and emerging writers, it has given them the opportunity to showcase their talent in writing, given them the opportunity to learn from other writers whether new or experienced, this has also given the opportunity to communicate and collaborate with each other regardless of their geographical boundaries and linguistic barriers.
Instagram is one of the major tools for this has encouraged millions in expressing what their passion is, what they are interested in and continue to do follow their path, to not just gain followers but also to inspire more and more to do the same.
Please tell us something about your literary work.
I am a poet, and I write poetry in English and Hindi / Urdu, I write about love, motivation, relationships, and many more. I had started writing for myself when I was in 10th and I used to keep a book separately just for my work back then. As years passed by, you gain more experience as to what life gives you in your journey and I guess that had helped evolve from just writing about how I felt by just looking at someone's face to how you feel in certain situations which may be so realistic yet not so easy to express to people around you.
I do have a WordPress blog that I have been maintaining for a few years now
WordPress Blog: https://shoumeets.wordpress.com/
I also have a Facebook and Instagram page where I keep posting my work and try to reach out to as many people as possible.
Facebook Page: https://facebook.com/shoumeet.saha.poetry
Instagram Page: https://www.instagram.com/shoumeet.saha.poetry/
What was your first literary work and how was it published?
My first literary work was a Hindi poem "Haseen" back in 2012. This was the first one to make to my WordPress blog which I had created.
How many ways literature can contribute to society in future?
Literature has played a very important role in expression, expression of our thought, expression of our feelings and expression of our opinions.
Today, literature has become the power to heal someone from depression, motivate and inspire people from day to day, comfort those suffering from various difficulties and pain and letting them know that they are not alone. Literature has always and will be able to contribute its part of healing, inspiration, and love in the future, which now is really essential for our existence and survival in this world.
Where do you see yourself after 5 years in the literary world?
In the literary world, a person can be inspired anytime by anyone and anywhere and in this world, learning how to dive deeper into our imagination is always a constant. I would say I am taking it day by day to learn more, to experience more and find ways to inspire myself to write more.
What ways would you suggest to build a community for poets?
To build a community for poets, I would say we need to encourage them to express what they feel from day to day. We may also suggest a word or phrase that they may be able to write upon and let them bring out the best of their work through the use of those words and phrases.
We can also give them the opportunity to collaborate among themselves, this, in turn, will help them learn from each other's experiences and also help in the different competitions that they may participate in.
What message would you like to give to aspiring new writers?
My message to the aspiring writers is to learn more, learn from people's experience, your own experiences, learn how to express your feelings better and learn to take control of your imagination, the deeper you go, the more you will be surprised as to how many ways you can write about something.
Another message is that life will have its ups and downs, but never be discouraged by it, never give up on what you really love and never lose your flow in writing.
How was your experience of writing on StoryMirror?
StoryMirror has been a great platform to showcase my work and a lot of competitions to participate in, some of which I would like to take on soon.
Here is the link to read my content https://storymirror.com/profile/zlnwbvgb/shoumeet-saha/poems