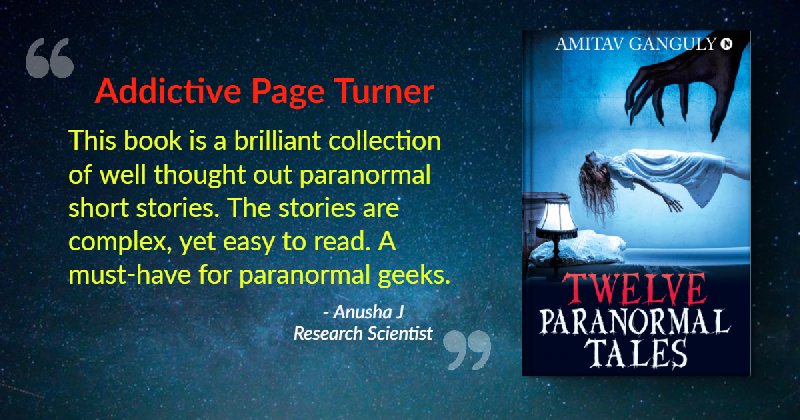 This anthology of paranormal short stories with diverse backgrounds in supernatural settings and unusual endings guarantees to send chills down your spine.
The reader will experience how imaginations of the protagonists turn into a ghostly reality, and how a dead mother manipulates the son of her deceased lover and her living daughter.
More strange stories of love, which sprouts through bizarre ventriloquism and a man's yearning between a beautiful ghost and a living girl, keeps the eeriness alive throughout the book.
Other curious stories of revenge will take the reader through the hit and run accidents that teach weird lessons, baffling broadcasts of murders, and where a dead man's face superimposes on his tormentor.
Each story is a unique experience.
THE BOOK IS AVAILABLE BY CLICKING ON THE FOLLOWING LINKS:
https
/notionpress.com/read/twelve-paranormal-tales
https
/www.amazon.in/dp/1684663210/ref=sr_1_1?ie=UTF8&qid=1545892499&sr=8-1&keywords=amitav+ganguly
https://www.flipkart.com/twelve-paranormal-tales/p/itmfcaqsut2jefdq?pid=9781684663217
https://www.amazon.co.uk/Twelve-Paranormal-Tales-Finding-Light/dp/1684663210/ref=sr_1_1?s=books&ie=UTF8&qid=1546683460&sr=1-1&keywords=9781684663217