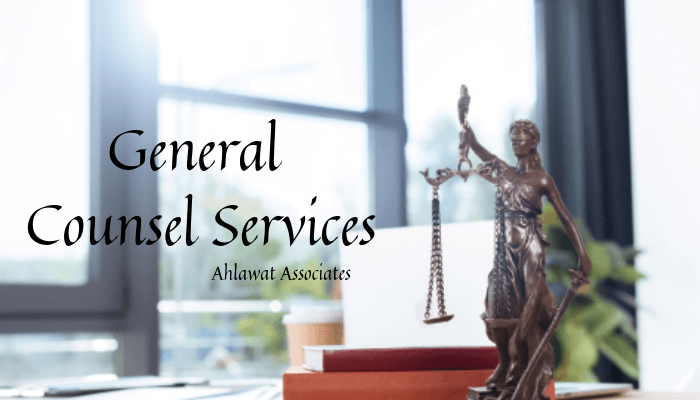 A general counsel plays an important role in ensuring a company functions within the scope of law. Apart from assisting and guiding the management in general matters of legal compliance, there are other legal issues that arise from time to time which a general counsel is required to address. However, whether to have an outsourced general counsel services or an in-house general counsel is a crucial decision for an organisation to take. Though they both have their own advantages and disadvantages, there are various factors that determine which of the two options would be better suited to the company. The decision largely depends on the nature and size of the business, at what stage of its evolution the business is in and how frequently general counsel services are required, and most importantly, whether it can afford to have a full time general counsel as it has become very expensive these days.

In this article here, we will discuss few reasons why general counsel services should be outsourced.
Cost Effective
When compared to hiring a full time general counsel lawyer, outsourcing general counsel services can be a cheaper option for some companies to get legal services. For small and midsize companies the volume of legal work may not be that much to have a full time legal employee. Also, new companies may not want to incur extra cost by hiring in house general counsel as they generally do not have enough work to justify the salary they are paid. Until the time a company evolves to a certain stage where the volume of legal work increases substantially, there is no need to incur unnecessary expenses on a full time general counsel. Companies can get the same level of legal experience and expertise by outsourced general counsel services at a fraction of the cost they would otherwise incur. Therefore, it would be prudent to get outside general counsel services rather than employ a general counsel attorney.
Valuable Resource to the Company
A dedicated and committed outsourced general counsel can be a very useful resource for a company. With passage of time and every new assignment, the lawyer's knowledge and understanding of the company's operations are enhanced. A dedicated counsel who remains onsite to address and manage the legal issues of a company will gradually and steadily develop a better understanding of the intricacies of the business. Having an outsourced general counsel as a go to person for every legal issue that may arise will encourage the attorney to go beyond the general functions and provide enhanced services to the company. The experience gained over time while being closely associated with the business will enable the lawyer to provide his/her services in a more effective, efficient and proactive manner.
Allows the Management to Focus on Core Business
In the absence of a general counsel the management and other senior employees are burdened with additional responsibility of addressing and managing the legal matters. Till the time an in-house legal services team is created, outsourcing the GC services can immensely benefit the organisation. The senior management and other non-legal employees are able to perform their core functions. General legal matters like government compliance, contracts, human resource management, etc., that were taken care of by these personnel can now be managed more efficiently by the outsourced general counsel. This would mean that the other key personnel can perform their regular functions that they have expertise in. They can now focus on the core business operations with an uncluttered mind. The extra time available will result in more efficient functioning of the organisation.
Streamlines the Legal Functions of the Company
Before a company appoints an internal attorney, the legal matters are handled by different employees. Legal work is outsourced on a need based basis to different law firms on contracts. No single employee or a single law firm handle all the matters. This division of legal work means there is lack of continuity which results in functional inefficiencies. That is the legal functions remain totally disorganized.
When there is a dedicated outsourced counsel, the legal functions get organized. All routine legal work and even the more specific legal issues are handled by the outsourced counsel. He/she is the first point of reference for any legal issue that may arise. This leads to better coordination and increased efficiencies.

However, it shouldn't be expected of the outsourced lawyer to have the knowledge and expertise to handle each and every legal issue that a company might be faced with. There would be times when outside legal help would be required. But, because of the knowledge of law and understanding of the company's business operation, he/she would be in a better position to know which external lawyer or a law firm should be hired to deal with specific issues. Also, the experienced gained over time spent with the company can be leveraged to better coordinate with external attorney or a law firm and effectively manage specific legal issues.

To conclude, outsourced general counsel services can immensely benefit an organisation in improving its operational efficiency and overall management capabilities. When legal issues are professionally handled by a dedicated counsel, other professional can pay focussed attention to their predefined roles and thereby help the organisation achieve its economic objective.