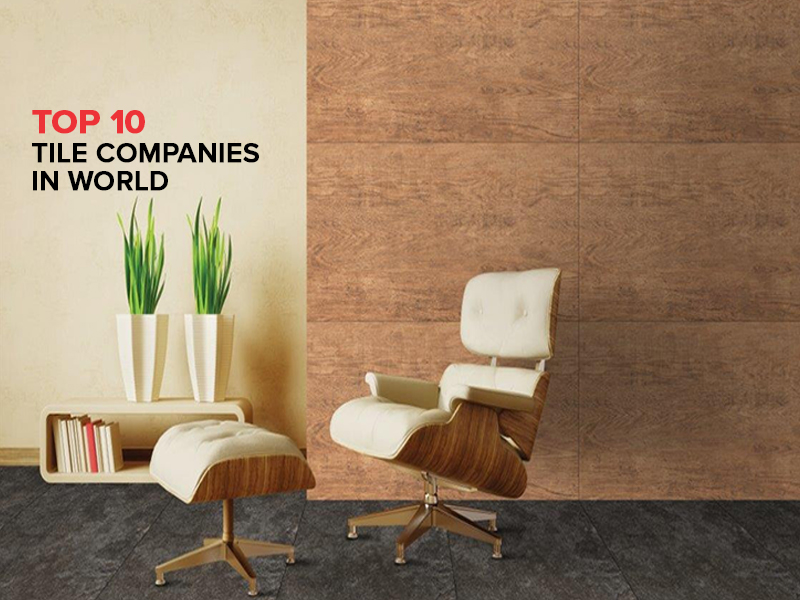 Be it a kitchen or bathroom, be it wall or floors, be it interior of the home or exterior- tiles are used everywhere for style and functionality. There are hundreds and thousands of tiles variety available in the market as well as the tile manufacturing companies in the whole world that produce many different types of tiles. So to make the process of choosing the best tile design and the best tiles company, here I've listed down the top 10 tiles company names in the world.
Top Ten Tile Companies in the World:
Grupo Fragnani, Brazil

STN, Spain

Asian Granito India Ltd., India

RAK Ceramics PJSC, UAE

Grupo Lamosa, Mexico

SCG Ceramics, Thailand

Mohawk Industries, Inc., USA

BisazzaMosaico, Italy

Kajaria Ceramics, India

Grupo Cedasa, Brazil
Grupo Fragnani, Brazil
Fragnani Group has long been regarded as one of the most respected brands, recognised for its adaptability, improved creative value, and longevity, since its founding in 1971 by Valdemar Fragnani. This South American giant has been in the tile business for half a century, with an estimated output of Ceramic Tiles that swanks to be the world's eighth-largest; Grupo Fragnani is one of Brazil's most prominent firms. The Group's headquarters, Incefra, is in Corderopolis, and it also has two subsidiaries in Dias d'Avila: Tecnogres and Incensor. Grupo Fragnani is known for its wide of products including, Ceramic Tiles, Porcelain Tiles, HD Tiles, 3D Tiles etc.
STN, Spain
STN Ceramica has maintained a grip on the European market for almost three decades. Because of its ongoing efforts in technologically improved and morally responsible items, these 9001 ISO Standard recognised companieshas been able to stamp its imprint on Spain and most of Europe with its forthright and reinforced reach to 120 nations. STN Ceramica'smanufacturing line has been strengthened by new process techniques and the Styljet digital printing technology. STN Ceramica has produced extraordinary high shine finishes and heavy-duty tiles as a result of technological advancements. STN has a wide range of products, including Porcelain Tiles, Marble Tiles, Red Stoneware Tiles, Glazed Tiles, etc.
Asian Granito India Ltd., India
AGL is a major producer of ceramic tiles, vitrified tiles, outdoor tiles, engineered marble, and quartz. In just 20 years since its inception in 2000, AGL has risen to become one of India's top 10 ceramic firms. AGL now has a global presence in over 100 countries, including the United States, Canada, Mexico, the United Kingdom, Turkey, Germany, the United Arab Emirates, and South Africa. AGL operates eight cutting-edge factories in Gujarat, totalling 3,20,000 square metres. AGL's product range includes Polished Vitrified Tiles, Glazed Vitrified Tiles, Digital Tiles, Slabs, Planks, Ceramic Tiles- Everything you are looking for, you might it there.
RAK Ceramics PJSC, UAE
RAK Ceramics PJSC was formed in 1989 by H.H. Sheikh Saud Bin Saqr Al Qasimi, Ruler of Ras Al Khaimah, with state-of-the-art machinery, and the ambition & objective of making a global influence. Three decades later, the firm has been regarded as one of the top Tile Companies in the world, producing more than 120 million square metres of tiles and 05 million pieces of sanitary ware per year. RAK Ceramics presently has 22 factories in India and Bangladesh as a result of aggressive expansion strategies.
Grupo Lamosa, Mexico
Grupo Lamosa is one of the oldest and most renowned companies in the Modern Tile business, with a history dating back more than 130 years. Tiles were added to its original brick manufacturing in 1933, and there has been no looking back for this Mexican Giant ever then. Since 2016, the Company has increased its already massive manufacturing capacity in South America by 40% by purchasing factories in Argentina, Colombia, Peru, and Chile. With the majority of its products eaten in the country, 20% is exported to Central and South America, including the United States.
SCG Ceramics, Thailand
SCG Ceramics leads the Thai market by 58 per cent, with a production capacity of 94 million square metres per year. SCG Ceramics primarily sells to South East Asia, Australia, and Japan and earns more than 2 billion baht each year. SCG Ceramics is expanding its resources to meet the changing demands of its clients, and it now offers a comprehensive variety of services that include not just production but also extended to installation and distribution of Ceramic Floor & Wall Tiles.
Mohawk Industries, Inc., USA
The United States Stalwart Mohawk Industries, Inc. is comfortably at the top, with a production capacity of more than 250 million square metres of Tiles each year and an aggressive growth strategy reaching Europe, Mohawk Industries boasts a worldwide sales of more than 10 billion dollars in 2020 alone. With little under three decades of operation, Mohawk Industries' tenacity with soft surface acquisitions around the turn of the century skyrocketed the company's revenues and reputation. Mohawk Industries, Inc. has undoubtedly taken over the globe, or at least the majority of it, with its ever-expanding acquisitions.
BisazzaMosaico, Italy
BisazzaMosaico, headquartered in Vicenza, Italy, has 13 flagship locations across the world, with 15 dealers in the United States alone. Even if you aren't looking for architect-quality mosaic tile, BisazzaMosaico's website is worth checking out to view tile designs from expert designers. It is especially known for its high-end mosaic tiles.
Kajaria Ceramics, India
Kajaria was started in mid-1988 and has since grown to become one of the world's leading makers of ceramic and vitrified tiles, exporting to over 30 countries. The honour of being "Asia's Most Promising Brand" has helped to strengthen its brand value, and thanks to its research and application, it has been able to provide artistically developed and distinctive items.
Grupo Cedasa, Brazil
Grupo Cedasa, Brazil, is another contributor to the top ten Tiles Companies in the World. Initiated in 1990 by the Pascon family, the Cedasa Group was able to achieve new heights with recognition as the largest and most advanced tile business in Latin America in the next ten years, and it now finds itself among the top corporations in the global arena. Grupo Cedase offers a wide range of tiles including, Porcelain Tiles, Premium Line Tiles, Ceramic Tiles, Natural Marble Tiles.
I hope this article helped you in learning about the top 10 tiles brands in the world.