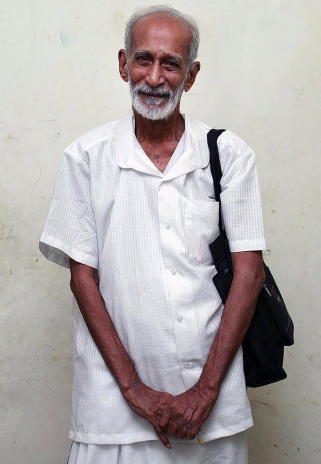 A native of Tamil Nadu Palam Kalyasundaram has dedicated his whole to funding children's education and orphanages—the two causes that he quite strongly believed in! Though he wasn't born into a rich family and his father passed away which added to their struggles it didn't stop him from doing what he was passionate about. During his 35-year-long career at Kumarkurupara Arts College at Srivaikuntam, he diligently and willingly donated his salary month after month towards charity and did odd jobs to meet his daily needs. In fact it was his mother who motivated him to serve the underprivileged sections of the society to ultimately serve humanity! His deeds leave me awestruck and inspire me make a small change as well. After all isn't it the little things that matter in life?
His laurels are being a gold medallist in library science and also has a master's degree in history and literature. The Gandhian principles formulated his path in life. In spite of having such a strong academic career and powerful life motives, his had its own share of problems as his voice was high pitched and shrill. Thoughts of suicide flitted across his mind. It was at this point in his life that he met Thamizhvaanan, who authored self-improvement books, and practically changed his life. He advised him that there was no point in stressing over something he did not have control over and instead make people remember him through his good actions. That piece of advice stuck by him and turned his life for better. He has never looked back ever since!
His service has been recognised and rewarded too. He has been acclaimed as the best librarian in India by the union government. He was honoured as one of the noblest of the world and also recognised as one of the most outstanding people of the 20th century. Including this he also received Man of the Millennium award and Life Time of Service Award from the Rotary Club of India in 2011. He promptly donated the 30 Crore he got from these awards.
His other motivating factor to contribute to charity was because the village he lived in had no provisions at all and walking 10 km to school and back could be tiring and lonesome. He wanted to motivate the other kids to come to school as well so that they could create better lives and a brighter future for themselves.
He says that even though there are three ways to earn money:
· Through earnings
· Through parents' earnings
· Through money donated by someone
It doesn't impress him and the most satisfying feeling is donating your earnings to charity.
Even now he lives in a simple house in Chennai and has not even married so that he can save that money and donate it to charity. He still goes to office and does whatever possible to uplift the lives of the underprivileged people.
Even after retirement, he works as a waiter in a hotel in exchange for two meals a day and a meagre salary so that he can continue to donate to orphanages and to children's educational funds. And, after his retirement he even donated his pension mounting to Rs 10 Lakhs for the better of poor children and their education
This shows that anyone can accomplish they are determined to do. Even a person who has donated all his life earnings is determined to do more and contribute not just financially but also otherwise. If a man who is 73 years old can do so much just imagine what we as the youth of India can do. Imagine the power we hold to change the world if we just try do our bit. Even if we try to help one child it will brighten their future and create a chain reaction.