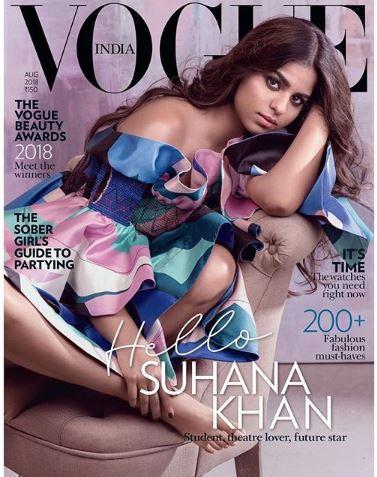 Nepotism is it?
Scrolling down Instagram feed and finding Suhana Khan's Vogue photo-shoot pictures has really become the talk of the town these days. Nepotism debate has started all over again. Social media is full of memes, jokes, tweets.
A lot of attention, basically!
Suhana Khan being an 18 year old is way more confident than people of her age. Her first ever magazine shoot was for Vogue, she has famous parents after all. But the confidence with which she gave the shots were like she owned the place, in spite of lacking any experience. The camera seemed to be her old friend, though. Holding the ground with utter poise and panache, at the very first step is not easy. But she grabbed it flawlessly.
Commendable!!
The Bollywood world has been welcoming fresh and new talent every year. This time it's Shuhana Khan, who after coming into the limelight has fuelled up the surroundings.
There is a contradiction in Daddy Khan's statement though, who always said for his kids that, they should be "good-enough actors" and not merely "designed as stars" when they are launched, but we now see Suhana Khan soon joining the glittery line-up. She is buzzing all over on the internet.
SRK said that Suhana is "working towards" becoming a good actor.


And she has already done a shoot for Vogue, India's best-selling magazine before even shooting her first ever movie.
She has already been launched, by her own dad! On the other hand SRK says that his children "have to get out of my shadow and do their stuff."
While if you think of struggling actors who come to Mumbai to try out their luck, waiting for endless hours in queues for auditions, facing rejections, "No, you don't fit" is etched in their minds soon.
They are long lost in the sea of strugglers who are trying to make their name in the world of Bollywood.
But when it comes to star kids' they are born with silver spoon in their mouth. Things falling into their laps as if it was meant for them. Clicking pictures for Instagram feeds, generating huge number of followers, seeking global attention, posing for photo-shoots is their everyday stuff, which a struggler can only dream of.