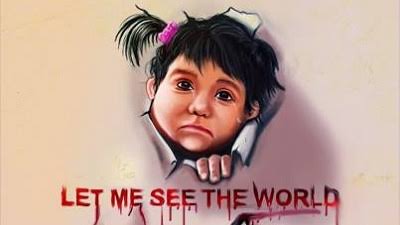 I have been sailing in this sea for last 5 months.But for the first time I am experiencing such sensations.I can hear voices, All in different pitches.Most of them discussing what name to put when the boy child will be born.I am confused, What is a boy?
Its been nine months I have been tied to this rope.But suddenly iam experiencing a lot of tremors.Finally after experiencing the tsunami,I was pulled out to a new room which is a lot brighter.A guy wearing gloves and headcap cut the rope and started stroking my ass ,rubbing my back,and soaked my head with a towel.I am hoping he wants me to cry as thats the only option i have.As soon as I cried he stopped all the manouvers and announced with a smile "Congratulations!its a girl". Then he handed over me to a group of people where everybody was wishing each other and was passing me like a parcel.Finally I was handed over to a the lady who was screaming when I was pulled out.But she looks beautiful and happy too.A guy came and hugged her,Looked at me and said "I am so happy.From today itself I will start saving for her marriage".
Its been 5 years since that day I call that lady as 'Mom' and that guy as my 'Dad'.Its a special day today as It is my first day at school.I am wearing a uniform today.Both mom and dad have been very busy from morning.My mom dropped me to school handed me the lunch pack and told me not to be naughty as Iam a girl. I didnot understand what she meant but who cares I have got some new friends.
Iam 12 now and Both me and my body are going through a lot of changes.Mom told a lot about the changes and also told to refrain from playing outside with my friends.I have been told to be extra careful.And I have to give details of everything I do and everyone I meet.Weird thing is boys doesnot stop staring.
Somehow I became accustomed to all the changes as mom advised me to adjust.As I have turned 17 today I have to choose a career option near my house As it will not be safe for me to go to far places though Iam totally capable of taking care of myself. Boys along with staring have started following and passing lewd remarks.So I have to take care of each and everything starting from my bra strap to my skirt size. My dress size is decided by the social norms rather than my comfort.
I have become a graduate today.Iam eyeing for further studies but everyone has different plans for me.I have to see photos of future groom rather than brochure of the institutes.My marriage was fixed and and my dreams were sidelined.
Its my wedding today.My dad broke his fixed account and his back for this day.All the guests while stuffing dahi vada and looking at me like I have fulfilled the purpose of my existence.My husband looks content which is quiet obvious as he has got a good amount selling himself.
Its been 3 years since I am married.Today is a special day as Iam holding my firstborn in my arms.'She is a girl'.She is beautiful.My husband is happy too.He looked at me and said "I am so happy.From today itself I will start saving for her marriage"
I smiled at him and looked at my little princess and thought "And I will be saving for her dreams".