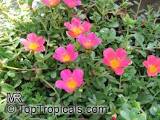 PORTULACA 10 o CLOCK(sunrise)
PLANT NAME:
Portulaca grandiflora
ALTERNATE NAME:
Sun rose or Moss rose
TITLE:
Portulaca grandiflora-Basic care,Watering,Soil and Flowering.
SHORT INTRO:
Portulaca grandiflora is a kind of a succulent,flowering plant belonging to family Portulacaceae.They are low growing with reddish stems,spoon shaped leaves and flowers which open in sunlight.
ARTICLE:
Portulaca grandiflora
BRIEF DESCRIPTION:
It is a fleshy,annual succulent plant belonging to family Portulacaceae.It is also known by the name of Sun rose,Moss rose and 10 o'clock.
BASIC CARE:
They thrive well in hot and dry conditions.They need well drained soil,less water and full sun to grow.
LIGHTING:
They need full sunlight to grow.
FLOWERING:
They flower in early summer with rose- like blooms in an array of colours.
WATERING:
Their root zone being shallow they require little watering.Watering is required when top soil becomes dry as they like dry,desert conditions to thrive.
SOIL:
They like loose,sandy ,loamy well drained soil.Not much of fertilizer is required for growth.
SIZE:
They are small and fast growing and size reaches to 1 foot.
FERTILIZERS:
They do not need too much fertilizer.A liquid fertilizer of ratio 20-20-20 is given every alternate week.A slow release fertilizer is given to the plant during midsummer.After giving fertilizer they should be watered immediately or they may wilt.
PESTS:
They have few pests,sometimes aphids and snails feed on the plants but these can be avoided with good plant maintenance.
BENEFITS:
The plant is used to treat liver cirrhosis and hepatitis.
Helps in reducing swelling and pain of pharynx.
Fresh juice of leaves and stems is used in snake bite,insect bite,eczema and burns.
Leaves are ground into powder and used in soups.