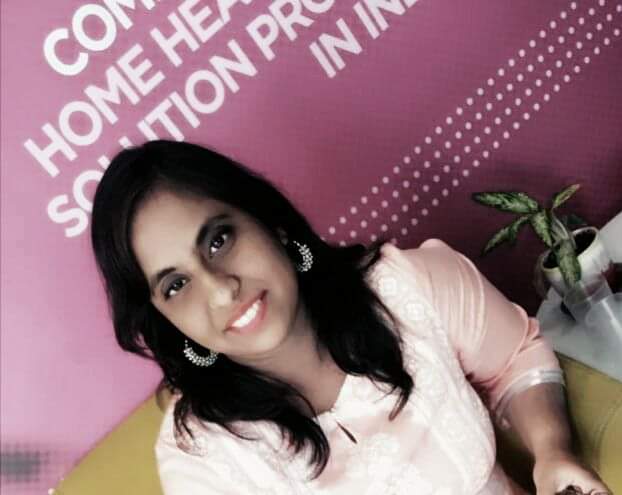 Q: Please give details about your initial education and forming years of life
A: I have done my schooling and Graduation (B. Com) from my hometown, i.e. Gwalior (M.P) . And later did my Post Grad (MBA) from Lakshmangarh Jaipur (Raj.)
Q: How did you get interested in literature? What inspired you to write?
A: From the childhood days i used to enjoy reading & writing poetry. Words and the emotions they generate and expressing myself by ideas and words have been my passion throughout. Writing has been a soul calling for me, words have been a source of healing to my emotions and zest to find myself through words.
Q: What difficulties did you have to face with respect to literary work?
A: Although my family has been always supporting me in my writing passion, but still the society limits us by such creative fields to be as a career option, specially being a woman. A qualified woman in most houses are the ones who have attained degrees to get married to high earning spouse to do the dishes at end of the day, freedom of expression has always been a highly neglected zone for women. though not that case with me but still being at the shore, that ripple effect tickles your feet in some or the other way.
Q: What is your view about the present-day literary work?
A: Literature needs to be honored in its true sense, education system in schools and colleges and the awareness for literature subject has to be rolled out. Without creativity and those floating ideas, being a human race is undefined. Roots of literature are needed to be strengthened.
Q: Do you think that the emergence of digital and social media has given a new opportunity to creative writers?
A: Yes, it has served a lot and a new hope has arisen to let the light shine. Young writers are gaining there worth through this a lot, were they can showcase their talent and be recognized.
Q: Please tell us something about your literary work.
A: Talking about my literary work, I have been always fascinated by poetry (English, Hindi, Urdu), i really wish to rekindle the magic of poetry to world again. I have published my Hindi/Urdu poetry compilation in my two books.
Q: What was your first literary work and how was it published?
A: My first literary work was my online book issue (DILSOZ ALFAAZ), that was a compilation of some of my poetry work. This is what the significance of social media that has enabled me to publish my work online, with no cost involved, where in I got a good response and later decided to compile another book (lamhon ki oot se) in print media.
Q: How many ways literature can contribute to society in future?
A: Literature can totally define the roots of us, it holds a great contribution percentage, era has to be brought back so that art n culture, traditions can be put into flow . Literary world must be enriched with creative young passion, literature is a science and art of healing in my perspective. With our wall bounded, numbers-oriented job world, we are turning into barren souls, literature can bring the showers of peace and harmony to create a world and life worth living.
Q: There do you see yourself after 5 years in the literary world?
A: After 5 years I see myself as a writer figure, nurturing my soul calling and purpose, sharing with society my ideas and work that can heal and inspire others.
Q: What ways would you suggest building a community for poets?
A: System has to be modified from ground level, schools & colleges need to be taking participation in same so that our youth can revive the vibe of creativity and build our literature stronger, society needs young writers as the successors of our literary world. It has to be a prominent career opportunity for people who wish to pursue it, due to lack of awareness and opportunities in literary world, youth is getting brain drained towards numb career zones ending up in stress and losing one self.
Q: What message would you like to give to aspiring new writers?
A: I would like to share this view to aspiring new writers, that let your words say it all, no matter what follow your heart, collective efforts of all of us will make us and this literary society of ours shine and we will establish a strong foundation, they are the crucial pillars of it.
Q: How was your experience of writing on StoryMirror?
A: Writing on story mirror was really an amazing experience, getting my work selected at it was really a pleasure.
Q: Would you like to say something about Storymirror?
A: Story Mirror is a wonderful platform, I really feel blessed to come across it, they people really make our worth being notified to world out there, Great to be writing on it and felicitated by it for letting my words find their true light.
Read my content on https://storymirror.com/profile/wmz2b5q5/richa-dixit/poems