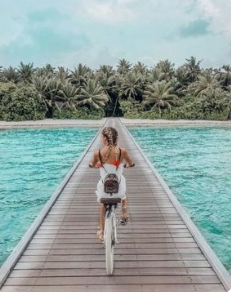 Travellin' is…. my sorta adventure!

My backpack is on my shoulder, my jacket is tied on my waist, my passport is in my hands and I'm ready to fly far away!

Some people are interested in being glued to their televisions and informing the world that- 'Hey! Don't you dare disturb me. It is my hour for Netflix and Chill.' Hey, that is not my thing. I'm just nomadic, absent-minded, awe-struck and my unusual and weird type while travelling. Seeing each and every corner of this bustling world from my very own eyes is what I keep dreaming of. One day, I'll also have my travel album with all the places I've visited, my experiences, pictures etc. like Kabir had in 'Yeh Jawaani Hai Deewani'. I can't wait for that day!
Travelling has always helped me in inheriting a friendly nature. Meeting different people around the globe and getting to know 'em is very fun! People in Bhutan were satisfied and happy. In Paris, France they obeyed and followed all rules. In London people were helpful. In Singapore and Malaysia people were proud of being citizens of their countries and many more people of different countries 'n' places help me in being more like them and having their positivity. After all, we're all humans!

I just hope that one day, I'll travel around the globe all by myself and finally feel like a big girl.
Cheers if you're also hoping for this day to arrive in the wink of an eye!