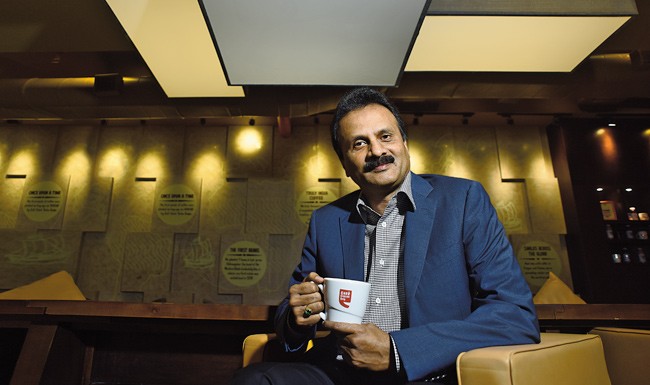 On July 30, Tuesday morning, whole India, especially Karnataka woke up with a very sad news. The founder and owner of the nation's largest coffee chain Cafe Coffee Day, VG Siddhartha had disappeared mysteriously. Reportedly, on July 29 the driver lodged a complaint with the police that his owner has been found missing from a bridge over Netravati river, Mangalore. A massive search operation was carried out and on July 31, his body was found at the Hoige Bazaar beach, Mangalore.
In between all these, a letter was released by Coffee Day Enterprises Ltd., written by the company's owner VG Siddhartha to it's board and employees. The letter talks about succumbing to the situation because of pressure from the lenders and serious liquidity crunch. It says, "I have failed to create the right profitable business model despite my best efforts. I would like to say I have given it my all. I am very sorry to let down all the people that put their trust in me. I fought for a long time but today I have given up".
I was really astonished when I read this and pondered over it for a long time. I remember he had once said in an interview that CCD is a 'youth hangout' where no one will ask you to leave the place unless you wish to leave. I was curious to know more about him and so I carried out a secondary research about his early life and career.
VG Siddhartha was born in Chikkamagaluru, Karnataka into a family that has cultivated the bean for more than 140 years. He initially started with the stock trading of coffee beans before actually creating his mark into coffee business. He was inspired by a chat with the owners of Tchibo, a German coffee chain, and it was when he decided to open his own chain of cafes in a country that had no formative cultural grounding in cappuccinos. He opened Café Coffee Day's first outlet at Bangalore in 1994 with a tagline 'A lot can happen over a cup of coffee'.
CCD is now the largest chain of coffee shops in India, a nation of tea drinkers, with 1,750 cafes in more than 200 cities, including outlets in Prague, Vienna and Kuala Lumpur. It's the only Indian rival of Starbucks.
Apart from being the founder, chairman and managing director of Cafe Coffee Day, Siddhartha served on the board of directors of Mindtree, GTV, Liqwid Krystal, Way2wealth Brokers, Coffee Day Natural Resources, and Way2wealth Securities. He was awarded "Entrepreneur of the Year" for 2002–03 by The Economic Times and the "NextGen Entrepreneur" by Forbes India in 2011.
Now after getting to know the above facts I wonder whether this dignified and hardworking person be termed as incompetent? He is the person who had created thousands of jobs across the country. These jobs include employment opportunities for differently-abled people - a sign that it is possible, even in the cut-throat world of business, to be a billionaire with a heart of gold.
People admired him until he was successful. But the same people questioned his capability when he was facing the downfall. He got into trouble for the first time in September 2017 when the Income Tax (I-T) department conducted raids at over 20 locations linked to him. He had been reportedly witnessing rising debts since then.
So does this few years of company's losses and debts conclude that he is a Failure? Does all his gains and achievements before this financial crisis should go in vain? Does he should not stand as a Youth icon anymore?
For me, VG Siddhartha was and will always remain a Winner. As he said, a lot can happen over coffee and so yes, a lot did happen over it.