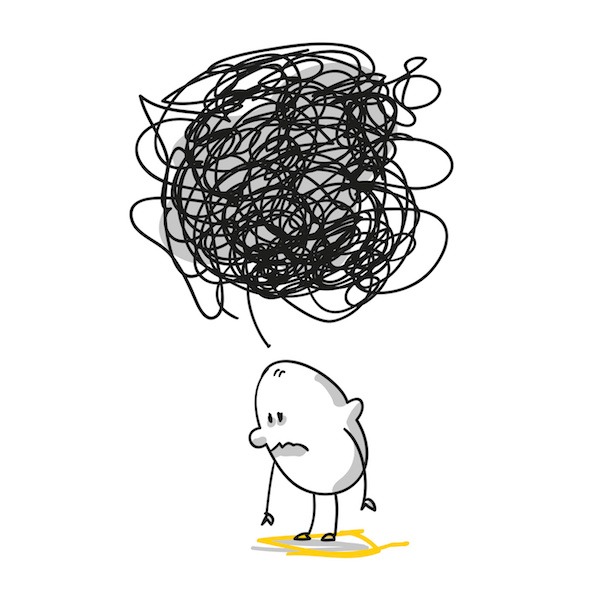 A lot of people might believe that it is easier to skip past the unnecessary, extra effort which leads nowhere, specially during a paucity of facts or any reasonable inclination towards anything other than the normal.
Indeed, some people find thinking itself exhausting and rely on it as little as possible. But you know what they say, even a broken clock is right twice a day. So, things seem to work out well even for them.Then there are those of the rare species that think the right amount.They think some and they do some.
However, there is another breed of humans that find it difficult to not think extensively about things.These adults were over imaginative children. Not normal imaginative. Not the I-have-an-imaginary-friend-who-I- will-marry imaginative. More like the I-have-an-imaginary-friend-who-I-will-marry-when-I'm-rich-and-we-fight- for-our-love-to-reach-the-perfect-hilltop-wedding-surrounded-by-close-friends-who-helped-us-elope-and-now- AtifAslam-is-singing-love-songs-at-the-snug-ceremony-before-we-leave-for-our-honeymoon-to-Scotland-where- we-stay-in-a-cosy-cottage-playing-house-because-we-know-mamma-papa-will-accept-later-and-we-live-happily-ever-after imaginative.
So, when I stumbled into my first job,overthinking my behaviour and my work,yet reaching the wrong conclusions, I decided to take matters into my brain and rewire myself into thinking less.
If you've had similar wishes, let me tell you how it will go for you.
Like a good overthinking personality, you will begin by making a list on tips to stop overthinking and why it's healthy. Then you will put motivational quotes on your cupboard and home desk. You also set yourself reminders to check your progress and to catch yourself red handed in case you slip.

When you have done with these prerequisites, you will launch a full-fledged campaign against your own mind. First comes a barrage of 'how-to' videos.

Then you call upon your gang of overthinking friends and have a discourse on the side effects of overthinking. You do this hoping to include some of them in your new quest. This is an essential step because if you actually attain the state of 'less-think', they may throw you out of the group. (Believe me, I thought this through.)

In the unlikely event that you survive this conversation of 'I think therefore I am' arguments, you might reason with yourself that in order to bring such major change in your life a break from daily life is must. So you decide to enroll for an intense 'do more, think less' trekking expedition. And who knows,this new journey could lead to another if you finally meet someone while trekking through the rainforest. Yes, quiet reasonable.

On this trip,you indulge in overthinking of another kind and return without your true love.This was so, perhaps, because your perfect man is busy overthinking his travails and forgot to book this one.
After this exhausting trek, you enter your house and walk into the hanging quotes and lists that you had forgotten were still obediently awaiting their mistress's arrival. In this moment of surprise, it will probably hit you that you had been overthinking the entire process all this while.
This, my friends, is the point of no return. You are never going to recover from this.