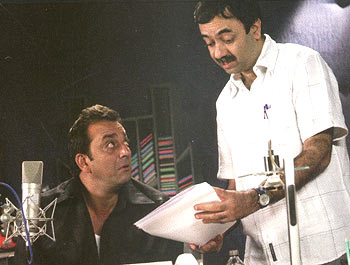 Find your second innings home
In this scene, I learnt that finding your second innings house where in you do not crib for the normal misfortunes which happen to every one of us. Instead of complaining, you find your own home where you can find a new reason to live your life. Like in the movie, all the old men find different meanings to live a purposeful life instead of brooding over their past.
When you are fearful, you cannot perform well. But, there are situations when you are scared but still you have to perform.
For instance, when this movie was released Raju Hirani the director of the movie was very scared. He did not know how the movie will come out to be. But, still he was determined in his heart and had the courage to make it.
Someone who looks weak not necessarily be weak
Mahatma Gandhi was afraid of public speaking. He was very shy. He gave up a case because he did not have the courage to speak. Because of his shyness it was becoming hard for him to continue his practice as a barrister. With practice and courage, Mahatma Gandhi overcame his shyness coming out to be one of the memorable political leaders of the country.
Read more: The Meaning of Strength by a Feeble Man
https://lovemishikasworld.tumblr.com/post/180476267118/lovemishikasworld-the-meaning-of-strength-by-a?fbclid=IwAR29P-N2OVjpKM9gXxexFOquv30YmAkDqz1nO7cIjc-S3O8nIYRdQkQdBYE
Have the courage to be more than your public image
In a scene in the movie, Mahatma Gandhi says that ask the young man to throw stones over my statue. Munna gets surprised that why Mahatma Gandhi is saying like that. While seeing this scene, I felt that Mahatma Gandhi is above his public image. He didn't cared for the outer respect from the young boy. But, he cared about that the young boy who had the courage to walk on Mahatma Gandhi's path.
Always be true to yourself
In a scene in the movie, Mahatma Gandhi says to Munna that you have lied to Janhvi. Go tell her the truth because she doesn't love you she loves that professor. Thus, always be honest to yourself and to your closed ones.
There is no point making relations when there are not coming from your heart
People often bash other people to get their work done. You cannot force anyone to make relations. Here, Munna forces his son to make relationship with his dad. Thus, he forces him to organize birthday party for his dad. What's the point to make relations when it is not coming from your heart?
Enjoy your old hood because it as beautiful as your childhood.
When life gets tough, humour makes the journey easy. Take time to laugh at yourself.
Choose long-term solutions over short-term solutions
In tough times, go for long-term solutions that might take some time but are good for your overall benefit.
Don't scold your kids when they are honest
Don't scold your kids when they are sharing even your mistakes with you. This will give them the freedom to express themselves freely in front of you.
Here Gandhiji accepts that when he was fifteen years old. He accepted his mistake that he has stolen gold of his brother. But, he accepted his mistake and changed himself for his better.
In sad times recall good memories of your past
When you are sad, then in your mind eye's run your beautiful past.
True love brings smile on your face
The time spent with your true love just passes by.
If you want to judge someone, then see how they behave with people who are lesser than them in social status.
Opposite reaction to people who unnecessarily irritate you
Opposite reaction to people who unnecessarily irritate you can work a lot.
Find innovative ways to solve your problems
Find interesting and innovative ways to solve your problems.
Do not believe in superstitions
Do not believe in the society that is full of people blinded with superstition.
It's easy to preach but it is hard to practice
It is hard to walk on the path of hard work, truth and honesty.