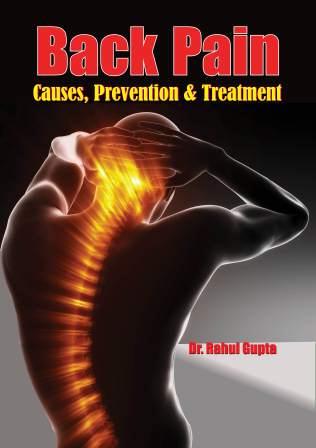 Back pain is a very common health problem worldwide and a major cause of disability — affecting performance at work and general well-being. Low back pain affects people of all ages, from children to the elderly, and is a very frequent reason for medical consultations.
It is difficult to estimate the incidence of back pain as the incidence of first-ever episodes of low back pain is already high by early adulthood and symptoms tend to recur over time. The lifetime prevalence of non-specific (common) low back pain is estimated at 60% to 70% in industrialized countries (one-year prevalence 15% to 45%, adult incidence 5% per year). The prevalence rate for children and adolescents is lower than that seen in adults but is rising.
Prevalence increases and peaks between the ages of 35 and 55. As the world population ages, low back pain will increase substantially due to the deterioration of the intervertebral discs in older people. Low back pain is the leading cause of activity limitation and works absence throughout much of the world, imposing a high economic burden on individuals, families, communities, industry, and governments.

A report published in The Lancet has stated that the increase of disability due to lower back pain has increased so dramatically world over that it is now being called as the leading cause of disability worldwide. Lower back pain is estimated to be affecting 540 million people across the world at any given point in time, according to the study!
Back Pain in India
Lower back pain is the fourth-highest cause of disability in India. Not only that but it accounts for 7 percent of the people living with a disability.
Migraines, iron-deficiency anemia, and other musculoskeletal conditions (including everything other than osteoarthritis and rheumatoid arthritis) are the top three causes of disability in India.
A recent study revealed that 20 percent of the cases of lower back pain occurs in the age group of 16 to 34. Here are some of the other key facts that the study revealed:
Although disability due to back pain worldwide has gone up by 50 percent since 1990, the problem lies in how the treatments are being inappropriately assigned.
In many countries' painkillers that have limited positive effect are routinely prescribed for low back pain' with very little emphasis on interventions that are evidence-based such as exercises. As lower-income countries respond to this rapidly rising cause of disability' they must avoid the waste that these misguided practices entail.
India was no different from the rest of the world. Indian clinicians manage back pain just as poorly as the rest of the world. For instance, a 2008 survey of all 186 registered physiotherapists in Maharashtra showed that 46% advised patients with low back pain to rest. 63% of Indians believe that bed rest is the mainstay of therapy. This is a misconception as bed rest delays recovery.
Evidence largely points to the fact that lower back pain should be managed with primary care, with the first line of treatment being education and advice on how to stay active at work, reported the study published in The Lancet.
However, in reality, a high proportion of patients worldwide are treated in emergency departments, encouraged to rest and stop work, are commonly referred for scans or surgery or prescribed pain killers including opioids, which are discouraged for treating low back pain.
The majority of cases of low back pain respond to simple physical and psychological therapies that keep people active and enable them to stay at work. Often' however' it is more aggressive treatments of dubious benefit that are promoted and reimbursed.
Although this problem has persisted for decades, despite mounting scientific evidence suggesting that staying mobile and active is a critical part of rehabilitation as well as prevention of lower back issues in the first place, people continue to get prescription drugs, expensive tests conducted and advised to get bed rest once the pain and discomfort builds. This needs to change.
About Dr. Rahul Gupta
Dr. Rahul Gupta is a brain, spine & endo¬vascular surgeon and director of neurosurgery at Fortis Escorts Heart Institute and Research Centre, New Delhi and Fortis hospital, Noida. He specializes in Vascular Neurosurgery, Endovascular Neurosurgery, Minimally Invasive Spine Surgery, Skull Base Neurosurgery, Endoscopic Neuro¬surgery and Epilepsy, and Functional Neurosurgery. His research papers have been published in national and international medical Journals like Journal of Neurological Surgery, British Journal of Neurosurgery, The Indian Journal of Pathology and Microbiology, Surgical Neurology, Indian Journal of Neurotrauma, Journal of Child Neurology, Surgical Neurology, Pediatric Neurosurgery, Clinical Neurology and Neurosurgery, Mycoses, Indian Journal Pathology Microbiology, The Indian Practitioner, Indian Journal of Otolaryngol Head Neck Surgery, Indian Medical Gazette and Indian journal of Gastroenterology.
You can get more information about neuro problems and their treatment on www.rgbrainspinesurgeon.com. If you have any question regarding brain & spine problems you can email on rahulguptaneuro@gmail.com.