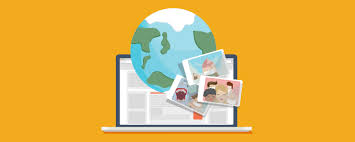 For me blogging is Dedication, Creation and Appreciation.I rant and ramble on the blog and it is my personal space which helps me grow as a writer.I bleed emotions on my blog.Now let me go in detail why blogging fascinates me.This is one passion which I advise people of all ages can follow throughout life time.It creates a kind of euphoria to write and share with people all around the world and get the feedback via comments.
It is a hobby: interest in writing has ignited this passion.That is why blogging started and this why it exists. Every blogger believes in writing for himself.To express and vent out true feelings without any apprehensions.
For fame: seeing successful bloggers has inspired me to follow their path. Seeing passionate and famous bloggers like Darren Rowse, Amit Aggarwal, Harsh Aggarwal etc.has instilled in me a drive to reach their level.I am learning to crawl slowly and steadily to become a famous blogger.
For money: yes with true passion comes the money. One has to have a proper blue print of the blog and target a profitable niche. This can help people in traditional marketing jobs. One can make an income through ads like AdSense and afffiliate marketing.
Sharing and learning: it helps me share my knowledge with the world and others can share their knowledge on my blog.
Online portfolio: blogging about certain things helps my online presence and showcases my expertise.It can help me procure jobs and have a edge over others.
To help others: writing on things like break-ups, disease, depression can help people going through this phase.It is a kind of therapeutic approach.
Stay in touch: these writings help me to stay in touch with family and friends. One can share things about one's life without meeting them.
Create a record:these writings will help me create a web record for future generations. They will be able to take guidance from them.
To help me lead a meaningful and disciplined life: devotion,time -management will help me lead a healthy life.
To become confident and comfortable writing in my free zone: life has something to offer by building my self-esteem with my writings.
To get Following: getting a large number of followers brings the adrenaline rush and makes life worth living