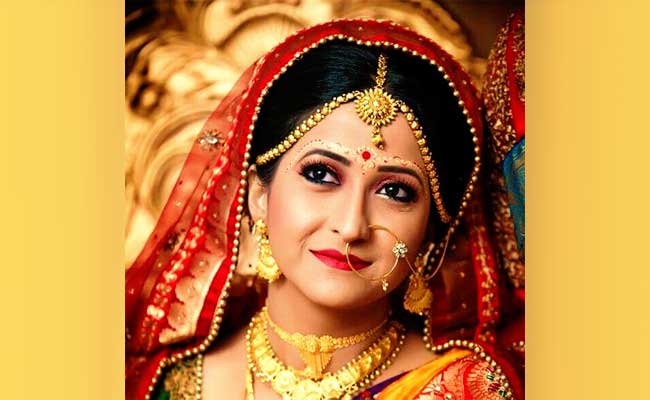 West Bengal is known as the richest cultural state of India. This rich culture of Bengal is reflected in the art, dresses, jewelry, food, music, dance, architecture, religion, and festivals. It is the perfect blend of modernity, magnificence, and tradition.
Traditional jewellery of Bengal has its unique style and it has maintained the cultural ethnicity of India. It is crafted with gold and encrusted with precious stones.
Read everything about the famous Bengali jewellery styles below!
1. Chur: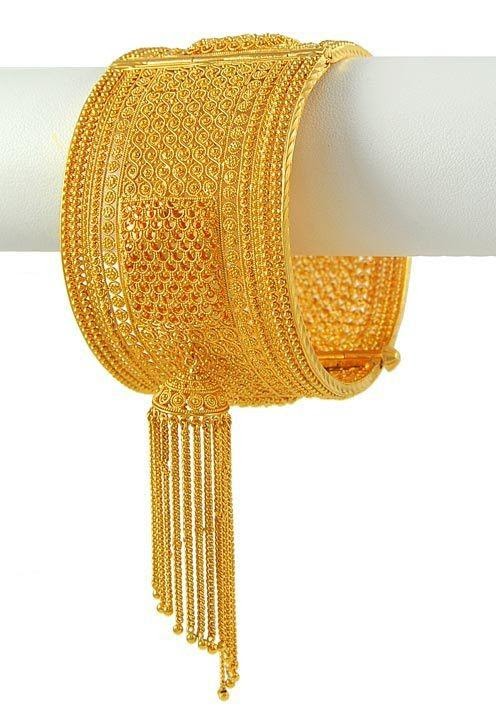 Chur is a traditional Bengali bracelet made with pure gold. It is a broad single piece of gold bracelet worn in one hand. Sometimes, it may be an ancestral jewellery passed on through generations.
2. Ratanchur: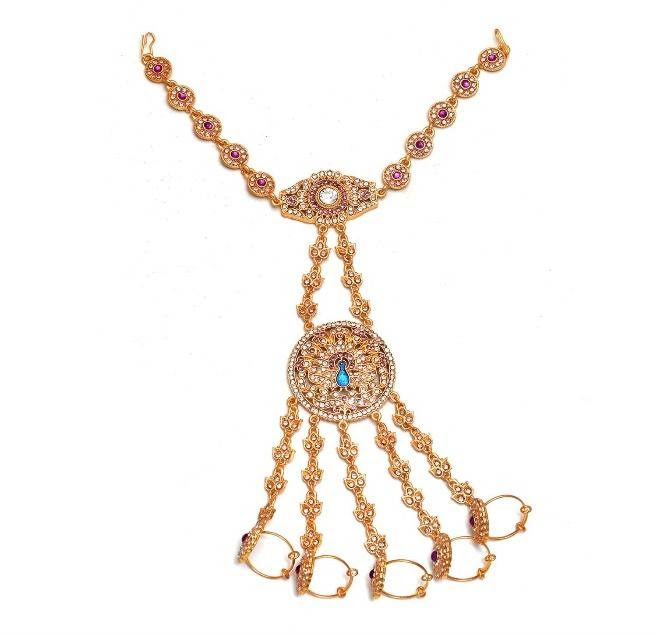 Ratanchur is traditional Bengali jewellery worn in hands. It is designed as five finger rings connected to bangle or bracelet with individual chains. It has its origin from Mughal culture. This piece of jewellery is adorned by the bride on her wedding day.
3. Tikli:
Tikli is traditional Bengali head jewellery. Tikli has maang tikka and tiara in its design. Maang tikka has a large beautiful pendant in the center connected with a tiara. Tiara can be designed in two or three layers or a single broad layer. Tikli gives fuller look to the face and hides the forehead.
4. Shakha, Pola & Noa: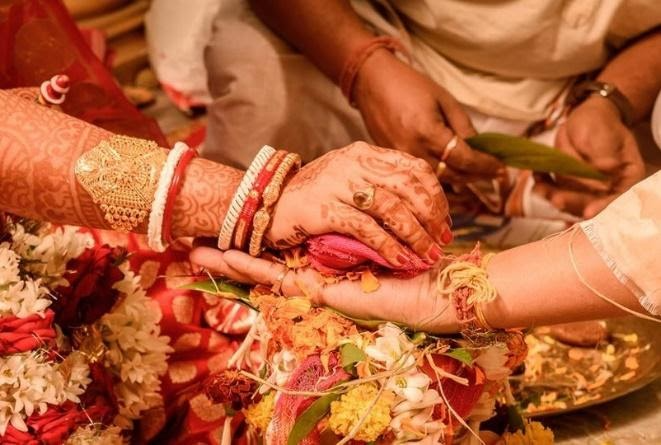 Shakha, Pola, and Noa are types of traditional Bengali bangles. Shakha is a white-colored conch shell bangle and Pola is a red coral bangle. Noa is made of gold plated iron metal. Married women in West Bengal wear these three traditional bangles throughout their married life.
5. Saath Noli Haar:
Saath Noli Haar is a traditional family necklace of any Bengali family. It has seven layers in its design, therefore it is called Saath Noli Haar. If the necklace is designed with five layers it is called Panch Noli Haar.
6. Chic/Choker: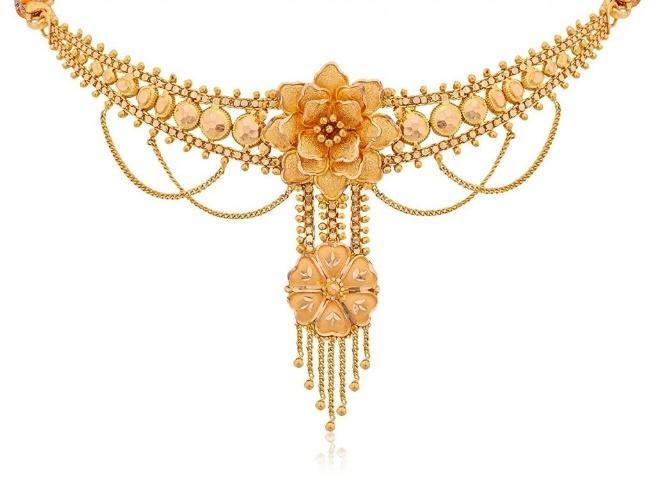 Chic is the broad choker necklace that is worn on a little lower part of the neck and above the collar bone. It has a width of usually 1 to 1.5 inches. Chic is crafted with gold, and studded with pearls and diamonds.
7. Kaan: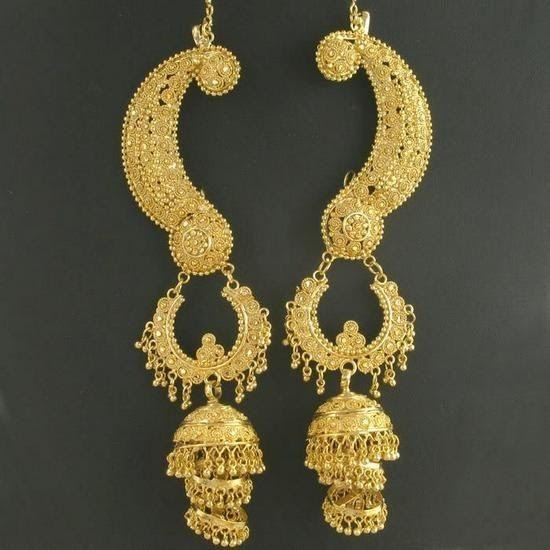 Kaan word means ear. Thus, Kaan is ear jewellery. It is designed in the shape of the human ear. When Kaan is worn, it covers the whole ear. This jewellery piece is worn on marriage functions or some special occasions.
8. Pati Haar: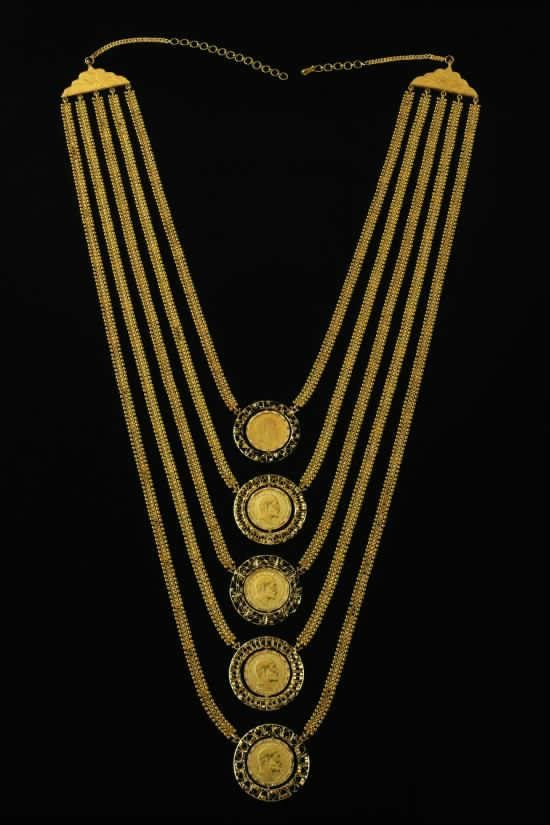 Pati Haar is a necklace, which is studded heavily with layered beads. It is worn on Durga puja, family events, or wedding functions by Bengali women. It is precisely shaped gold jewellery which gives a very adorable look to the traditional Bengali attire.
9. Jhumko: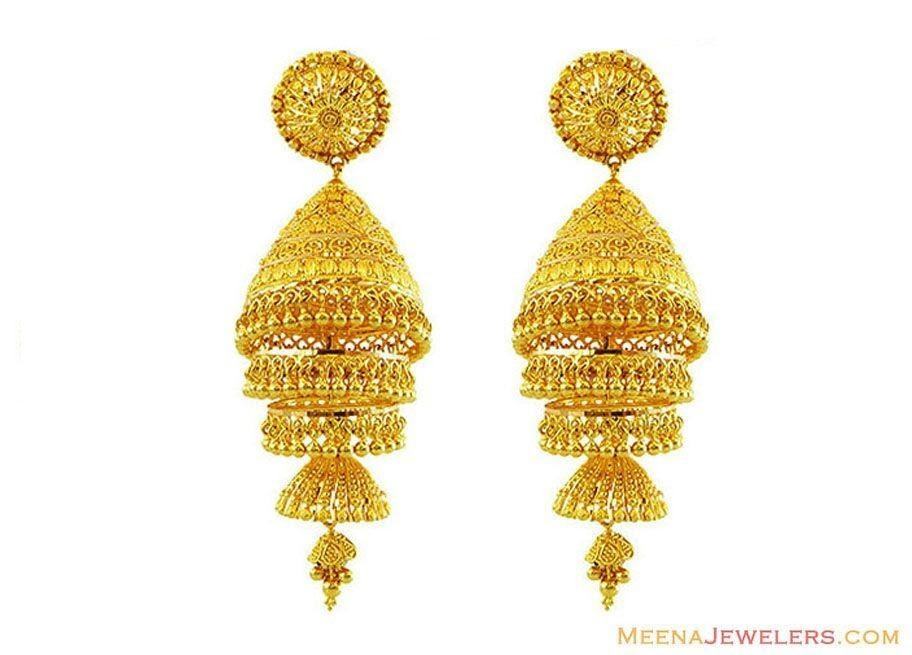 Jhumko or Jhumka is originally chandelier earrings. They are big, dangling earrings. They are loved by the Bengali women for its beautiful look.
10. Nolok (Nath):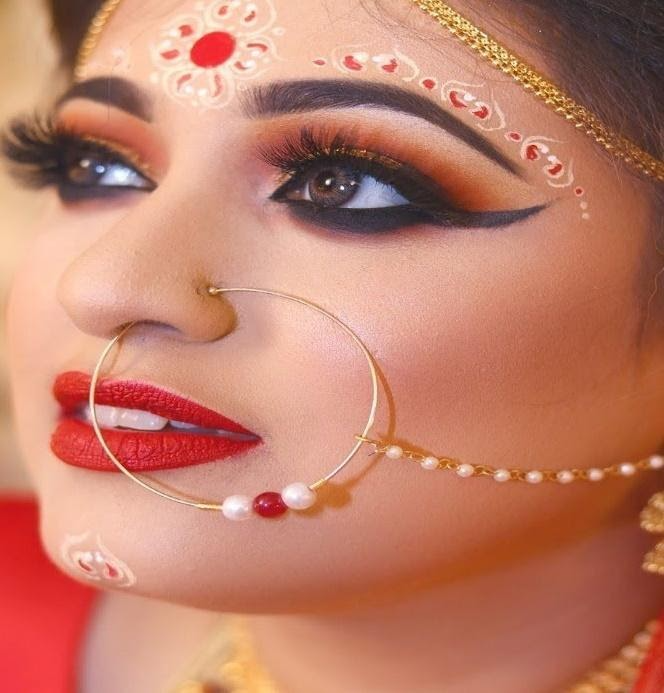 Nolok is a nose ring worn by Bengali brides on the day of the wedding. It also has a string attached with a nose ring that goes up to the ear.
11. Shonor Mukut (Crown):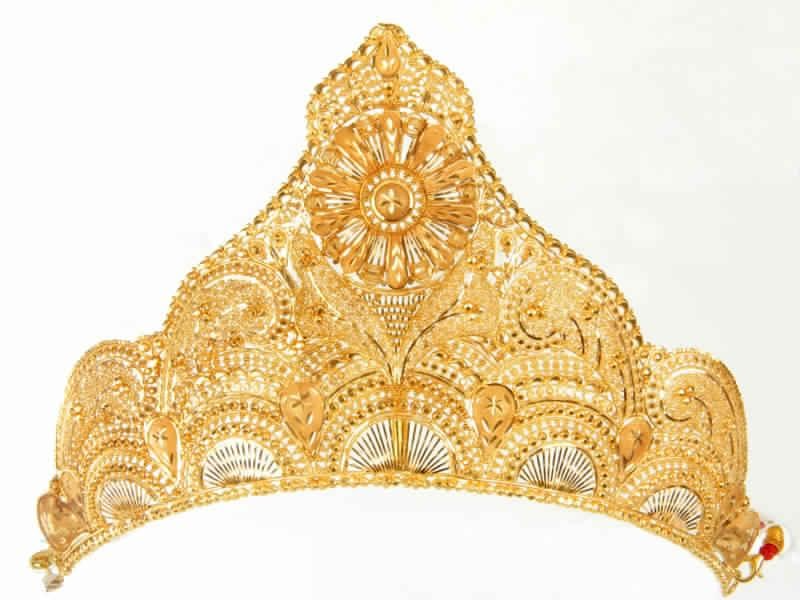 Shonor Mukut is the crown, which Bengali brides adore. It gives a royal touch to the bride's dress-up. It is believed that this traditional Bengali jewellery is inspired by British fashion. Sometimes, Shonor Mukut is also made from gold.
12. Kaan Bala: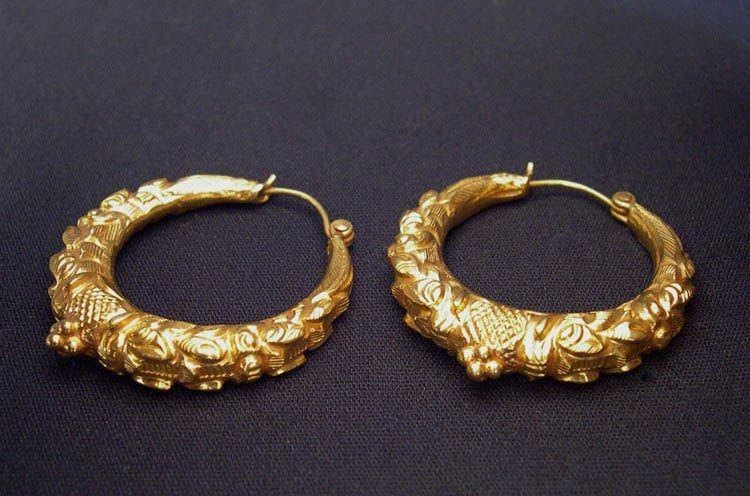 Kaan bala is round-shaped earrings. Bengali women prefer these earrings to wear on regular basis. Bangles are called Bala in the Bengali language. Thus, as these earrings are shaped in round bangle style, it is called Kaan Bala.
13. Nupur: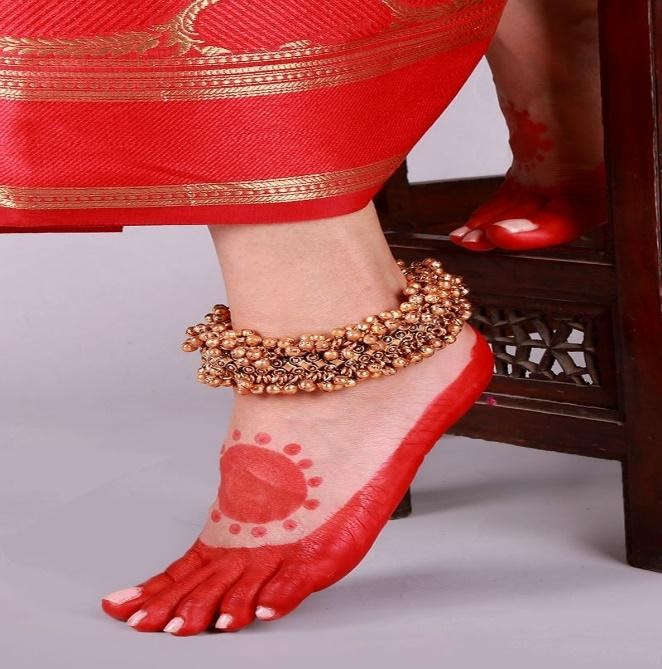 Nupur is the anklet worn by brides in West Bengal at the time of the wedding. Nupur is in general made of silver or Kundan having a single string. Sometimes, it is also designed in a broader manner and with small dangling beads.
14. Bokul Mala: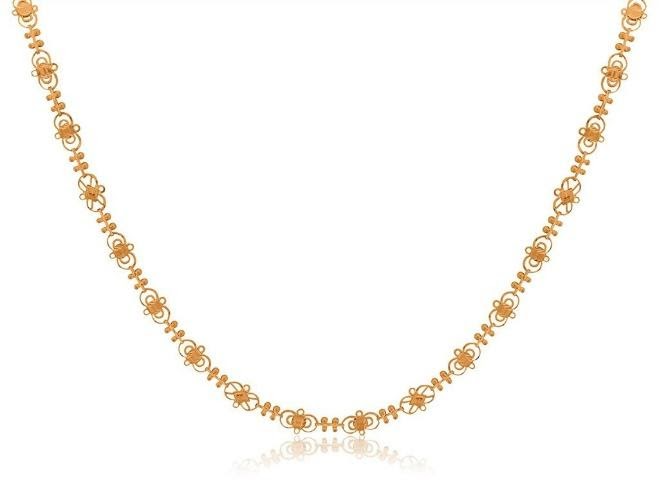 Bokul mala is worn by Bengali married women on regular basis. The design of Bokul mala is inspired by the regional flower of Bengal, Bokul. It is a kind of gold chain.
These are different beautiful types of Bengali jewellery. Let us know in the comments, which traditional Bengali jewellery you like the most and want to try.
Keep accessorizing!