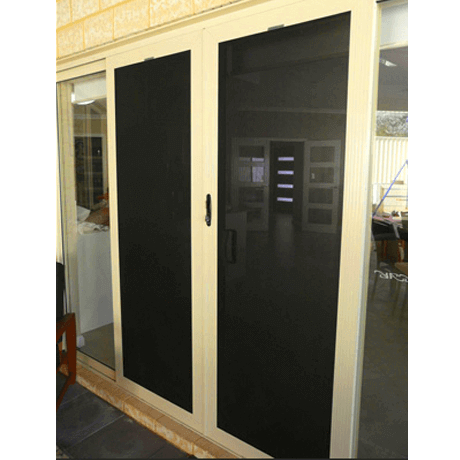 Looking to improve your home security level? Well, you've come to the right place. There's an abundance of security solutions available to you on the market out there…but when you're looking for a way to increase the physical defense layer over your property, then choosing the best security screen doors in Perth may be your ideal option. Read on to discover what makes these simple yet effective security products such a great fit for your premises!
Effective Deterrent
If you've got an old and tattered front door with broken frames or detached mesh, then it's likely that you home is going to appear as an ideal target towards potential intruders and thieves. You should know that 34% of burglars use the front door in order to infiltrate into homes, which is why it's so vitally important to install a first line of defense that is as fortified and safeguarded as it can be. When you have newly installed security screen doors installed to your property, chances are the very sight of them can be enough to deter burglars altogether. No one wants to be throwing desperate attempts at such a sturdy and robust structure with nothing to show for it. Moreover, burglars generally want to target homes which feature as little security solutions installed as possible, which they can infiltrate without making a whole lot of noise and effort. Of course, with security screen doors installed, they're going to have to do a whole lot of the latter before they are able to make their way past such a strong and resistant barrier.
Additional Layer of Protection
Proper security screen doors are manufactured from premium grade materials such as aluminium or stainless steel, and designed to meet strict Australian standards that require a number of strength tests to be performed before being deemed as effective security solutions. The tests administered simulate a number of forced entry attempts most commonly utilised by burglars, including knife attacks, lever attacks, forceful impacts or cutting plier attacks, among others. Of course, a door that has passed all tests with flying colours is sure to prove as the perfect additional layer of protection over one of your home's most vulnerable entry points. You can invest in these products with peace of mind, knowing that your property will be that much more secure after their installation.
Long Lasting Investment
Do a quick google online and you may come across a variety of cheap and prefabricated 'security doors' ready for installation on your property. The problem with these doors is that they're often classed as short-term solutions rather than long-term investments; they're only going to cost you more in replacements and repairs in the long run, as they simply aren't designed to handle the tough punishments that desperate thieves and intruders dish out when wanting to infiltrate your home. If you truly want to save yourself the highest amount of money in the long run, your best option would be to opt for a high-quality security screen door straight off the bat, so that you can ensure a long-lasting investment on your property that will promise to withstand against all the lemons life throws at it for a number of years.
Enhances Value
These days, it's just as important for homeowners to invest in products that are capable of enhancing the aesthetic value of their property, along with providing functional benefits. You'll be pleased to find that security screen doors can offer you the best of both worlds when it comes to these aspects. Security screen doors are generally available tailor-made to fit with your unique requirements, whether you're looking for a specific shape, size, colour, style or finish. Needless to say, customised solutions such as these promise to provide as the perfect addition to your property each and every time, as they're manufactured specifically to fit your home's existing design, as well as your own personal preferences. As a result, you can expect such a security product to add value to your property, consequently allowing you to get a higher price for it should you one day decide to put it on the housing market.