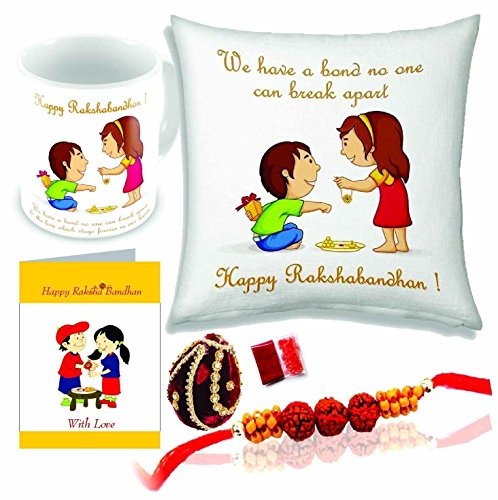 Raksha Bandhan is around the corner and everyone is in a full festive mood. Raksha Bandhan is an Indian festival that is full of sentiments, love and care. This festival is a symbol of the unbreakable bond between brother and sister. Brother takes the responsibility of the sister and promises her to be with her in all her good and bad times and sister prays for the long life and health of her brother.
Sisters pick the best Rakhi in stores for their beloved brother and so do brothers wish to surprise their sisters with the best gift they can give her to celebrate the festival in full fervour. The nature of gifts has changed over the years but the essence is still the same.
Jewellery is one of the evergreen gifts that has its place in the list of various options of gift items. Though the style of the jewellery to be gifted has changed, earlier gold was widely used in making jewellery but with the changing trend, many other options are available. Now there are diverse jewellery alternatives that are trendy and budget-friendly. If you are also planning to gift your sister a jewellery piece this Raksha Bandhan, we've some amazing suggestions for you to check out.
Here are some of the jewellery ideas that are worth to explore:
Charm Bracelet: Charm bracelets come in silver, gold-plated and rose gold-plated colour. You can find Buddha, butterfly, owl, elephant, leaves and such other designs that are suited to one's aesthetic. These can be worn with any outfit. This funky piece of jewellery will be adored by everyone.
Chains and Pendant necklace: Dainty and sleek chains are best for a sophisticated and classy look. Knot chains, a chain with a heart, stars, constellation necklace, infinite loop pendant, layered chains are some of the styles of these kinds of accessory. You can find a diverse range of these pendant necklaces online and can get a great deal on these ornaments as the

rakhi jewellery sale

is on.
Oxidised earrings: Oxidised German earrings are in vogue these days. These earrings are made of sterling silver that has been oxidized over a long period to give it a tarnished look. You can find studs, jhumkas, layered earrings, enamel earrings, embellished earrings and a lot more styles. These earrings can dazzle up any attire.
Wooden jewellery: Wooden jewellery has a very funky and earthy feel to it. These jewellery are biodegradable, light-weight and stylish. Wooden bangles come in various shapes and sizes with beautiful designs and sketches carved on them. The wooden tribal bangle has made its place in various world level fashion shows. You can also find wooden earrings of different shapes and so do pendants.
Chokers: Beaded, oxidized, fringe and numerous other styles of chokers you can find online. Chokers are a statement piece and are an accessory that can instantly seek attention.
Cocktail rings: If your sister is one who has a quirky sense of style, Cocktail rings are a perfect gift for her. This piece of jewellery is a chic and budget-friendly option as a gift.
You can also check for boho earrings, statement necklaces, cuffs, bohemian finger bracelet or slave bracelet, barefoot sandals. You can easily find these accessories on online stores and since these stores are having Rakshabandhan jewellery sale so you can get a huge discount and offers on your purchase. These stunning pieces of jewellery will make great Rakshabandhan gifts for sister under 500 so do check them out and celebrate this festival with full zeal with your loved ones.