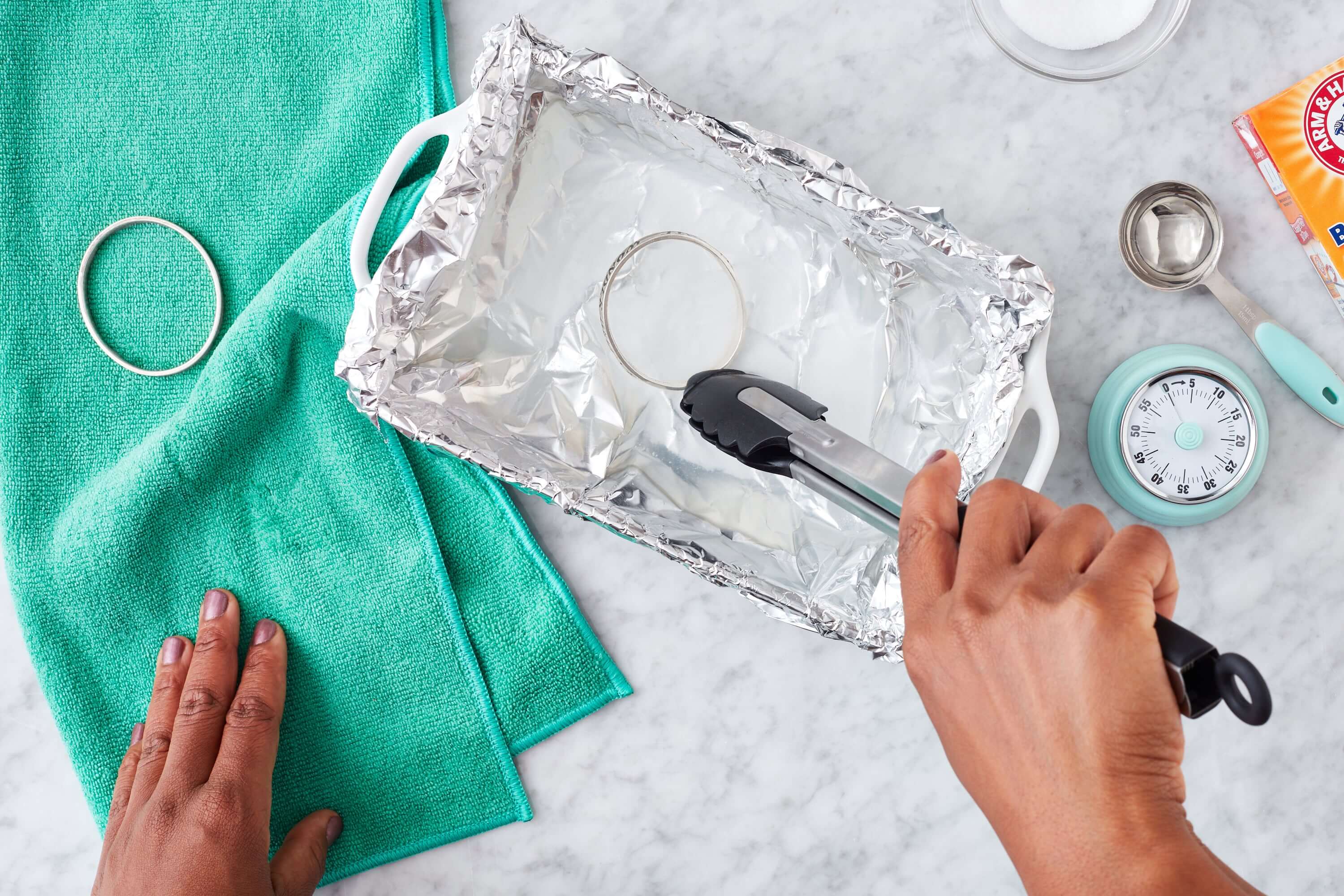 Pieces of jewellery have always been the most exciting part of any outfit. And it does not always have to be gold, silver, diamond or Anything precious; women love the accessories of any kind.
But as time goes on, they need to be taken care and when we talk about cleaning we just mean to keep the shine intact.
With silver, there is a constant accumulation of dirt in the deepest crevices that make it difficult to clean. But don't worry here are some hacks about how to clean silver jewellery.
1.AMMONIA
WHAT YOU WILL NEED
1 cup of warm water

1/2 cup of ammonia

paper or towel
Process
Take half a cup of ammonia and mix it with a cup of warm water then put your silver jewellery in this.
Let it submerged in the liquid for 15-20 min
Rinse it with water, and let it dry on a cloth.
2.SOAPNUTS
What you will need
fistful of soapnuts

warm water

a toothbrush

bowl
Process
Take a hand full of soapnuts and soak them in a cup of water for about 15 min

Now extract the soapy liquid from it and submerge your silver jewellery in it for some time

scrub the item and wash them with tap water

let them dry and then clean them with a paper towel
3.BAKING SODA
What you will need
2 tbsp of baking soda

Warm water
Process
Take about 2 tbsp of baking soda and add a little water to it to make a thick paste.

With an old toothbrush apply this paste to jewellery. Scrub carefully.

You will observe that the dullness diminishes and your jewellery begins to shine.

Rinse it with water and repeat this process if needed.
NOTE:

Avoid using them on anything enamel, gemstone or pearls.
4.TOOTHPASTE
What you will need
Toothpaste

Toothbrush

Fresh towel
Process
Apply a little toothpaste on the toothbrush and rub all over the jewellery

Now wipe it thoroughly.

Give one last rub with a damp or a fresh towel.
5.HYDROGEN PEROXIDE
What you will need
Process
Pour a cup full of hydrogen peroxide in a cup. Make sure the ringgits fully immersed in it.

The dust will react with the hydrogen peroxide and start to make bubbles.

Remove the ring from the liquid. After a while, dip it back in and leave it there for a minute.

Take it out and rinse with regular water.
NOTE:

Hydrogen peroxide helps remove all the stubborn grime and grit that has settled on your jewellery over a year.
6.ALUMINIUM FOIL
What you will need
Aluminium foil

Baking soda

A bowl of boiling water

Toothbrush

A cloth to dry
PROCESS
line a steel bowl with aluminium foil and fill it with water

let it come to a boil

add baking soda and turn the stove off

adding your jewellery piece to this and leave it for a couple of minutes

take them out and brush them using a toothbrush

dry them on a towel
6.LEMON JUICE
What you will need
1 tbsp of lemon juice

1/2 cup of water

toothbrush

paper towel
PROCESS
Squeez out one lemon and add 1/2 cup of water

soak the jewellery and leave it overnight

wash them next morning with tap water

rinse with a paper towel
7.KETCHUP
What you will need
Process
Dip a soft cloth or a brush in ketchup and clean item with it.

rinse it with tap water

repeat, if needed
NOTE:
ketchup is highly acidic and helps getting rid of all the grit and grime build up on your silver jewellery.
There is nothing more satisfying than to see things getting clean and shining
You can do all of these in no time they are so easy to do at home
Hope these hacks will going to give back your jewellery shine.