Quick disconnect couplings are used to provide a fast and easy way to connect or disconnect the pipes without using any tools. This enhances the serviceability and productivity of the connection of the pipes and prevents leakage. These are also known as quick release couplings or quick disconnects. They are operated by using a hand and it is used in a wide range of industries.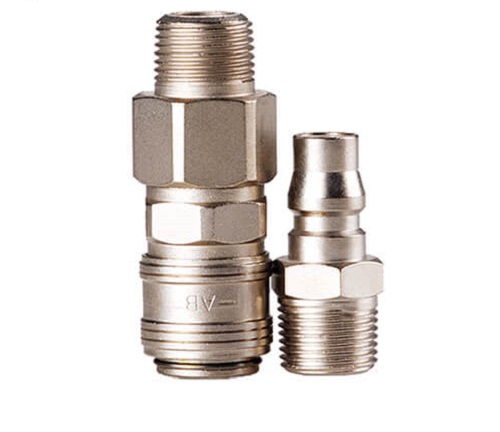 What are Quick Disconnect Couplings?
Quick disconnect couplings are made with a spring-loaded ball latching mechanism. This automatically locks the two halves of the fitting together when they are pushed to attach each other. To disconnect the joint, sleeves are pulled back and the balls will get unloaded to release the connection. For example, Air Quick Couplings are having a simple design, which is lightweight and is used in various types of connections. They are worked under the pressure of 1.0 MPa and withstand temperatures from -20 degree Celsius to +100 degree Celsius. These air quick couplings are used in various pneumatic tools, compressed air components, and various compressors.
Ball precisions are important in the quick disconnect coupling types. It is used to provide a uniform connection for all the rollerballs which is present inside the head unit. Select the same material for the ball, which is the same as the material of the fitting. The most common materials used here are copper, brass, and stainless steel.
Types of Quick Disconnect Couplings
The following are the different types of quick disconnect couplings.
Ball Latching Type:
This is the common type of disconnect couplings, which is having a spring-loaded ball latching mechanism that locks the two halves automatically. This type is easy to operate and used in places where frequent connection and disconnection are required. This type can handle the pressure of up to 500 psig.
Non Latching Type:
Non-latching quick disconnect couplings have to release sleeves and self-sealing valves present on both sides. It will automatically contain the fluid in the lines upon disconnection. Many manufacturers make various types of these non-latching quick disconnect couplers.
Single Shut Off Type:
This type is having a valve, which is present in the internal half of the assembly to prevent running fluids from leaking. When using this type of couplers, the operator must use safety protection to the eyes in order to avoid injury caused by energized fluid line or over-exposure to the fluid.
Double Shut Off Type:
These types are having shut-off valves that are present on the internal and external sides of the assembly, which helps to retain the pressure in the fluid lines.
Conclusion
Quick disconnects are also had limitations to pressure, so select the right fitting for the pipe in order to handle the maximum pressure offered by the system.