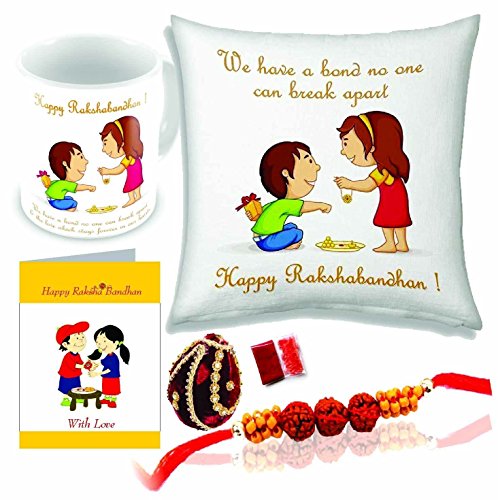 Rakshabandhan is an auspicious Indian festival to celebrate the eternal bond of love between brother and sister. Brothers and sisters are friends, partner-in-crimes and a lot more. They laugh together, fight together and on this day share their sentiments of love, warmth and care. Rakhi or Raksha Bandhan is a symbol of an unbreakable bond between siblings and is celebrated all over India with great enthusiasm.
This festival has evolved over the years but the essence remains the same. The lack of time and the busy lifestyles has created a distance but the hearts are still together and so the memories.
As Rakhi is around the corner and you surely want to surprise your beloved sister with a unique yet budget-friendly gift. Here are some of the ideas of
Rakshabandhan gifts for sister under 500, so don't forget to check these out:
Chocolates:- Sweets are the best way to celebrate any relationship and what is better than chocolates. There are infinite options available online and in shops where you can buy a chocolate box as per your budget. You can also customize one as per your taste. These can be arranged in a form of a bouquet or a gift basket. So add some more sweetness with these delicious gifts to please your darling sister.
Jewellery pieces:- Jewellery IS every girl's best friend. You can find a variety of options online as Rakshabandhan jewellery sale is going during this festive season and you get a great deal on most of the jewellery pieces. You can buy a funky bracelet, earrings, pendant and so many stylish accessories at a huge discount. So, make the most of it from this

rakhi jewellery sale

.
Coffee mugs:- Coffee mugs are a popular item to gift on any occasion. The market is flooded with these affordable gift items with sweet quotes on them. Personalized mugs with a memorable photograph of the two of you will remind the best of the moments that you shared together.
Graphic T-shirts:- Want to try something new this Rakhi, we've got you covered. Make your sibling bond more thrilling and exciting by gifting her a cool t-shirt having lovely Rakshabandhan or funky bro-sis quotes.

There are various online shopping sites from where you can look for these trendy tees and you don't have to struggle to find them because these cool t-shirts are so in this festive season and are easily available online. This unique gift idea will surely make you her favourite despite your annoying behaviour.

J
Personalized cushion:- Personalized pillows and cushions is a comfy and unique gift to surprise your dear sister. Customizing the cushions with the picture of siblings or a picture of your lovable sis will make her feel loved and cared for. You can easily fetch a cushion or can customize one on various online sites at an affordable cost.
Shopping vouchers:- Confused about what to gift her or couldn't make time to pick a gift, surprise her with a shopping voucher. She can pick her favourite clothes or a makeup item of her choice and can relish the joy of this festival.
Perfumes:- It is another great option to gift your lovely sister and add a fragrance of love and care in your relationship. There are some good perfumes that can be light on your pocket yet smelling great.
Personalized keychain:- Personalised gift items are so much in trend and is a cool way to make your loved ones happy. Order a customized keychain and make your sister filled with joy with this sweet gesture of yours.
You can check for these adorable gift items online and celebrate this auspicious day with your siblings with full zeal.