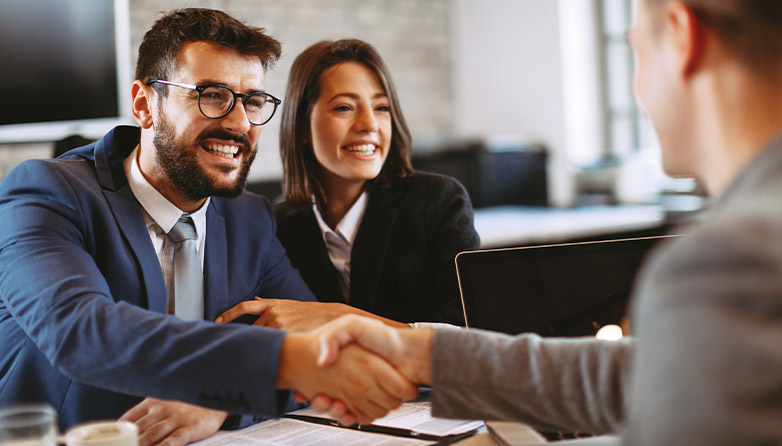 Digitalization has led to a change in the way prospects identify, choose, and recruit financial advisors. The availability of several resources helps investors make more informed and better-purchasing decisions in almost all areas of life. Irrespective of the financial planning approach you use.
Here are a few marketing strategies to assist in advertise yourself and expand the business in the online landscape.
How Prospects Find A Financial Advisor?
In a majority of cases, prospects implement any of the two methods to find the right financial advisor for their job.
They ask their family, professionals, and friends, with whom they work with referrals

They carry out an extensive search on the web
Advisor Engine is a recognized company that provides a single platform to serve the best investment management software to its wealth management clients. Their tools comprise of digital wealth and practice management components.
Online space like social media channels such as LinkedIn, Twitter, etc., blog posts, Google, professional societies, etc. is some of the widely accessed places where prospects look for an appropriate advisor. This requires an investment professional to have solid online credibility online.
Developing a reliable and collaborative relationship is very important to succeed in the business. In addition to it, people also look for an advisor who understands their problems, goals, and life events to arrive at the best financial solution than to elaborate about their services. Prospects focus more on working relationships, trust, and third-party validation, to find the best one from the available choices.
Make Your Clients Feel Special
It is important to demonstrate that you care for your clients. Let them know that you are working hard to accomplish their life objectives. Ensure that you develop and maintain a personal relationship with your clients. The more they will connect to you on a personal level, the convenient it will become for them to refer you to others.
Be Specific
Another important thing that you a financial advisor should know is to be specific while marketing their business. Your message has to be precise, relevant, and contextual. Such type of communication will increase your chances to resonate with prospects.
This would act as a conversation starter. When you communicate in this way, then it will assist in maximizing the returns on the efforts and money you spend on them.
Location Is Less Important
With the invention of digitalization, several apps and tools help clients access their money easily. These tools let them see how their investment portfolios are performing.
Digital portals enable clients to log in to their accounts, manage money, as well as communicate with other financi al advisors. This has reduced the need to access the physical location of a financial advisor.
Look To The Future Generation
Financial advisors should design their strategy in a way that helps them serve multiple generations efficiently. In other words, their strategy should cater to the needs of adult children, young investors, children of older clients, etc.
It is important to consider that the future generation of depositors will be more diverse, technologically literate, and advanced. Develop a business that allows you to scale with clients. This would help in the effective growth of your business over a while.
Let Them Know Your PERSONALITY
Your prospects would want to know about you. Let them know what you are on a deeper level. Do not be afraid to let the personality shine via the following things:
Why do you like being a financial advisor?

Why did you choose this career or what motivates you to take up this career?

What is gives you maximum satisfaction when working with clients?

How do you seek work-life balance?

How do you make your weekends fun-filled and enjoyable?
Implement CRM in your business
The adoption of CRM improves the quality of office communication and reduces the chances of misunderstandings. It helps an investment professional to trace, onboard, and convert new clients using smart automation.
About AdvisorEngine
Advisor Engine provides a trusted platform that provides tools to help businesses scale and compete more efficiently and effectively. Through their platform, they help their clients to open an online account, automate reports, and perform other comprehensive API platforms.
Their product comprises digital signatures, simple workflows, automated alerts, and customizable approvals. Some of their digital wealth management components comprise:
Financial planning

Investment selection

Asset allocation

Rebalancing

Tax management
Some of their practice management components are:
Convenient onboarding of clients

Integration with Customer Relationship Management

Advisor and Client dashboard

Compliance

Performance reporting

Billing
Other Salient Features Of Advisor Engine
The firm has around 14,000 users across 1,500 firms that have an investment of above $600 billion in assets

They have an intuitive client portal that provides a 360-degree view of the portfolio. In this way, it provides valuable insights into the activity, health, and position of the account.

Convenient account opening procedure lets them choose asset allocations, and models with the help of investment instruments, custodial accounts, and ACAT positions.

AdvisorEngine offers seamless integration with the top trading platforms that offer support for separately managed accounts, advisor-managed models, tax-efficient trade management, and unified managed accounts. In this way, it offers powerful rebalancing and trading tools;

Their practice management solutions offer institutional-level analytics, robust billing abilities, and performance reporting, in one place.

Their completely customizable online advice enables advisors to effectively manage clients that are spread across varying geographies;

Digital record-keeping activities let advisors gather data related to clients, integrate it using custodial information, as well as store them electronically in one place. This ensures easy reporting and compliance with the regulation.
Conclusion
The method in which a business is implemented has become more advanced. What worked ten years before will most likely not work now. It is important to move forward to expand the business.
Adapt to the behaviours of prospect, industry shifts, and technology when expanding a business. The best marketing strategy starts and ends with people. Due to this, a business should use good CRM software to assist in onboarding and converting new prospects.