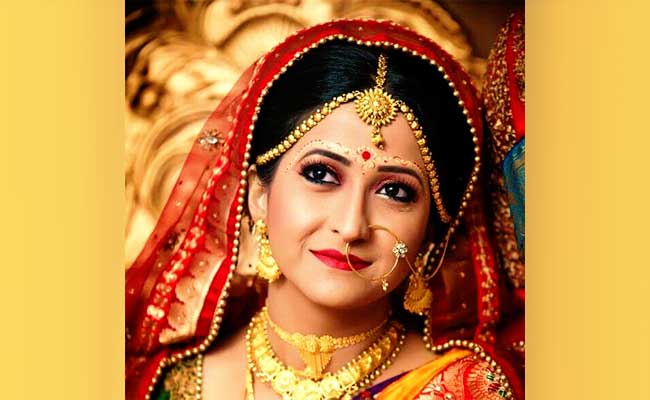 Gold has extreme sentimental value in Indian culture, tradition and religious practices. It is considered as auspicious in many parts of the country, especially in West Bengal, where weddings and religious ceremonies are incomplete without it. The traditional jewellery of West Bengal is made from gold, precious stone, silver and brass by the jeweller caste who are locally known as swarnakars.
These swarnakars are involved in making the rich and variety of beautiful ornaments including precious gold jewellery and tribal ornaments. Bowbazar, Baghbazar, Kalighat and Bhawanipur areas are the centres where these jewelleries are made.
West Bengal jewellery is elaborate, highly ornamented and precious and is made with utmost care and precision by the traditional craftsmen who have worked extremely hard in order to keep the legacy alive. Most common piece of jewellery includes bangles, earrings, necklaces, armlets and anklets. Gold is still an integral part of jewellery piece but nowadays, lighter ornaments are preferred because of which costume jewellery with minimal semi-precious stones and tribal designs are more in demand.
Bengali Jewellery has undergone a lot of modifications from the past but it still has intricate patterns and essential elements of a traditional piece. Here are some of the most important pieces that form an integral part of Bengali Jewellery:
TIKLI:
A tikli is an important piece of jewellery similar to Maang tikka, mostly worn by brides in the middle parting of the hair. Studded with precious stone or gold, Tikli is embellished with floral designs with delicate chains hanging from it. It often has precious stones beautifully crafted along with gold to make it look grander and exquisite.
KAAN:
Also known as Kaan Bala, these are gold earrings in the shape of the human ear, and have a look of chandelier earrings with diamond and other precious stones embedded on it. This piece of ornament is beautiful and forms an integral part of the traditional jewellery of West Bengal.
CHIK:
Chik is similar to choker, worn around the neck, by the women. These are around an inch wide, made of gold and studded with diamond and other precious stone to give an add-on effect. A chik has an intricate design that portrays the subtle and delicate craftsmanship of traditional swarnakars.
RATANCHUR:
Another important and unique piece of Bengali Jewellery is Ratanchur, which is made of gold and silver. It comes in many patterns but the most common one consists of five finger rings that are attached through individual chains to reach the armlet. This was introduced to India by the Mughals and quite common among the brides.
PATTI HAAR:
Patti haar is a heavy studded necklace mostly worn by affluent Bengali women during weddings and religious ceremonies. This extremely elegant and exquisite piece is created with immaculate precision to make it convenient to wear.
TIARA:
Another main element West Bengal Jewellery is Tiara, which is mostly worn in Bengali weddings and shows the magnificence of Bengali bridal jewellery. Influenced by British tiaras, this gives the bride a look of a queen and also helps her in holding her veil in place. It adds an element of elegance to the bridal look.
GOLD BAUTI:
Most commonly worn by married women, bauti is a bangle made of gold. It is a half-cut bangle which is ideal for everyday use and has an elegant design.
BOKUL MAALA:
This is a Bengali gold necklace, or gold chain that is inspired by a flower called 'Bokul'. Bokul mala is available in single and multiple layers and is mostly worn by Bengali married women on a regular basis.
Are we missing any of the important pieces? Let us know in comments!