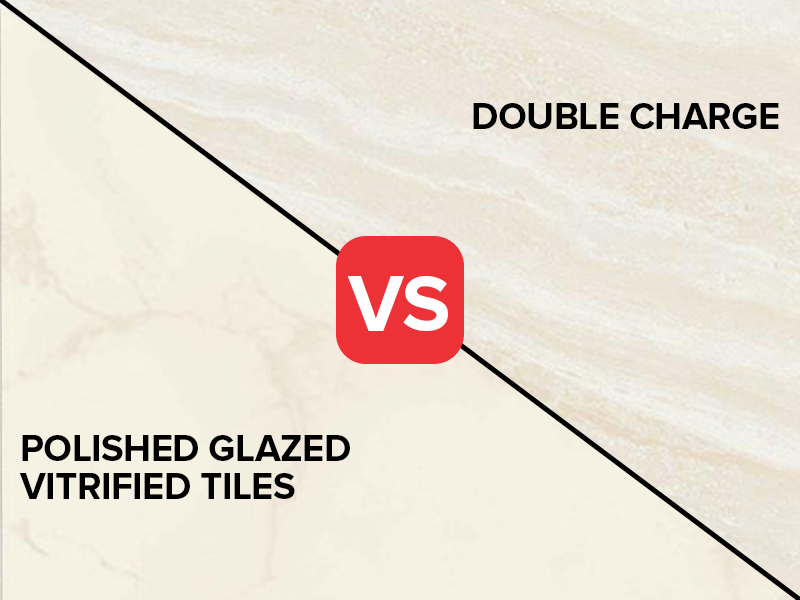 Building a new home or renovating an existing one and looking for floor tiles? There are many alternatives available to you, whether you're a homeowner or a professional builder. In this article, we'll see the difference between double charge and polished glazed tiles so that you can figure out which one is better for you.
As a part of Vitrified tiles, you'll find glazed and double charged tiles. Vitrified tile includes both of these tiles. As a result of their characteristics and beauty, vitrified tiles are quite popular in the tile market. Stains and scrapes don't bother them since they're robust and resilient. Both types of vitrified tiles have similar physical qualities, such as minimal water absorption and low porosity, and the production process is 70% the same. However, there are some changes.
When it comes to double charge tiles and glazed tiles, there's a great deal of confusion. In terms of surface preparation and tile patterns, there is a significant difference between these two types of tiles.
Looking for a thorough Double Charge Tiles VS Glazed Vitrified Tiles? Here, I will try to explain the key distinctions between those tile in this post.
Polished Glazed VS Double Charge Tiles, Which is Better?
Manufacturing Process:
Double Charge: Various feeders connected to the hydraulic press are used to make double charge tiles. It is made up of two layers, with the tiles produced in a press mould. The top layer has a thickness of 3 to 4 mm.
Polished Glazed: Digital printers are used to create these tiles. The Glazed coating is put to the tiles' surface. The digital layer is less than one millimetre thick. It has standard Feeders attached to the press, as illustrated in the figure below.
KNOW WHY TO GO FOR DIGITAL WALL TILES
DOUBLE CHARGE TILES: STRONGER. HARDER. THICKER.
Design:
Double Charge: There is a design constraint with these tiles due to the restricted number of patterns created using a single feeder. There can be no modification because the moulds have set patterns.
Polished Glazed: Designs and patterns may come in a variety of styles. The tiles have a variety of designs printed on them. The tiles may have the same design or a random design printed on them. Because it is manufactured with digital equipment, it may be easily modified to your specifications.
Durability:
Double Charge: Because the upper layer thickness of the tiles is about 3 to 4 mm, it lasts longer than GVT. If there is a tiny incision on the surface of the Double charge tiles, the same surface will be visible until 2 to 4 mm of tiles are removed.
Polished Glazed: The print layer in GVT is smaller than 1 mm, making it unsuitable for high traffic locations. Because the surface layer includes glazing coats, it might fade away with time.
Use:
Double Charge: It is installed in locations with medium to heavy traffic, such as airports, shopping malls, workplaces, hotels, hospitals, and residences.
Polished Glazed: It is installed in places with medium to low traffic, such as houses and offices.
Coatings:
Double Charge: Double charge tiles have no glaze coats. After passing through the hydraulic press, it is sent straight to the kiln for burning the tiles via the dryer.
Polished Glazed: Digital tiles are used to cover the glaze layer. Before going through the kilns, several glaze coatings layers such as Engobe, TR, and Opaque are put to the surface of the tiles.
Both these tiles have their pros and cons, now all you need to do is decide which one is the right choice for you. And if you want more details on both of these tiles, check out these posts from AGL Tiles.
Source: Which is Better Double Charge or Polished Glazed Vitrified Tiles?