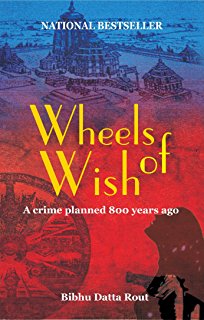 Title : Wheels of Wish
Author : Bibhu Datta Rout
Blurb : Imprisonment of a couple in the Dwapar Yug and the creation of magnetism at Sun temple in Konark has a great deal of linkage to a missing boy in the 13th century carrying the mightiest power of the universe that transcends in time across generations leading to an alleged rape and murder accusation to the story's protagonist, an investment banker Shashank Chaudhary in 2008 who flies from New York to Odisha to find himself trapped in an 800 years old enigma.
A biological allegory that unfolds a historical and mythological mystery that counts back in time as far as the epic Mahabharata. One that surpasses time and the material world with its mathematical calculations within physical elements.
Unexplainable evidences, puzzling data, conspiracy theories and unheard secrets intermingle with one another to create plots in the history of time that have been startling scientists and mythologists to date.
It's now in the court room that he must face his worst fears and probably the world's greatest held secret, a rare phenomenon of a chromosomal defect, from an unexpected guest.
My View :
The blurb of the book will definitely fill the curiosity in the reader's mind. The lovely cover and the title Wheels of Wishes worked completely in grasping my attention making me more curios to unfold the story residing in the book.
All the characters are portrayed beautifully; the author very well briefs about the characters at the beginning of the book but still a reader may get confuse as there are numerous characters dwelling in the story. The story is locked with a lot of drama having tints of history and mythology. The way author has painted the details of history is really commendable. Author must have done a lot of research in order to portray such details clearly in his book. Portraying such kind of stories requires knowledge and skills.
The tagline on the cover of the book already suggest that the story holds a crime; author has crafted the story very well and the crime revolving around the other events having details of history lands the reader on a different node. The story goes on switching its way from past events to present. The book also contains the hues of love of Shashank and Roohani, murder mystery, rape case and lot more to locate.
The writing style is simple which makes the reading journey easy for me. Articulation of the sentences could be much better which will help in attracting the reader's mind. I found the narration of the story moderate which weakens the links between the reader and the story.
Fascinating Read!
Rating : 3.5/5
Reviewer : Megha Biloniya