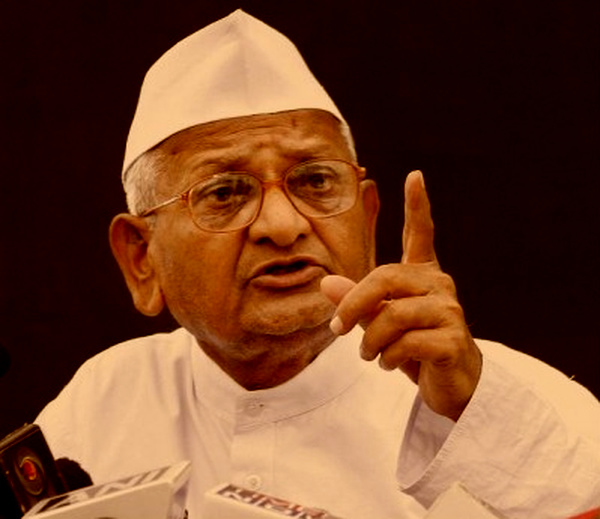 ANNA HAZARE STRIKE
Anna Hazare (born 1937) a social activist, who has always contributed to various economic issues and several anti-corruption movements including Indian Government Transparency, rural development, agrarian distress, etc. Kissan BabuRao Hazare came to be known as ANNA for his support and work. Anna Hazare always calls the attention of people throughout the nation for his protests and movements for poor people. Anna Hazare has raised his voice for many causes such as village development, agrarian problems, farmer's debt etc.
Once again he has grabbed headlines and has led to an anti-corruption movement and sat on an indefinite hunger strike on 23rd of March, 2018 in order to exert pressure on the government which has not been able to finalize Lokpal Bill to investigate cases of corruption and ensures better production cost for farm produce. No doubt that his fast is the first real social networking movement which successfully attracted the attention of people throughout India. His weapon is surely very potent. Thousands of people came to Ramlila Maidan to show their support to Anna Hazare.
1500 people gathered on the first day of the strike. This number kept on increasing every day of the strike. His strike captured attention throughout the globe. Only a few civil activists have gained this much attention.
Jan Lokpal Bill or Citizen's Ombudsman Bill drawn up by Anna Hazare intended to appoint an independent body to investigate corruption cases. But unfortunately, even after the bill was passed by Supreme Court in India, the Act is not implemented properly, thus it creates no difference at all before or after passing the bill. This bill is one of the most widely discussed and debated topics in India. Passing of this bill should have generated an independent corruption detective system and protected a number of whistleblowers. His movement caught the attention of millions of Indians and shook the head of government. He began his protest on 23rd of March at Ramlila Maidan. Millions of people joined him in his protest. He tried every possible way to put a pressure on the government for setting up of Lokpal at the Centre and Lokayuktas in states, not only this, he has also demanded the proper implementation of Swaminathan Commission report. Swaminathan commission reports had suggestions for "faster and more inclusive growth" for farmers. A report suggests that 7 to 8 of the 11 main demands put forth by Hazare were agreed upon. 2011 struggle had led to pass the Lokpal and Lokayuktas Act, 2013 but even after so much struggle and agitation, all the hard work gone in vain as the act was not properly implemented. After giving Dharna at Rajghat, he reportedly marched at Shaheedi Park and from there to Ram Lila Maidan. Anna Hazare started his protest on 23rd deliberately as this is the anniversary of Bhagat Singh, Rajguru and Sukhdev's hanging to death. Delhi police had issued an advisory warning to avoid taking routes towards Aruna Asaf Ali Road, Darya Ganj, ITO, JLN Marg, Delhi Gate, Ajmeri Gate, Paharganj, Vivekanand Marg, Rajghat, Minto Road, New Delhi Railway Station. Some of the developments around Anna Hazare's fast against the Modi government adds to the limelight of people throughout the nation. Anna Hazare refused any political party to join his movement. He declared that anyone who joins the movement won't ever conduct elections. He also slammed Government to cancel the trains carrying protesters, he further added that by doing this the government wants to push the protesters into agitation. Hazare raised his finger at our Prime Minister Narendra Modi saying that he has failed to fulfill his promises made to farmers and also on lokpal. He further added that after sending 21 letters to the prime minister, he got no response at all. Although this time there weren't even 50% of people as there were in the 2011 strike because firstly it is related to farmers and secondly majority of the people are satisfied with central government's work. However, his dedication and hard work have paid well as the government has promised to look after all the issues and decided to fulfill all his demands as early as possible. The six-day long fast, after talking with Maharashtra Chief Minister Devendra and Union Minister of state for Agriculture Gajendra Singh, Anna Hazare ended his hunger strike on Thursday. Supreme Court asks Delhi, Tamil Nadu, West Bengal, Telangana, and other states to specify the time when they will appoint Lokayukta. The government assured Anna Hazare that all his demands will be taken care of. He further added that if all our demands are not taken into consideration then we will again start our protest strike.