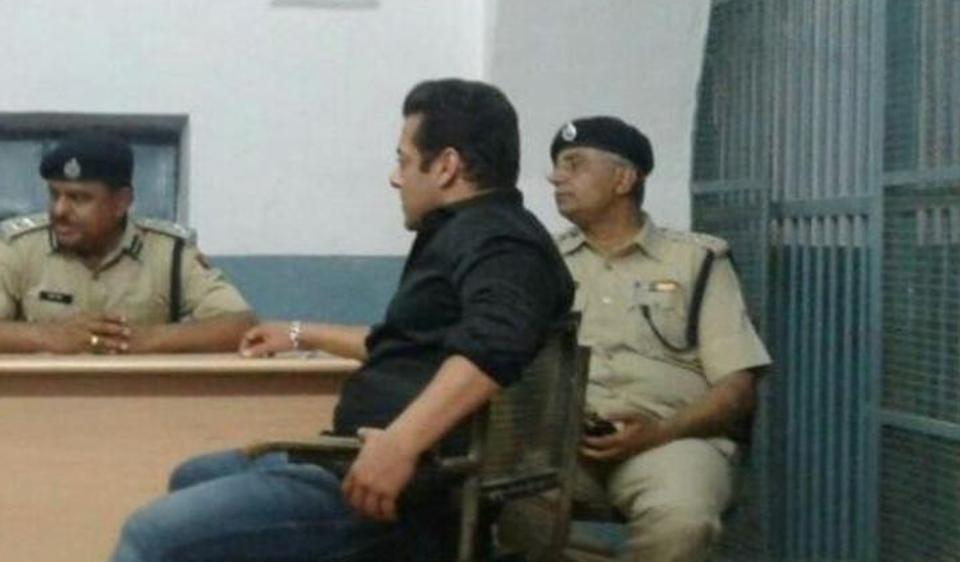 NEW DELHI:
A sessions court judge who is expected to decide today if Bollywood superstar Salman Khan spends more time at Rajasthan's Jodhpur central jail or not over the blackbuck poaching case has been transferred in an annual shake-up. Jodhpur Sessions Judge Ravindra Kumar Joshi was among 87 sessions court judges who have been transferred. Judge Joshi, who began hearingthe case this morning, will be replaced by Chandra Kumar Songara, district and sessions judge of Bhilwara within a week's time.
udge Joshi had, on Friday, put off the hearing by a day as he wanted to see the entire case record before deciding whether Salman Khan should be granted bail. It is customary for judges to be given seven days for their transitions.

Dev Kumar Khatri, the judge who sent Salman Khan to jail for killing two blackbucks 20 years ago, has also been transferred out in the major reshuffle of Rajasthan's judicial officers ordered by the High Court. Judge Khatri will be replaced by Samrendra Singh Sikarwar, who is the Additional Chief Judicial Magistrate in Udaipur.
Both the judges are among 382 judicial officers transferred or promoted by the Rajasthan High Court. Judges in Rajasthan are usually transferred between April 15 and 30 every year on the recommendation of a committee set up by the High Court.

On Thursday, Judge Khatri had convicted Salman Khan and sentenced him to jail for five years for poaching two endangered blackbucks in 1998, emphasizing that the "accused is a film star and people look up to him".

"The way the accused killed two innocent black bucks in violation of the wildlife laws...he is a film star, people emulate him and look up to him... and there has been a rise in poaching incidents, so leniency is not justified given the severity of the crime, the evidence and the circumstances," Judge Khatri had said, explaining his decision.
Salman Khan was taken directly to theJodhpur Central Jail from the court on Thursday, where he is lodged as Prisoner No. 106.

The two blackbucks were shot dead near Jodhpur in October 1998, when Salman Khan and other actors - Saif Ali Khan, Sonali Bendre, Tabu and Neelam Kothari - went on a hunt after spending the day shooting for their film, "Hum Saath Saath Hain". The other actors were acquitted on Thursday.
Qaidi number 106 at Jodhpur central jail skipped his dinner on Thursday and refused to eat porridge and gram which was served to inmates on Friday morning. ButSalman Khan did not miss out on his daily workout which he is passionate about.A jail officer said the Bollywood actor worked out for at least three hours on Friday evening inside ward number 2 - doing crunches, push-ups, skipping, jumping and other exercises.

Salman was restless late Thursday evening when a senior jail officer visited him and asked if he required a doctor. Salman politely refused and lay down on a mat on the floor. "He went off to sleep around midnight and got up for a few minutes at 6.30am when the jail siren sounded. He went back to sleep and got up at 8.30am," said jail superintendent Vikram Singh.The actor refused breakfast and asked the staff whether he was allowed to purchase something from the jail canteen. "He asked for a glass of milk and bread, which was given to him," Singh said.

He added that Salman was restless around 9.45am and was seen walking in his ward.

"At 11.30am he was informed that the court will decide on his bail application on Saturday. He then skipped lunch," Singh added.

But despite missing three successive meals, Salman surprised the jail staff when soon after meeting actor Preity Zinta and his sisters Alvira and Arpita in the afternoon, he started his workout in the scorching heat. Singh said he started the exercises at 3.30pm and continued till 6.30pm.The jail staff served dinner at 7.30pm inside the ward: kakdi, tamatar ki sabzi, dal and chapati. "He has been given extra security. So, unlike other prisoners, he is not supposed to come out and take his dinner. He was served dinner inside his ward," said an officer.In the evening, Salman told the authorities he wanted to take a bath, which was organised inside the ward itself. "He is a tough man. He has been drinking water that is provided for every prisoner," said an officer.

While Salman met his sisters, he could not speak to his parents. "Every prisoner is allowed to speak to relatives on the phone on one of the two numbers provided by him. On his arrival, Salman had given the numbers of his father and his mother Sushila. But there was no reply on both the numbers. He will try the numbers again on Saturday," said Singh.
Refuting reports that Salman spoke to fellow inmate Asaram Bapu, Singh said, "Both of them are high-profile prisoners. Salman was confined to his ward."