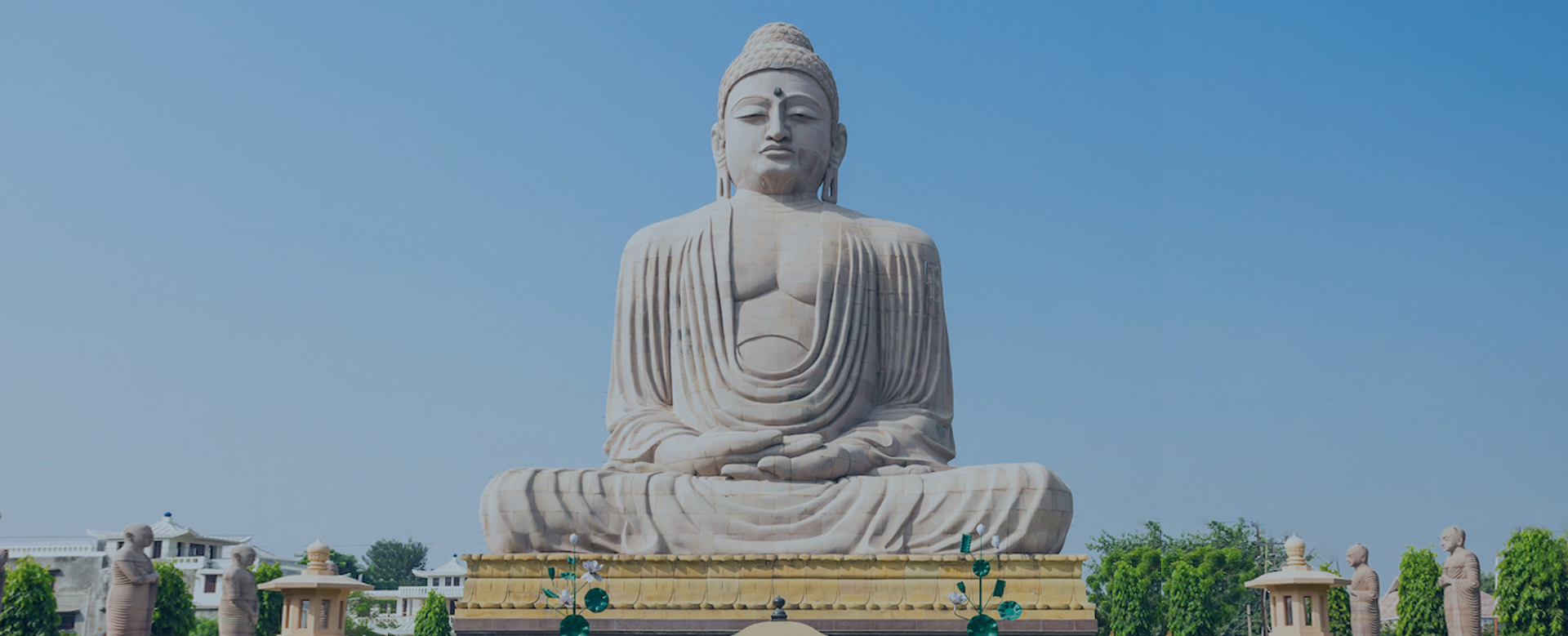 Buddha Circuit tour packages are the most peaceful and knowledge-driven tour package in Lotus India tour packages. It is a medium duration tour package starts from arrival at Delhi Airport consist the locations like Delhi, Agra, Lucknow, Shravasti, Lumbini, Kushinagar, Patna, Bodhgaya, Varanasi etc. Mahatma Buddha is known by the people as a god due to their contribution and knowledge. Buddha is a symbol of peace and knowledge, we take you in this tour to Bodhgaya where mahatma buddha gathers knowledge.
Buddha circuit tour packages is a tour that prevails a chain of buddha places and Lotus India Holidays prevails the same places like Bodhgaya, Lumbini, Patna Etc. If you are a spiritual and peace lover than you must come to take Buddha circuit tour packages from Lotus India Holidays that gives you a peaceful time.
Here are the best places for your Buddha Tour Packages.
Day 1 : Arrive DelhiArrival at Delhi international airport for Buddha Circuit Tour Packages . Clear immigration and visa formalities, collect your baggage and Lotus India Holidays representative will meet you with a placard. Transfer to hotel and check in. Overnight. (No Meals)

Day 2 : DelhiAfter breakfast full day city tour of Delhi, tour starts with Old Delhi drive past of Red Fort. Visit the Jama Masjid – the largest mosque in India. Later take a Rickshaw ride through the narrow lanes of Chandni Chowk . Afternoon visit New Delhi, which will include photo stop at- Parliament House, India Gate and Rashtrapati Bhavan. Visit Humayun's Tomb, one of the best examples of a Mughal Garden Tomb. Later visit Qutub Minar, the tallest brick minaret. Overnight. (Breakfast)

Day 3 : Delhi - AgraTravel to Agra, home to India's most famous landmark, the Taj Mahal. On arrival check in at hotel. Later visit to Agra Fort, built by Emperor Akbar, which is a mixture of the Islamic and Hindu styles of architecture. Also visit Itmad-ud-Daula Tomb; nicknamed as baby Taj. Later visit to Taj Mahal (closed on Fridays), a UNESCO Heritage Site, to catch the sunset at the Taj Mahal. Overnight. (Breakfast)

Day 4 : Agra – LucknowTravel to Lucknow 'The City of Nawabs'. On arrival check-in at hotel. Later visit Bara Imambara, built as part of the relief project for famine held in 1784. Visit Bhul Bhulaiya, a maze of tunnels inside the Bara Imambara, the way out of which can be found only with a guide. Visit Rumi Darwaza, built in unique Awadh style, Chotta Imambara, another famine relief project. Visit the La Marteniere College & the Government Museum. Visit the Chikan Workshops to see artisan's working on the chikan cloth. Later evening we take you for food walk to allow you to experience the best of the best eateries. Overnight. (Breakfast & Dinner)

Day 5 : Lucknow – ShravastiTravel to Shravasti. On arrival check in at hotel. Later proceed for guided visit to Jetavana Monastery, where Lord Buddha passed the greater part of his monastic life & preached after the enlightenment. Also visit the Anandabodhi Tree where Lord Buddha meditated. Overnight. (Breakfast)

Day 6 : Shravasti – LumbiniTravel to Lumbini, a UNESCO World Heritage Site & the birth place of Lord Buddha. On arrival check-in at hotel. Later visit Lumbini Park where the Ashoka pillar carries the inscription. Visit Mayadevi temple devoted to the mother of Lord Buddha. Also visit China temple which is beautiful pagoda style temple with many prayer and meditation cells. Overnight. (Breakfast)

Day 7 : Lumbini – KushinagarTravel to Kushinagar. On arrival check-in at hotel. The followers of Buddhism and Buddhist Sector in India, especially from Asian countries, wish to visit this place at least once in their lifetime. Visit Mahaparinirvana Temple which houses the "Dying Buddha" & Nirvana Chaitya. Visit Ramabhar Stupa where Buddha's ashes were cremated. Also visit the Myanmar Temple. Overnight. (Breakfast)

Day 8 : Kushinagar – PatnaTravel to Patna, the capital city of Bihar state. En-route visit Vaishali, where Gautama Buddha preached his last sermon. Visit Ashoka Pillar & Buddha Stupa On arrival check in at hotel. Overnight. (Breakfast)

Day 9 : Patna – RajgirTravel to Rajgir, the city of Rajgir was the first capital of the kingdom of Magadha. On arrival check in at hotel. Later proceed for guided city tour of Rajgir. Visit Nalanda University. Visit Vaitarni Dham, Japanese Temple & Saptdhara Kund. Overnight. (Breakfast)

Day 10 : Rajgir – BodhgayaThis morning after breakfast visit Vulture's Peak mountain. Later travel to Bodhgaya. On arrival check-in at hotel. Afternoon proceed for guided city tour of Bodhgaya. Visit Mahabodhi Temple Complex housing Mahabodhi Temple & Bodhi Tree. Visit the Great Buddha Statue. Also visit Dungeshwari Caves where Lord Buddha is believed to have mediated. Overnight. (Breakfast)

Day 11 : Bodhgaya – Varanasi Travel to Varanasi. On arrival check in to the hotel. Later in the evening witness grand prayer ceremony on the Ghats of river Ganges with a boat ride. Overnight (Breakfast)

Day 12 : VaranasiEarly morning sunrise boat ride on river Ganges. Proceed for city tour of Varanasi visiting various temples like Kashi Vishwanath Temple & Bharat Mata Temple. Afternoon excursion to Sarnath visiting Sarnath museum, having Buddhist relics and antiques (Museum is closed on Friday). Overnight. (Breakfast)

Day 13 : Varanasi – Delhi is morning after breakfast transfer to airport to board the flight to Delhi. On arrival check-in at hotel. Car and driver at disposal to visit the local markets for shopping. Overnight (Breakfast)

Day 14 : Delhi Depart After breakfast transfer to airport to take your flight to onward destination with marvelous Buddha Circuit Tour Packages tour memories. (Breakfast)