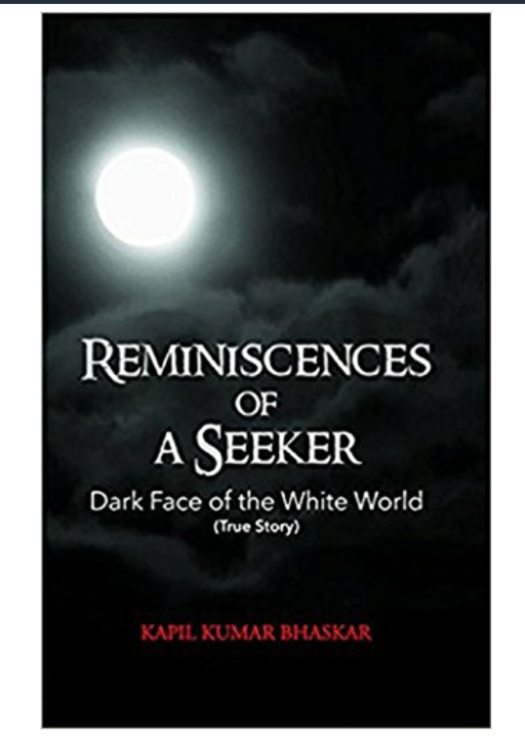 Reminiscences OF A Seeker: Dark Face Of A White World" by Kapil Kumar Bhaskar is a fascinating account of author's true experiences with the spiritual world!
The book is a true story fascinates and takes the readers into the dark and unbelievable world of mystics, spirituality and dark arts.
The plot opens with author's yearning for a true spiritual master, however, the author is plunged deep into the vortex of tantric powers, dark arts and paranormal world of sadhus and aghoris.
His journey through the unforeseen, extraordinary circumstances intrigue the readers and glue the readers completely.
The book deals with supernatural elements and incidents which seem unbelievable. To embark on this journey with the author, the readers need to believe, have faith in spiritualism.
The author has flawlessly narrated the events, fascinating and thrilling the readers immensely. At times, certain parts got dragged a bit too much, but the overall suspense helped it get overshadowed.
The book deals with powerful themes like a student-teacher relationship, it's boundaries, the occult world of supernatural and dark arts, practiced by yogis and aghoris. The author talks about how the events pulled him into a world of drama, suspense, greed, betrayal, struggle, strength and HOPE. And most importantly, the strength and inspiration to get out of the dark world towards the light.
The glossary provided at the end proved really helpful in understanding the book. Language is inspiring and lucid. Characterization is done well and is a true account, characters seemed to come to life.
The title hints towards the mystical and spiritual account contained in the book, the cover is simple yet powerful and attractive. It connects with author's journey from the dark world to the illuminated white world. Blurb is well written and concise.
I would like to rate it as 4.0 out of 5.0.
Overall, a gripping, real story of author's pursuit of ultimate divine!