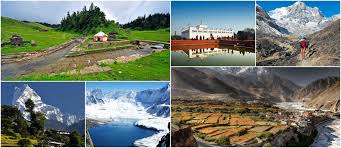 Summer is around the corner and undoubtedly people must have started planning for their summer vacations. You would agree to the fact that, planning for summer vacation is not a big deal but, choosing a destination is. It may happen that the destination you chose didn't turn out to be as expected as your last yoga retreat in Nepal. There are a lot of reasons that may hamper your vacation such as weather, budget, last minute change of plans from your travel agency, etc. Therefore, you must pre-plan while choosing a summer vacation destination.
The following article will brief you on how to choose destination for your summer vacation:
Before you choose your destination, you must ask yourself a question i.e. how much time you can spend on vacation. You may plan for a weekend getaway, a week or even a fortnight. If you can manage to plan a month's break, yoga teacher training could be your best option. A yoga teacher training in Nepal, India or even Thailand will bring energy to your summer vacation.
If you are planning for a vacation with family, you must see to it if the destination you are choosing has activities available for both elders as well as children. If you are travelling with friends you may want to check up on some adrenaline pumping activities. Hence, whom you are travelling with is also an important aspect that must be taken care of.
Research the market and check with travel agencies. You never know who is offering a customised trip to your chosen destination. You may want to keep your options open while consulting with a travel agent as they may offer you something reformed. For instance, a travel agency may offer you a destination you didn't consider and turn out to be a great option.
You must set a budget for your summer vacation destination or else you may end up spending huge. For best budget options, look for better travel deals that may include accommodation, food, or pick up and drop from the airport, etc. You may examine budget travel deals offer by various travel agencies or may ask for a customised one.
You can prepare a to-do-list, the activities you want to pursue during your summer vacation; this can be a saviour in helping you make the right destination. Suppose, you wish to learn yoga amidst the snow-capped Himalayas, you may plan for yoga teacher training in Nepal or yoga retreat in Nepal. If you want to have a sun bath and enjoy around beaches, you may visit Thailand etc.
Be spontaneous while choosing the right deal; of course, keep the budget in mind but don't overthink. You must take into account that this vacation is going to give you some time for yourself, family or friends. The moment you get a suitable deal, do not overthink to finalize it
You may also shortlist destinationsthat are difficult for you to choose from and then read about them such as history, places to visit, if the weather suits your preference or not, activities you can plan with family or friends. These will help you understand if your shortlisted destinations matches with your to-do-list and then you may finalize it.
It is not necessary that you have to travel with someone to accompany you. You may plan for a solo trip and use the tips above to finalize your destination if you don't have anything in your mind. The main idea behind going on a summer vacation is to give yourself a much needed break from your typical lifestyle and bring some energy in.