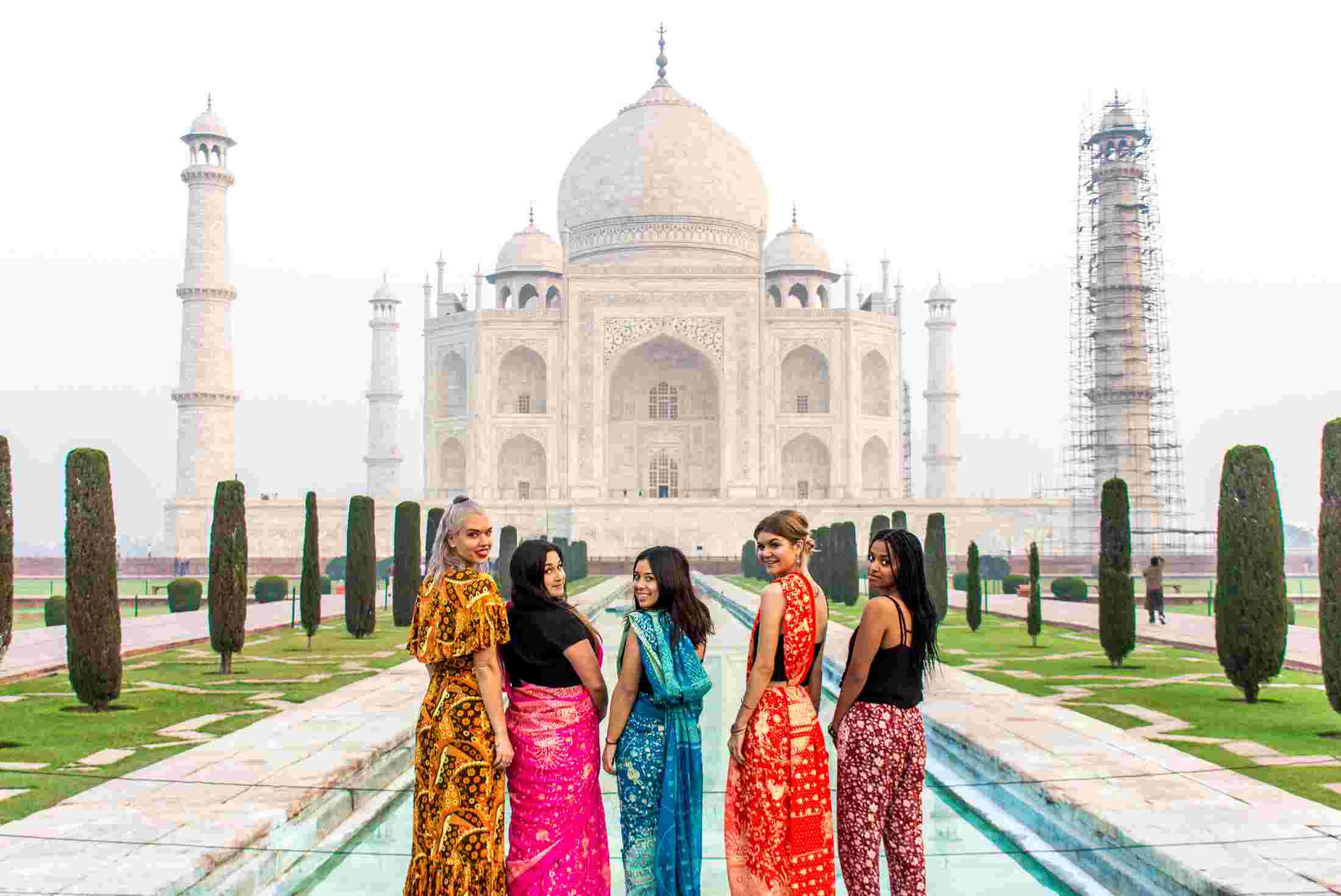 Have a tight schedule on your visit to India and just cannot stand to miss a visit to the majestic Taj Mahal in the city of Agra. Here I have prepared all the answers to your How's, Where's and What's to plan the perfect one-day of Agra tour. All the best places to see and things to do in Agra are packed in this awesome Same Day Agra tour with enough time for each of them. You excited to see how much you can make the best of out of a single day in the city of Agra?
Must-Visit Destinations in Agra
1. Taj Mahal
Make sure you wake up at sunrise to watch Taj Mahal in the soft sunlight of early morning and soft hues of colours shining over the white mausoleum. You definitely want to witness the beauty of one of the wonders of the world in the early hours of subdued sun in the sky shining on the majestic structure.
Sunrise Taj Mahal tour is worth all your time, especially if you are visiting Agra on a hot day and also to avoid the long lines and the overbearing crowd. Taj Mahal complex opens at 6 a.m. but make sure to reach a bit early than that to get hassle-free tickets and avoid long que.
Witness one of the most beautiful monuments built ever in the world on your Sunrise Taj Mahal tour. Set like a fairy-tale on the banks of Yamuna river with breath taking lush Mughal Gardens all around, Taj Mahal is a white marble mausoleum adorned with excruciating carvings. Get a guided tour so that you can make each moment count at the Taj Complex and don't waste time on finding the perfect spots to click loads of photographs. Sunrise Taj Mahal tour provides with a professional guide who takes beautiful pictures of you with Taj Mahal and shows you the crowd free areas within Taj Mahal.
Just don't forget to take it all in and enjoy the moment. After all, one does not visit the majestic Taj Mahal every day.
#2 Agra Fort
Second thing which is a must visit to on your Same Day Agra tour is the grand Agra Fort. It is the most popular building in Agra after the Taj Mahal. Agra Fort holds huge significance in the history of the nation as it was the primary residence of the emperors of Mughal Dynasty for a long period of time.
My recommended Same day Agra tour is a guided tour with comfortable transport between the two spots. With this tour, save yourself from the hot auto rides combined with pollution and dirt. Save your energy on getting hassle free transport with this tour so that you can enjoy Same Day Agra tour even more.
3. Baby Taj Mahal/ Tomb of Itimad Ud Daulah
Ever heard of Baby Taj or Itimad Ud Daulah? This monument is the hidden gem in the city of Agra that you can afford to miss after Taj Mahal at your Agra Tour. Baby Taj is referred so because it is believed to be a draft of the original Taj Mahal. Visit this beautiful white Mughal mausoleum in the city of Agra and learn more about the history of this Mughal city.
4. Fatehpur Sikri
If you got the time and want to skip any of the previous options, you can also visit the great red sandstone city of Fatehpur Sikri; the third world heritage site, also called as "the city of Victory" built by the Great Mughal Emperor; Akbar. Lots of spots and monuments in Fatehpur Sikri are included in the tours offered by the Incredible Taj such as Buland Darwaza, Jama Masjid, Tomb of Salim Chishti, Panch Mahal, Birbal's palace and many more.
Lunch at the Mughal restaurants
Take a dig at the delicious Indian cuisine at the most famous restaurants in Agra for their great service, food and ambience. Enjoy your lunch at one these restaurants, though a bit expensive they are totally worth it if you want to enjoy the true taste of Mughal food and beverages. Relax and enjoy the great ambience with great food to get rid of all the fatigue and carry on Same Day Agra tour by car.
Shop at local bazaars
Don't think Agra is just about great food and amazing monuments. It also has some interesting local bazaars with unique handicrafts and artifacts to take back home with you. Get these unique items at cheap prices on your Agra tour and enjoy the local streets reflecting the true nature of Indian Culture. Get overwhelmed by the colorful and vibrant shades of the local bazaars of Agra and take home some best memories of this city with you on this Same Day Agra Tour with Fatehpur Sikri.
And with this, all things available in Agra that are worth your time gets summed up and that too even in your budget. If you are efficient enough with your time and transport choices, you can also witness sunset at Mehtabh Bahg with the sun setting beside Taj Mahal giving a perfect ending to your Same Day Agra tour.
Just pack everything you need and get moving on your heels to reach Agra and enjoy everything this beautiful city has to offer in a single day by following the tips of these articles. Don't forget to leave your comments and suggestions below if got something to help other fellow readers and travelers.