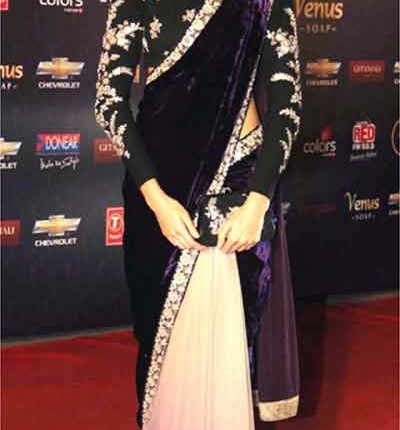 Is size an issue ? OMG ! The saree is a just a six-yard piece of fabric that can be draped around for maximum effect, in a manner that the actual shape of the body disappears. Wow !
Spend some time at Nariman Point in Mumbai, or DLF Cyber City in Gurgaon, and a saree is a rare treat for the eyes. Working women have by and large, given it up, for the sake of convenience. However, an invitation to a wedding or cultural soiree sends them looking deep into the wardrobes for an evening saree. The saree will stay with Indians for sometime, and hence, do not be in a hurry to bid adieu to your traditional wardrobe.
Plus-sized women are advised to wear saree or a kameez with different kinds of legwear, as plus-sized evening gowns and dresses are not easily available. However, we cannot deny that the ever-gracious garment exposes more than other outfits, and all are not happy exposing the rolls and midriff.
So, how does one resolve the problem ? Try these simple, workable tricks to make yourself look more graceful, if not slim and svelte.
Leave the pallu hanging, instead of pinning it up. It covers the midriff. This works better for sarees with a medium to light fabric. Thick fabrics like South Indian silks will add to the bulk.
2. Wear longer blouses.
3. Wear blouses with three fourth or full sleeves, if the arms are heavy. Or go totally sleeveless. The regular sleeves end at the heavies part of the upper arm, and focus attention on the wrong part. This is to be avoided.
4. Wear soft cottons, silks or crepe-de-chines, which give a good fall. Chiffons, georgettes and nets will expose the 'rolls'. Shun them like the plague.
5. Wear vertical or diagonal stripes or patterns. Horizontal stripes or broad borders are a big No No.
6. If using a combination of fabrics like velvet or silk, and chiffon/georgette, keep the pallu in a firmer fabric. Let the softer fabric go in the pleats. It reduces the fabric load on the pleats, and then, covers up the midriff with a firm fabric.
7. You may try long jackets over sarees. It disguises imperfections.
8. Avoid Gujarati style. It makes one look heavier.
9. Both the saree and blouse should not have patterns or loud embellishments. Keep one garment as subtle as possible.
10. Avoid overall floral or large patterns on pastels, if possible. Keep them in dark colors, medium to small polka dots, small prints, chikan embroidery etc. See the impact that it has on different body shapes.
11. Keep a few broad pleats, so that they don't add up to the abdominal bulk.
12. Wear as sleek a petticoat as possible. Some of the long skirts available, which are narrow at the waist, or have a broad elastic band, and gradually flare downwards, can be used as petticoats.