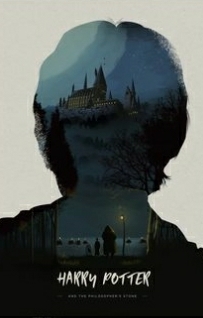 Well, you all must've heard about this novel, Harry Potter (I bet you opened this blog after reading this popular novel's name in my title, which shows you know about it). Before starting this off, I want to share that I am also a big Potterhead, in other words, a big Harry Potter Fan.

Before becoming such a big Harry Potter fan, I hated it a lot. It was because my sister was all into it and she wouldn't stop stating the name. But, once when my Agatha Christie novel series finished, I started finding for a new series to read. Then I thought about trying to read and analyse the Harry Potter series. I have started it and now, I think why were there only seven years and seven novels (excluding the Hogwarts Library). My night is incomplete without reading at least one chapter or more of Harry Potter.

So, yesterday I opened this app Pinterest, and I was searching for the famous and well-known author, J.K. Rowling (of course the author of Harry Potter series). Then, I started seeing so many fan posts appreciating the author and her work. I myself was happy to see that. After some time, I was sitting idle scratching my hair because of all the sweat and heat. Then I started to think about why is this series so famed and celebrated. The prime reason of this series' popularity is that you can't resist reading it.

From hating it and now becoming a huge fan of it, I know what it is all about. J.K. Rowling's writing skills and personality is an inspiration to me. I am a lot into writing and I desire to be as good and creative as her. Now if I see anyone not knowing about Harry Potter, even a stranger, I would say 'Duh! You silly and purposeless creature on Earth! Are you mad? Haven't you heard Harry Potter?'

I love Harry Potter series and find all of it very moggling (a word created by me which means mind-boggling)!
Thank you!
Agrata❤