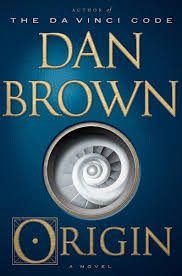 Rating: 4/5
Dan Brown once replied on a question asked to him about "How much similar he feels when people compare him with Robert Langdon?" He simply replied that it's not alike because Robert is much more courageous and adventuress than him. (paraphrase)
Dan Brown answer to Question (mention above).
I think Dan is lying about that. I think he enjoys more than anyone and at least surf into excitement created by him for Robert Langdon. From the day, Dan discovers this symbologist, this men (Tom hank) is on run to uncover world biggest discovery and conspiracy through his exceptional intelligence and photographic memory.
In this book also Robert never missed any chance to surprise readers with his sheer intelligence. I am the blind fan of Dan Brown. His all books give me goosebumps whenever I read them. Ironically, my busy schedule left me thirsty each night for reading more and more. So, Robert tries to answer humans most ancient questions through the help of his friend Edmond Kirsch who ironically killed by a Spanish admiral. From the point of the utter shock of that killing, the journey begins to know worlds most important question that can shake the whole world:-
From where we come? Where we go? - Origin, Dan Brown
Paul Gauguin - D'ou venons-nous [Image Credit: Wikipedia][/caption]
Dan Brown new journey is a chase for the most philosophical questions of human existence. From primitive eras to till date, humans have spent their extensive energy for looking answer of their existence. Robert Langdon used is intellect to cracking the code which is part of unrealizing the discovery which only can give the answer to these question. Ambra Vidal [hot and spicy independent women] added into the plot to have the grip on the subject. Winston [Watson], an incredible AI helps Langdon to access information which can break the code and discover what is left behind the show made by that great futurist. Robert journey from Guggenheim Museum to Barcelona is filled with thrill. Chased by the cult killer, misunderstood by world media, framed by Spain highest authority and heavily emotional feeling for future queen of Spain, Langdon journey pushed him into a trail of forty-seven characters which can unreleased the discovery of Edmond Kirsch.
Robert Langdon played by Tom Hank in The Davinci Code (movie) Source: Playbuzz[/caption]
This particular password related to the dead Futurist most loved poem. Artificial Intelligence, Winston help Langdon to unearth various bind bending situations. Akbar love for the prince of Spain come to an end when a conspiracy website started to expose the link between Kirsch death and Palace of Spain. But most fearful way, Three most religious figure of the world come under a death cult which guided Spanish admiral to kill Kirsch also killed two of them mercifully. This confusion that who is actually behind the stoping kirsch presentation? What great discovery that Futurist and computer genius did which can threaten the Religous world? How krisch can answer the deep philosophical questions of human history? From where we come? And where we go?.
Mind-bending description of artifacts, most controversial church of Catholic history and Moreover a startling and amused presentation which based on scientific data by the current scientist. A prediction which can change the way human think about themselves and the way they think about future will change for forever.
Guggenheim Museum, Bilbao (Spain) - Source Wikimedia[/caption]
Dan Brown, the way of thrilling his reader with complex art explanation and his passion for technology binds his reader till the end. His art of twisting the tale with unique tactics of waving the story around facts, art, and technology is ever appreciating.
At last, it's a must-read book for the fan of thriller, mystery, and technology.