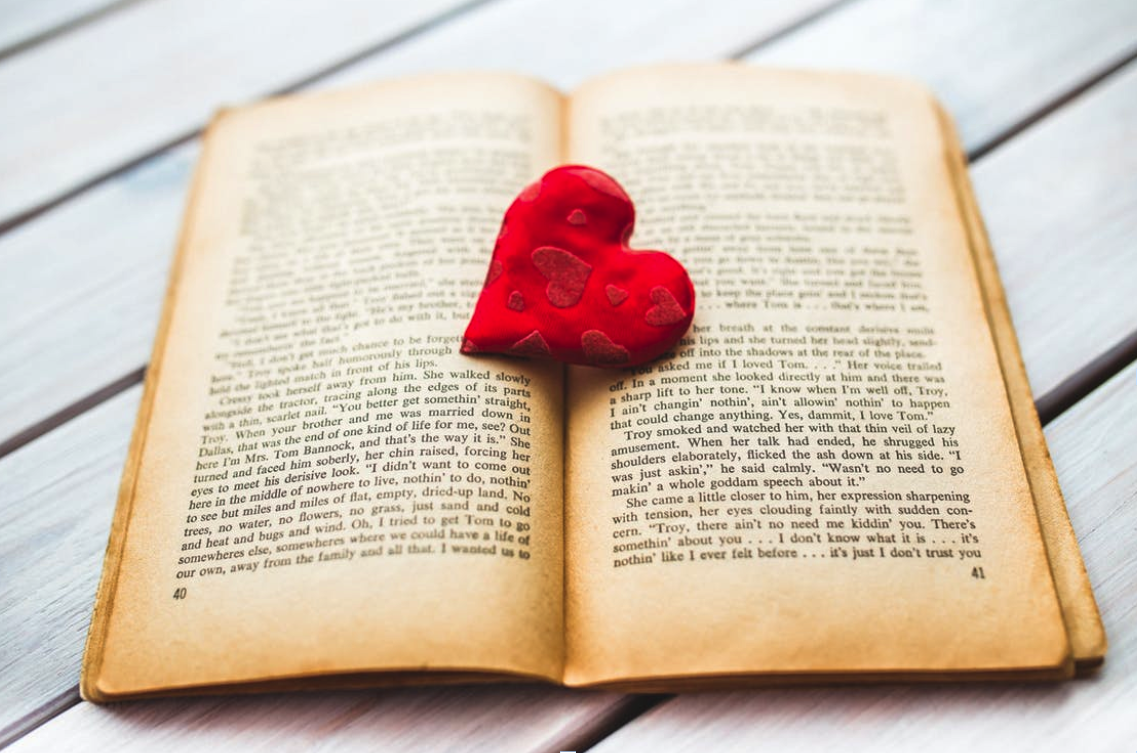 Romance is a feeling of excitement and connection with someone you love. Intimate gestures of loyalty and deep affection from someone who understands your emotion, stir the passion residing in you. You just need to flow with the vibes. Romance novels will help you do that. Their cover pages might seem similar, but you will undergo a daunting experience, diving through them. So here are 11 romance books to read online ❤
1. Gone with the Wind: Illustrated (The Evergreen Classics) by Margaret Mitchell
Gone with the Wind is a novel by American writer Margaret Mitchell, first published in 1936. The story is set in Clayton County and Atlanta, both in Georgia, during the American Civil War and Reconstruction Era. It depicts the struggles of young Scarlett O'Hara, the spoiled daughter of a well-to-do plantation owner, who must use every means at her disposal to claw her way out of poverty following Sherman's destructive "March to the Sea". This historical novel features a Bildungsroman or coming-of-age story, with the title taken from a poem written by Ernest Dowson.
Check out more - https://www.amazon.in/Gone-Wind-Illustrated-Evergreen-Classics-ebook/dp/B075ZWYMJ7/
---
2. A Walk to Remember by Nicholas Sparks
This novel tells the love story of Landon Carter and Jamie Sullivan. Set in 1958 in North Carolina, Landon and Jamie both attend Beaufort High but are worlds apart. Jamie is the minister's daughter, studies hard, and is shy.
Landon, on the other hand, is mixed in with the 'wrong crowd,' and does not mind living on the edge despite the trouble he might land in. As these two fall unexpectedly in love, they are just as unexpectedly torn apart as tragedy strikes.
Nevertheless, their time together is filled with small miracles and making each other's dreams come true. Landon is drastically changed by Jamie Sullivan as he fulfils Jamie's wish list. This story is heart wrenching, tragic, and beautiful.
The story composes of just simple elements: The typical story of an ugly duckling that turns into a swan; a typical story of a jerk guy who fell in love to the swan; and a typical story of a man who'll do anything for love.
The greatest thing I liked about this book is the profound messages of the story beyond what is written, though some are already given. I was also touched at how simply a very kind person could turn the people oppositely to what they were. There is even presence of the true effects of love, which it leads the in love human to think either sane or insane.
Check out more - https://www.amazon.in/Walk-Remember-Student-Novel-Learning-ebook/dp/B00N48VAEK/
---
3. The Essential Rumi
- reissue: New Expanded Edition by Coleman Barks (Author, Translator), Jalal al-Din Rumi (Author), John Moyne (Translator)
This revised and expanded edition of The Essential Rumi includes a new introduction by Coleman Barks and more than 80 never-before-published poems.
Through his lyrical translations, Coleman Barks has been instrumental in bringing this exquisite literature to a remarkably wide range of readers, making the ecstatic, spiritual poetry of thirteenth-century Sufi Mystic Rumi more popular than ever.
The Essential Rumi continues to be the bestselling of all Rumi books, and the definitive selection of his beautiful, mystical poetry.
Check out more - https://www.amazon.in/Essential-Rumi-reissue-New-Expanded-ebook/dp/B003V1WUNA/
---
4. The Remains of the Day (FF Classics) by Kazuo Ishiguro
A contemporary classic, The Remains of the Day is Kazuo Ishiguro's beautiful and haunting evocation of life between the wars in a Great English House.
In the summer of 1956, Stevens, the ageing butler of Darlington Hall, embarks on a leisurely holiday that will take him deep into the English countryside and into his past.
Check out more - https://www.amazon.in/Remains-Day-FF-Classics-ebook/dp/B002RI9YE6/
---
5. The Fault in our Stars by John Green
"I fell in love the way you fall asleep: slowly, then all at once."
Despite the tumor-shrinking medical miracle that has bought her a few years, Hazel has never been anything but terminal, her final chapter inscribed upon diagnosis. But when a gorgeous plot twist named Augustus Waters suddenly appears at Cancer Kid Support Group, Hazel's story is about to be completely rewritten.
Insightful, bold, irreverent, and raw, The Fault in Our Stars is award-winning author John Green's most ambitious and heartbreaking work yet, brilliantly exploring the funny, thrilling, and tragic business of being alive and in love.
Check out more - https://www.amazon.in/Fault-Our-Stars-John-Green-ebook/dp/B007Z8ZKS2/
---
---
6. Love Story: The heartbreaking international phenomenon by Erich Segal
He is Oliver Barrett IV, a rich jock from a stuffy WASP family on his way to a Harvard degree and a career in law. She is Jenny Cavilleri, a wisecracking working-class beauty studying music at Radcliffe. Opposites in nearly every way. But they fell in love. This is their story.
Check out more - https://www.amazon.in/Love-Story-heartbreaking-international-phenomenon-ebook/dp/B00B5FHJAS/
---
7. Love in the Time of Cholera by Gabriel Garcia Marquez
Nobel prize winner and author of One Hundred Years of Solitude Gabriel Garcia Marquez tells a tale of an unrequited love that outlasts all rivals in his masterpiece Love in the Time of Cholera.
'It was inevitable: the scent of bitter almonds always reminded him of the fate of unrequited love'
Fifty-one years, nine months and four days have passed since Fermina Daza rebuffed hopeless romantic Florentino Ariza's impassioned advances and married Dr Juvenal Urbino instead. During that half-century, Florentino has fallen into the arms of many delighted women but has loved none but Fermina. Having sworn his eternal love to her, he lives for the day when he can court her again.
When Fermina's husband is killed trying to retrieve his pet parrot from a mango tree, Florentino seizes his chance to declare his enduring love. But can young love find new life in the twilight of their lives?
Check out more - https://www.amazon.in/Love-Time-Cholera-Marquez-2014-ebook/dp/B00HVPSXQA/
---
8. The One from the Stars by Keshav Aneel
"The cost of not following your heart is spending the rest of your life wishing you had."
Vishesh is a dreamer, who is driven by his passion for writing and words. But like most Indian middle class families, his parents are impatient to see him settled in a government job. Despite all obstacles, making no complaints, he continues to follow the hard path, holding up the promise he had made to himself, trying to fulfil his father's wishes, and failing over and over.
Almost everyone – his parents, friends, and the love of his life – leaves his side in the middle of his journey. To worsen things, he is diagnosed with Obsessive Compulsive Disorder, the seriousness of which nobody could decipher before it was too late.
Will a dreamer be sacrificed for social standing? Will a heart be crushed to uphold a hollow image?
Left alone and misunderstood by everyone he knew, this is Vishesh's intense story of repeatedly falling down and trying to get up on his own, to prove that everyone who dares to follow their heart is not a commoner; he is The One From The Stars.
Check out more - https://www.amazon.in/One-Stars-Keshav-Aneel-ebook/dp/B071KCM97Z/
---
9. Raindrops by Dr Navniit Gandhi
Love has remained an enigma even for most of us who have experienced his elixir- as much as for those who think they might have just about missed it.
These stories of love are simple, unassuming and yet, profound. Drawn from real-life experiences, the stories emanate the varying hues of love. The stories are usual, and a bit unusual - but real. The stories transcend the usual meaning and interpretation of the experience that love is.
Check out more - https://www.amazon.in/Raindrops-Dr-Navniit-Gandhi-ebook/dp/B07BFQSHWG/
---
---
10. Everyone has a story by Savi Sharma
Everyone has a story.
Meera, a fledgeling writer who is in search of a story that can touch millions of lives.
Vivaan, assistant branch manager at Citibank, who dreams of travelling the world.
Kabir, a café manager who desires something of his own.
Nisha, the despondent café customer who keeps secrets of her own.
Everyone has their own story, but what happens when these four lives are woven together?
Pull up a chair in Kafe Kabir and watch them explore friendship and love, writing their own pages of life from the cosy café to the ends of the world.
Check out more - https://www.amazon.in/Everyone-has-story-Savi-Sharma-ebook/dp/B01ELLDUBO/
---
11. You are My Reason to Smile by Arpit Vageria
Ranbir is a dreamer; he has a well-paying job, but his aspirations are higher. He is a good lover; he adores Adah and can forego any comfort of the world for her sake. But even then, he is not happy. Because his true calling is not in the corporate; it's in writing.
After much deliberation, he takes the plunge and leaves his job to write full-time. While he struggles for balance, Adah also starts keeping herself away. Was she really in love with him, or was it just a facade?
Amidst all this confusion, Pihu Sharma enters his life – his first ever fan, who seems to be head over heels in love with him. While Ranbir's equation with Adah deteriorates, Pihu leaves behind her luxurious life to shift in with him. Is this the true love Ranbir had been waiting for?
Join Ranbir as he makes his way through a world that kills for money and dies for love.
Check out more - https://www.amazon.in/You-are-My-Reason-Smile-ebook/dp/B01N7J9GI0/
---
Enjoy these while we curate another list of beautiful books to read online ❤
Stay Tuned!