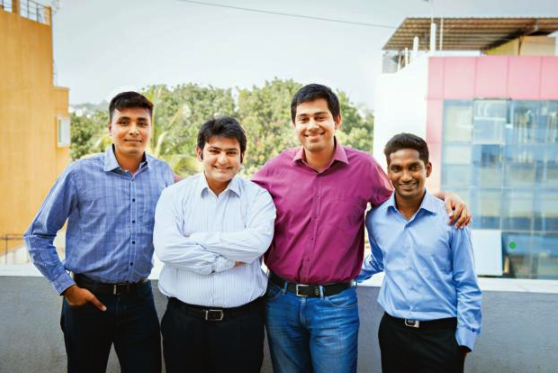 "Things may come to those who wait, but only the things left by those who hustle."
As rightly said by Abraham Lincoln, Sudheendra Chilappagari, aged 24, resonates with this quote thoroughly. He is the co-founder of a start-up firm Belong.co and has been named in the Forbes 2017 '30 Under Asia 30 List', a list that contains the youngest and the most accomplished people from Asia, in the latest edition of the Forbes magazine.
(From left) Belong co-founders Sudheendra Chilappagari, Rishabh Kaul, Vijay Sharma

He started Belong along with 3 other college friends in 2014 and they haven't looked back ever since. They built the company from nothing to a team of about 100 mission-driven employees. Soon the start-up transformed into a Machine Learning powered talent search & engagement platform (SaaS) used by over 100 enterprise customers including commercial giants like Amazon, CISCO, ABB, Accenture, Boeing and Morgan Stanley. They successfully raised $15M venture capital funding from Sequoia Capital, Matrix Partners, Blume Ventures, Raju Reddy (Sierra Atlantic) and many other successful entrepreneurs reported in 2017.
Belong, a Bengaluru based start-up, is a recruitment start-up which helps companies hire people using technology such as machine learning algorithms with its latest feat is raising $10 million in a funding round led by venture capital firm Sequoia Capital India to expand its client base and improve its product with existing investor Matrix Partners also participated in the round.
Launched in 2014, the company had earlier raised $5 million from Matrix, Blume Ventures and others in June 2015. The company claims to have doubled its mid-market and enterprise customers since its first fund-raise in June 2015. Gautam Mago, the managing director at Sequoia Capital India, has joined Belong's board of directors, which includes Matrix managing director Tarun Davda and Raju Reddy, the founder of IT services company Sierra Atlantic.
With co-founder Vijay Sharma stating that their product has been is market ready and is working. He added, "talented candidates today are overwhelmed by the 'spray-and-pray' tactics of traditional recruiting. Not only does it annoy them, but it also leads to poor engagement and conversions for recruiters. We've expanded from early adopters into a much larger base of clients across industries. We're still largely focused on technology hiring, but we're also expanding into sales and marketing hiring."
Gautam Mago has also spoken highly about the company: "the team at Belong has demonstrated a relentless passion towards building a differentiated product that helps enterprises and growing companies alike in their toughest hiring challenges. In a world where companies need to respond to market realities quickly, Belong's AI-driven outbound approach to helping businesses discover and hire top talent is a step in the right direction."
The company has its newest product, BelongExperts- an online platform for top recruiters, being used by more than 20 companies to hire recruits with some of the famous names in this list being Uber and LendingKart. Though Belong's central product called BelongHire is still used by most companies to directly recruit employees. Many start-ups have faced the brunt of the market tension. With fellow start-ups TalentPad shutting down in August 2015 while Hiree being bought by Quikr in July as it was forced to cut a large part of its workforce because of lack of funds. However, Belong has stood strong establishing its position in the market and has grown ever since with the equity infusion into Belong being one of the largest funding rounds in the recruitment start-up space.
Though much has been said about Belong lesser is known about the brains behind the company- Sudheendra Chilappagari. After having completed four magical years of his Bachelorette of Science at Birla Institute of Technology and Science, Pilani in the field of Information Systems. He made lifelong friends in his tenure there and a bunch of led student clubs. He graduated with a burning desire to change the world and has never stopped since then.
Sudheendra wasn't a stranger to start-ups. He founded and was the CEO of a company named Pencilcoders for a duration of over a year since April 2011 to December 2012. Pencilcoders, being his first entrepreneurship experience, was founded by him in his second year of college with a vision to help businesses build rich yet affordable web experiences. It included cold calling, emails, proposal decks, building, his first paycheck and a lot of happy customers like SAIF Partners and a couple of start-ups. Using his technical knowledge of Python/Django, HTML/CSS3 and Javascript he brought his first idea to fruition.
Following this he interned at Instamojo for four months in 2013 operating from Mumbai. He states:
" I'm a software engineer, I knew how to code. I wanted to learn Sales as I always wanted to build my own startup. I was one of the most active & early users of Instamojo, pinged Sampad (CEO) one day and decided to spend my summers in Instamojo. Realised there's nothing called "always be closing" and it's "always be helping" and helping is the new sales. The joy of seeing small businesses grow is very fulfilling."


Instamojo is now used by 3,00,000+ Businesses in India and is one of the most successful start-ups India has to offer.
Though the idea of Belong didn't strike this young genius until his next internship at Exotel in 2014 for a brief period of 5 months. He had joined the company's Bangalore office for building projects as a techie but the founders (Shivku and Vijay) told him to build something even better- a great team. So, he spent most of his time trying to hire great people.
During this journey, he realised great talent doesn't apply for jobs and the current spray and pray model of recruiting is broken. He saw a huge opportunity to fix recruitment and make it more targeted and personal, hence he left Exotel to start something in this space which was the birth of Belong.
The road has been tough for Mr. Sudheendra Chilappagari but along with his 3 other college friends he has made his way through the challenges of the murky entrepreneurship waters. He still wants his company Belong to grow even bigger and hasn't lost the fire of evolving even after hitting such feats like being featured in the Forbes magazine. He also features in the list of Fortune 40 under 40 in the latest edition of Fortune India 2018 which features a list of established entrepreneurs and creators from India who have shown their mettle to the world.
One of Albert Schweitzer, a French-German theologian, famous quote is:
"Success is not the key to happiness. Happiness is the key to success.
If you love what you are doing, you will be successful."
Mr. Sudheendra Chilappagari followed this thought to the fullest and still continues to do so. Throughout his life he has sought out to create new things, finding constructive solutions to the problems people and the society face in general. This problem-solving attitude and determination to follow his dreams has helped him in all his ventures.
We too can learn from his example the qualities and tools to become successful entrepreneurs one day and to provide to the country and its people because entrepreneurs aren't just creators they are problem solvers.