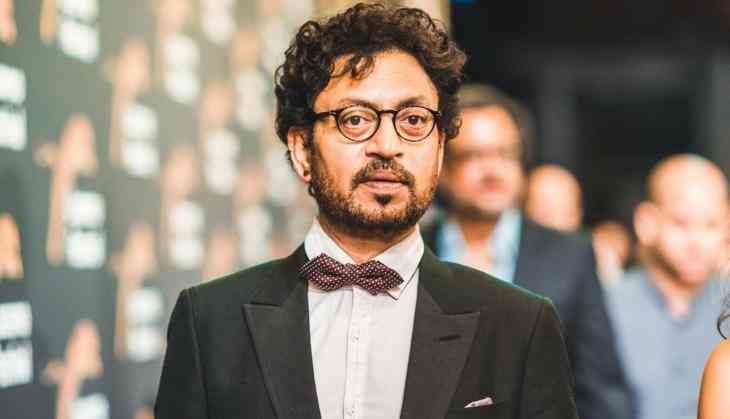 One of the finest actors in the Indian Cinema, known for his versatile and natural acting. He has also worked in British films and Hollywood films. His love for the art of cinema knew no boundaries of culture or countries for that matter. 2017 Filmfare award for best actor for the role, The Padma Shri award- India's fourth highest civilian honor for his contribution to the field of arts.
Irrfan Khan, known for changing and redefining the 'hero' perception in our country. His love for finding rare and incredible movies, unfortunately, is diagnosed with a rare disease- Neuroendocrine tumors.
The Madaari fame actor updated his fans about his health via Twitter by posting a note that read: "Learning that I have been diagnosed with Neuroendocrine Tumour as of now has been admittedly been difficult, but the love and strength of those around me and that I found within me has brought me to a place of hope. The journey of this is taking me out of the country, and I request everyone to continue sending their wishes."
This makes us wonder how and what is this disease. So, here is everything you need to know:
What is Endocrine?
The body's endocrine system is made up of cells that produce hormones. Hormones are chemical substances that are carried through the bloodstream that have a specific effect on the activity of other organs or cells in the body.
About endocrine and neuroendocrine tumors
A tumor begins when healthy cells change and grow out of control, forming a mass. A tumor can be cancerous or benign. A cancerous tumor is malignant, meaning it can grow and spread to other parts of the body if it is not found early and treated. A benign tumor means the tumor can grow but will not spread. A benign tumor usually can be removed without it causing much harm.
An endocrine tumor is a mass that begins in the parts of the body that produce and release hormones. Because an endocrine tumor develops from cells that produce hormones, the tumor can also produce hormones. This can cause serious illness.
A neuroendocrine tumor begins in the hormone-producing cells of the body's neuroendocrine system, which is made up of cells that are a combination of hormone-producing endocrine cells and nerve cells. Neuroendocrine cells are found throughout the body in organs such as the lungs and gastrointestinal tract, including the stomach and intestines.
Types of neuroendocrine tumors
There are many types of neuroendocrine tumors. Mainly of 3 specific types: pheochromocytoma, Merkel cell cancer, and neuroendocrine carcinoma.
Pheochromocytoma is

a rare tumor.This type of tumor increases the production of the hormones adrenaline and noradrenaline, which increase blood pressure and heart rate. Even though a pheochromocytoma is usually benign, it may still be life-threatening because the tumor may release large amounts of adrenaline into the bloodstream after injury.

Merkel cell cancer

is a highly aggressive, or fast-growing, rare cancer. It starts in hormone-producing cells just beneath the skin and in the hair follicles. It is usually found in the head and neck region. Merkel cell cancer may also be called neuroendocrine carcinoma of the skin or trabecular cancer.

Neuroendocrine carcinoma.

Around 60% of neuroendocrine tumors cannot be described as anything other than "neuroendocrine carcinoma." Neuroendocrine carcinoma can start in a number of places in the body, including the lungs, brain, and gastrointestinal tract.
Overall, it is estimated that more than 12,000 people in the United States are diagnosed with a neuroendocrine tumor each year.
The 5-year survival rate of people with a neuroendocrine tumor varies and depends on several factors, including the type of neuroendocrine tumor and where the tumor is located.
what factors may increase the chance of developing this disease.
Neuroendocrine Tumor: Risk Factors
A risk factor is anything that increases a person's chance of developing a tumor. Although risk factors often influence the development of a neuroendocrine tumor, most do not directly cause it. Some people with several risk factors never develop a tumor, while others with no known risk factors do. However, knowing your risk factors and talking about them with your doctor may help you make more informed lifestyle and health care choices.
The following factors can raise a person's risk of developing a neuroendocrine tumor:
Age. Pheochromocytoma is most common in people between the ages of 40 and 60. Merkel cell cancer is most common in people older than 70.
Gender

.

Men are more likely to develop pheochromocytoma than women. For every 2 women who develop pheochromocytoma, 3 men will develop the disease. Men are also more likely to develop Merkel cell cancer than women.

Race/ethnicity. White people are most likely to develop Merkel cell cancer; however, some black people and people of Polynesian descent develop the disease.
Family history

.

Ten percent (10%) of pheochromocytomas are linked to hereditary, or genetic, causes.

Immune system suppression.

People with human immunodeficiency virus (HIV), the virus that causes acquired immune deficiency syndrome (AIDS), and people whose immune systems are suppressed because of an organ transplant have a higher risk of developing a neuroendocrine tumor.

Merkel cell polyomavirus (MCV)

.

Research indicates that there is a link between this virus and Merkel cell cancer.

Arsenic exposure

.

Exposure to the poison arsenic may increase the risk of Merkel cell cancer.

Sun exposure.

Because Merkel cell cancer often occurs on the sun-exposed areas of the head and neck, many doctors think that sun exposure may be a risk factor for this type of cancer.
The next section in this guide is Symptoms and Signs. It explains what body changes or medical problems this disease can cause.
Sometimes, people with a neuroendocrine tumor do not have any of these changes. Or, the cause of a symptom may be another medical condition that is not cancer.
Symptoms of pheochromocytoma
High blood pressure

Anxiety attacks

Fever

Headaches

Sweating

Nausea

Vomiting

Clammy skin

Rapid pulse

Heart palpitations
Symptoms of Merkel cell cancer
Painless, firm, shiny lumps on the skin that can be red, pink, or blue
Symptoms of neuroendocrine carcinoma
Hyperglycemia, which is a high level of glucose in the blood. Glucose is a sugar that is converted into energy by the body. Hyperglycemia causes frequent urination, increased thirst, and increased hunger.

Hypoglycemia, which is a low level of glucose in the blood. It causes fatigue, nervousness and shakiness, dizziness or light-headedness, sweating, seizures, and fainting.

Diarrhea

Persistent pain in a specific area

Loss of appetite or weight loss

A cough or hoarseness that does not go away

Thickening or lump in any part of the body

Changes in bowel or bladder habits

Unexplained weight gain or loss

Jaundice, which is the yellowing of the skin and whites of the eyes

Unusual bleeding or discharge

Persistent fever or night sweats

Headaches

Anxiety

Gastric ulcer disease

Skin rash

Some people also experience nutritional deficiencies before a diagnosis, such as niacin and protein deficiency. Others develop this symptom later.

If a neuroendocrine tumor is diagnosed, relieving symptoms remains an important part of your medical care and treatment.
Doctors use many tests to find or diagnose, a tumor. They also do tests to learn if the tumor is cancerous and if so, if it has spread to another part of the body from where it started.
For most types of tumors, a biopsy is the only sure way for the doctor to know whether an area of the body has cancer. In a biopsy, the doctor takes a small sample of tissue for testing in a laboratory.
This list given below describes options for diagnosing this type of tumor.
The type of tumor suspected

Your signs and symptoms

Your age and medical condition

The results of earlier medical tests
In addition to a physical examination, the following tests may be used to diagnose a neuroendocrine tumor:
Blood/urine tests.-

Urine tests check for increased levels of adrenaline in the body. Large amounts of adrenaline can be a sign of pheochromocytoma.

X-ray.

Computed tomography (CT or CAT) scan.
Magnetic resonance imaging (MRI).

Biopsy-

A biopsy is the removal of a small amount of tissue for examination under a microscope.

Molecular testing of the tumor.

Positron emission tomography (PET) or PET-CT scan
Living a Healthy lifestyle has become of utmost importance. Early detection of such diseases could save you from later complications and from harmful chemos and painful treatments. Till then, we can only pray and bestow our blessings on Irfaan Khan. We hope he returns in the pink of health and gets back to action very soon.
#smblogcontest