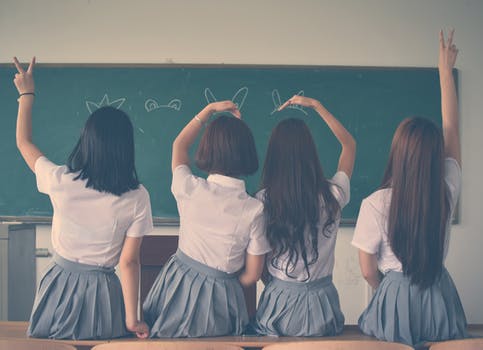 While splashing water on my face at my office washroom, I was appreciating work of one of the housekeeping staff who was busy cleaning adjacent wash basin. Immediately she turned around looking at me and started crying. I had realized that my words had hurt her in some way. After comforting her, I understood that she was upset with her family who forcefully married her off at age of nineteen. While her brothers who were pursuing their engineering courses, she also had a dream to complete her education and find a good job.
The apparent reason for her parents to marry her off early and discontinue her education was of course the society pressure, the perception that husband's family after marriage may not allow her to do the paid work. So investing money in girl's education is waste of money! The Indian society has always been marriage-centric society. Still for a majority of population, there is nothing like career, travel, reading and other interests that add to one life's experiences.
I detest the mindset of people who link education to paid or non-paid work. I agree that educated women does increase earning potential of the family, but to do a paid work or remain a house wife is a woman's personal choice and should be respected by all means. Apart from supporting family financially, there are other enormous benefits that educated women bring to her family. Educated women can be a better human being, successful mother and a responsible citizen. She is able to take charge of their future, better equipped to take care of their children, less likely to be victim of domestic and sexual violence. Educating women creates ripple effect of benefits that can last long for generations to come.
It is also common to see that parents especially in urban areas often send their male child to better schools than females. Also the dropout rate for the enrolled girls is very high. Can menstruation be a hurdle to a girl's education? It is very disturbing to know that many girls in village drop out of school altogether when they begin menstruating. The dropout is majorly due to lack of or unaffordable basic hygiene facilities. How do we plan to empower women in India where we are yet to deal with basic necessities of life? Very few people are aware and serious about this issue, since for a majority menstruation is surrounded by taboos and myths which are eventually hurdles to education as well as socio-economic life. We need to imbibe a strategic approach and mobilize social support to resolve these issues.
In a shameful incident last year, a woman from Mumbai who was unable to bear cost of her son's treatment strangled her six-year-old son to death. Poverty is mother of all crimes. Had it been if this woman was educated she would have thought of better ways to deal with the financial crisis. Many women struggle in many walks of life post-divorce/spouse death. Educated women here can choose to be independent and deal the future maturely rather than depending on alimony or any sort of compensations.
Women must not be left uneducated; they are not solely on earth for productive and reproductive work. Sick minds who consider women scum of the earth should be counseled and educated to give better way of living to women. It is time to engage entire populace to initiate a change in mindset and bring change to the society for a better life tomorrow.