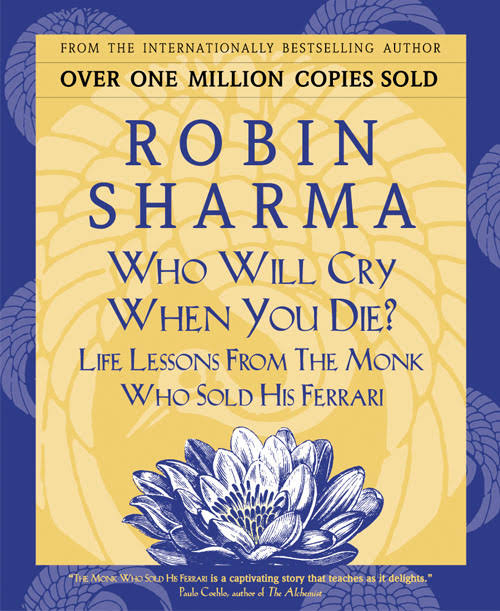 My Rating : 3 / 5
I am a not very usual reader of self-help books but I read them time to time. The last self-help book which I read was "You can win" by Shiv Khera in 2009. After that, I did not get chance to read them. Robin Sharma's Who Will Cry, When you Die might be one of few self-help books which I have selected for myself. I haven't got chance to read Robin Sharma best-selling book "The monk who sold Ferrari" but luckily one of my roommate having this book.
Confession: I haven't bought that book but took it on loan from my friend. Might be I will steal from him because that book is simply Awesome.
Robin Sharma has written many books on the subject of leadership, self-help, professional guidance, and spirituality. he himself claimed the constant student of philosophy and mentioned that he has amide interest of changing the lives of millions.
Irrespective of his attractive writings, he runs the seminars, performs personal classes for high table peoples around the world through his company.
This book contains many heart touching topics related to Life, discipline, and leadership. This book is mostly a call for people who don't want to regrate in their life. I would like to discuss the personal lesson which I vow to follow after reading this book.
Write a journal for yourself.
It might seem like a crazy idea but I think everyone must try this once in their life. I used to write personal diaries from 2005 to end of 2009. But after being in Job and same monotonous life sucked up my passion for reading, writing and learning for few years. I took the vow to relive my habit of reading in 2014 and that year I have completed 50 books and almost reading more than 12000+ pages. In the year 2016, I also promise to my self that I will start writing and I am doing it from 2016 to till now through this blog.
Now I feel that, while these two habits change my life tremendously, this book remind me about my third habit for writing journals for myself. I am a great fan of fountain pens and paper white crispy dairies. I have good fountain pen but next week I am going to buy a diary for talking to myself.
Learning Tough love
This is might be the most difficult thing to do. But I am going to learn tough love with my life. I am not allowing my laziness to fill my days with excuses and crying about things cant be change. I am going to stick with myself (Mind and Body). I remember that one of my European friends told me that
Indians are great people with lot's of potential but they lack consistency and discipline.
I agree with my European friend. Indians even after having so much energy, fail to channelize that power because we believe that breaking the rule is normal. We (as an Indian) don't believe in the firm and steady lifestyle while we believe that things get settle down eventually. That's where we are weak and we lack focus.
I personally need to reinstate that focus in my life. It can be started with minor but permanent changes. Like I have started to wake up 6:00 AM anyhow. I vow to get into bed around 11:00PM. I have told myself that I will read minimum one hours daily. Eat almonds for my health.
Having a book all the time with me
This is one of the ideas which I like most. I mean how many of us notice that we waste our time by sleeping, chatting and gossiping during the day. How many of us waste their hundred hours by standing at lines, watching TV's shows rather than having a book which can give us million dollar ideas like this one did to me.
I am not saying that everyone must have the book and read it unconsciously. But I am saying that use the time which is being wasted in your life.
My Mantra is simple: Life is short, Read !!