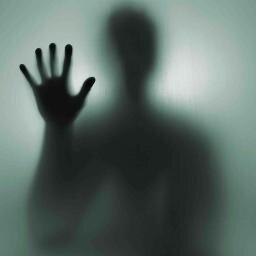 Looking For Me?
I woke up to hear something broke in the other room, wondering what it could be. From years I have been living alone in this small flat of Bandra east, Mumbai. Hearing some footsteps, I stood where I was. Staring to my computer screen I saw his shadows but I dare not turn back. Soon it was dead silence in the room and my breaths were scaring me. Not moving just being still it seemed tough to ignore the people running in my own house, making me feel like a hostage.
Sweat was the only movement in my body. And then suddenly everything came to silence. Utter silence. I collected my courage and walked up to the main door. Trying hard to ignore the spooky feeling, I saw that I had left the main locks open. With shivering hands as I locked every lock. I felt myself loosing. I felt my world turning upside down.
"YOU LEFT ONE." Breathed the darkness on my neck.
Taking away all the courage I had collected, I stood still again. Clock ticked after every hour. I heard nothing any more but, my house was not mine anymore. I wanted to scream, run and just get vanished but the only thing vanishing around me was someone I never wished to encounter.
All at once, there was a loud, insistent banging on the front door. I screamed. I peeked out a side window, very stealthily. I was really confused not knowing what was happening, No one is there.
Then EVERY goddamn door in the house was banging — relentlessly. I can still hear it. Rhythmic and terrifying, like all the doors are about to splinter and crack. There were two doors in the basement beneath me, so the sound was also a reverberation at my feet. The three ground-floor doors were shaking — I could see them trembling and jerking on their hinges from the very point I was standing. I clearly heard people running in my house. It was either the voice of doors banging or the people running. I wanted to just get away from that place but deep down I knew my little movement can ask for a big pay back. Every second seemed like an hour and all I wished was that night to get over and me to be alive. But this night came back with the winds breaking the silence. I felt chills down my spine. I looked around no voice, no shadows I guessed the bad dream was over finally. I looked out of my window the stars were gone, the chills were back the wind was slow but colder than ever. Every scary movie ever was becoming a reality. My mind was blank. Suddenly it all stopped which gave me another fear as for what now? I stood there for like ever. It was still dark I had no clue of the time. I turned around saw my watch night was left, a long long night was still there. Doors were not mine, locks were not mine this whole place where I lived was not mine. It was silent as nothing happened. Doors were still. Windows open but still.
Consciously I saw all around trying to hear every voice. Slowly moving my hands-on window glass, trying to lock it back. Hoping locking it will keep something away from me. And I froze as it held me tight and the darkness whispered- "looking for me?"