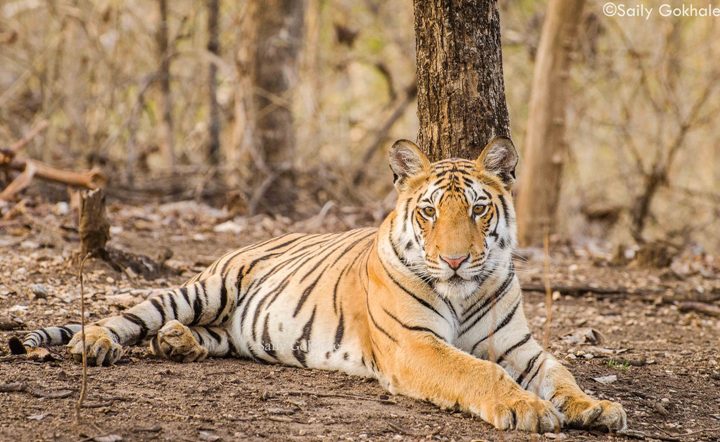 Situated on the prominent National Highway 7 (NH7), Pench National Park reigns in the Chhindwara and Seoni districts of Madhya Pradesh, India. The wildlife destination is a simple train ride and a short drive away from Mumbai. The nearest airport is Dr. Babasaheb Ambedkar International Airport, Nagpur. The safari area is reachable from Pauni by way of two main entry gates –Karmajhiri and Turiya. With relaxing stay hotels and cottages located close to the safari gate, Pench Tiger Reserve makes a brilliant choice for a family vacation. It is the perfect choice for a long holiday trip from Mumbai.
The dense forests are a part of Pench in MP and were acknowledged as a national park in 1983 and a tiger reserve in 1993. You just have to gaze boundlessly at the Wainganga river, the Seoni Hills and wheeze in amazement at the scenic gorge where Mowgli killed Sher Khan - the main villain tiger of Jungle Book - to agree in amazement at the blend of reality and fiction.
The best time to visit the Pench Tiger Reserve is between the months of November and May. The summer months of April and May are when the sightings of tiger and other wildlife are supreme. Generally, the safari timings are in batches- from 6 am to 10.30 am and 3 pm to 6 pm. You require booking your safari online and the entire process is pretty well-organized.
Pench National Park is principally known for the famous 'Royal Bengal Tiger'. As per the newest Tiger Census, there are roughly 40 tigers sheltered in the park. It is also a refuge to an interesting 39 species of mammals, 13 species of reptiles, and 3 species of amphibians. You will be privileged enough to spot a majority of chital, sambar, nilgai, wild pig, gaur and jackals here. If you are lucky, you may also see Indian leopard, sloth bear, and the striped hyena.
Excellent habitations to observe how-guides and forest guards answer back to animal calls
One of the important things to see during your Pench Safari is how the wildlife guides and the jeep driver answer back to forest calls with the purpose of deciding which way to head in for supreme chances of spotting the tiger. From bird noises to monkey calls, the forest guides pay close attention to everything that goes on in the jungle and also impart some useful knowledge during your safari.
Pench National Park encompasses of 758 sq km land area, out of which 299 sq km forms the core area and Pench Sanctuary. The residual 464 sq km forms the buffer zone. With more than 40 tigers and adequate water bodies for them to visit during the summer heat, the number of tiger findings is quite high at Pench National Park. If you book around 2-3 wildlife safaris during your weekend stay at Pench, you can be assured that you will spot the tiger at least once.