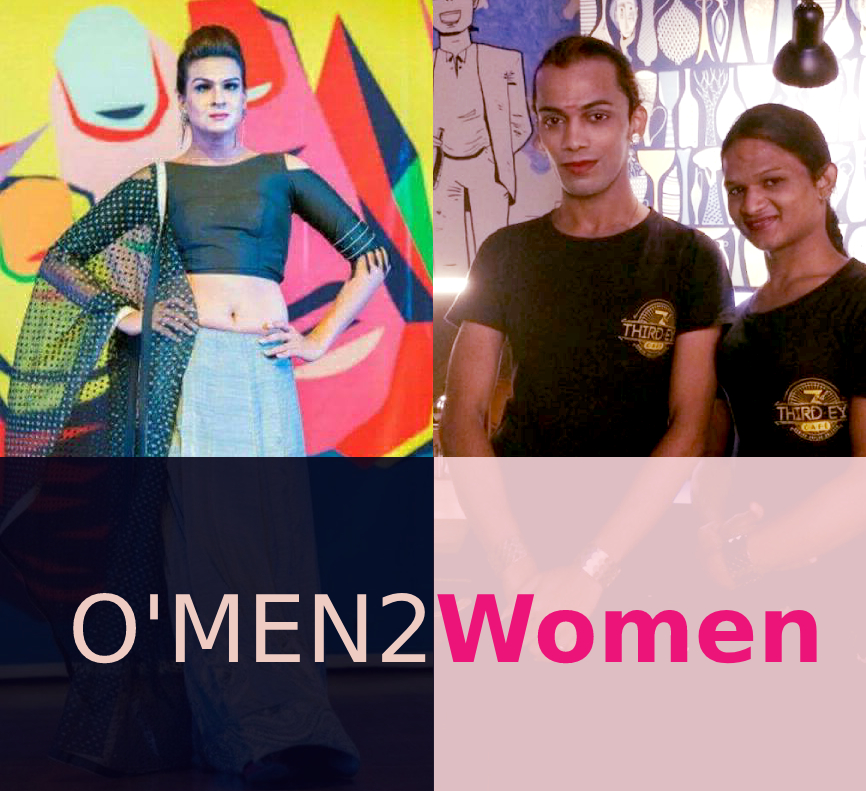 O' MEN2Women
Story of those who mostly remain uncounted. According to Conron, now a research scientist at the Fenway Institute, a research centre specialising in LGBT health, says going uncounted means being overlooked, "and if you're overlooked, you're at greater risk of being undeserved."
Trans genders keep their identity as severely guarded secrets. They hardly bring it in open among anyone except the therapists.
People whose gender identity and gender expression(behaviour) differs from their sex, are not even treated amongst the binary. At times not even humans!
There is a reason why these people conceal their identity, they resist from accepting the transgender label, because we don't accept them one amongst us. It's we who differentiate.
This is a story about Mahi Mahim.
From Mumbai. She comes from a middle class family where fulfilling basic amenities is a challenge in everyday lives. Her family consists of her parents and a little sister.
From childhood he was brought up as a boy named Mahesh. During his early years, he didn't know much about his body. What was happening? Though he liked to be around girls, his classmates kept absurd names to tease him.
They were curious to know that why Mahesh was around girls all the time, his body language, his way of talking was more like that of a girl.
A feeling that grew in him was if he played with others why was he counted different. Everybody used to play, enjoy, have fun, but he was always neglected. Later in class 5th or 6th, he understood that he was different from others.
Later in his classes internet was accessible, so he tried to search on the internet, then got to know some changes taking place inside him.
Not just the students but the teachers were also were least supportive. If he went to ask for some query,
their reply was shocking
"What do you have to do in life with studying, you have to stand on the streets and beg. That's all."
Can you imagine a teacher saying that to his students.
Being fed up of the people surrounding him, making his life a living hell. He tried to find people alike him. And came across an NGO when he was in 6th standard. Their Guruji then brought him up, took good care of him. Gave him a new birth and a new name Mahi.
Her parents haven't accepted Mahi till date. They asked Mahi to behave like a boy else they won't take her in. Therefore, she left house in 2006. Later she tried to contact them but her calls went unanswered. Her little sister never spoke to her.
She stayed in Pune for 2 years. Earned her bread and butter by begging at the traffic signals.
Guruji, then called her to Bombay as she studied till 10th, and in NGO they required an outreach worker. She worked there for 1.5 years. Later, Guruji told about third eye café. Now it has been 7 months since she is working here as a waiter. Staff here is so supportive, they directly call her by her name, treat her as a friend, as a human being. She really feels like home being a part of this cafe. People here know her by her work.
She aspires to learn hotel management and wants to study further.
But nothing has happened as of now, as there is no support. Neither emotional nor physical.
"tension mat lena mein hu, aisa bolne wala koi nahi tha"
Even then she didn't lose hope, if not hotel manager but at least she is working her as a waiter, serving food to people, earning her livelihood. She is standing on her feet, taking a stand, some hope is still there, that she might be able to approach what she has aimed for.
She even recommended Deepa, her friend to join this cafe!
Story of Deepa
She used to go to school and even enjoyed it. Slowly she realized she was different than others, she sulked into tension, that what should she do next? Whom should she ask for advice. Who would help her? After that even she went to Guruji to seek help.
When she returned, parents were not ready to take her inside the home. They disowned their own kid.
Later, they realized, that Deepa was nowhere at fault and wanted to accept her, but her brother never allowed her to be a part of the family.
She decided to take the higher road, and told them if they didn't want her, she would simply go and stay with her Guruji. At the age of 14 she took such a big decision.
Her parents sometime come to visit her, but her brother is not even willing to see her face ever in his life. She tried to explain it to her brother but he was adamant, not to accept her.
Mahi recommended her to work for herself and join Third Eye Cafe. Since then Mahi is her best friend and they stay together. She has been working here as a waiter since 2 months now.
Story of Banshika
Initially known as Debashish Sahoo. Everything was normal until class 6th, when few changes he observed.
There is one incident that was really painful in the childhood. On a normal school day, some boys and girls surrounded him and inquired why was he behaving different. Being a boy he behaved like girls. He did not have a manly body language and gestures. They asked him to take of hi pants and reveal whether he was a boy or a girl.
This incident made him cry. Everyone was sitting there, making fun of him, laughing. He was not courageous enough to explain the incident to his parents or teachers. He beared it all by himself.
Later, there was roll call taking place in the class, his name was called out. He responded. It was not a masculine voice. The teacher asked, which girl answered at the roll call. The entire class started laughing again.
It didn't end then.
Once he uploaded a picture, on Facebook, posing as a girl and one of her college mates downloaded the picture and showed it to his parents. The entire family was shocked. His parents hit her damn hard that it is still impossible to forget that incident even today.
Gradually, he understood that he is neither a boy nor a girl!
Now, the scenario is different. Now he has changed his name from Devashish Sahoo to Banshika Sahoo. She completed her graduation in economics. Also, her parents understood slowly. Now they support her and she is very proud to have them.
She is also planning for complete body transformation soon. And aspires to be a successful model.
Here is a message that Banshika wants the Society to know:
"Be it doctors or parents, please listen to what the child is trying to say. Hiding their identity is not a solution. They do not deserve any torture in the house. They have the right to speak their hearts out."