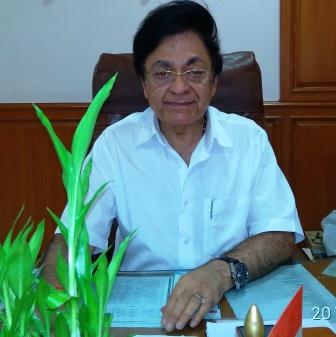 Conversation with Dr. R. N. Kalra
Dr. R. N. Kalra is a well-known cardiologist with experience of more than 30 years. He has credit to start first cath-Lab for Interventional Cardiology in West Delhi in 1999. Dr. Kalra is medical director & CEO of R&D of Kalra Hospital SRCNC Pvt. Ltd. He has treated more than 1.5 lac patients through free camps in 25 years. Dr. R.N. Kalra, an astute medical profession, began his journey as a cardiologist in 1976. Prior to commencing his independent journey as cardiologist in 1981, he served in many hospitals in Delhi including Govind Ballabh Pant Hospital, New Delhi, India. He believes in all religions equally and made special temples in hospital premises where religious activity happens every day. He has contributed in Army widow's relief fund and in Prime Minister's National Relief Fund during Kargil War. He has been conducting free medical camps at various places. He is doing special services to physically disable & handicapped personals. He got his M.B.B.S. degree from Medical College, Rohtak in 1967 and MD (Medicine) from Delhi University in 1978. He got coveted Fellowship of the Royal College of Physicians of London (FRCP) from Glasgow, United Kingdom in 2006. He got the Fellow of the American College of Cardiology (FACC) from Chicago (USA) in 2012.
Dr. R. N. Kalra inquring about condition of a patient
How and when did you start Kalra Hospital?
Since 1981, I am practicing as a cardiologist. In 1990, this hospital was opened in Kirti Nagar, at that time it was a 25-bed hospital, which has gradually increased to 150-bed hospital where treatment of all types of diseases is available. There are all types of surgical and cardiac care facilities available such as Open heart surgery, angiography and angioplasty. In 1991, the then Vice President of India inaugurated the Cath Lab. At that time it was the only hospital in South Western Delhi where Cath Lab started. I have successfully performed more than 11 thousand angiography and more than 5 thousand angioplasty procedures. In addition to cardiology, there are all facilities for sophisticated surgery available in our hospital including Gynecology, orthopedics, ophthalmology, urology, neuro surgery etc.
What are the initiatives taken by your hospital to provide medical facilities to the general public, especially to the poor?
Our Hospital regularly organizes free medical checkup camps in Delhi and NCR, through which we have already treated more than 1.5 lakh patients. In these camps, we treat patients completely free of charge as far as possible. Our relationship with patients who come for free advice in camps is not restricted to the camp only, but later patients who come to our hospital for next treatment, we also offer free treatment at the hospital. Apart from this, we get organize free OPD in the hospital from 9 am to 10 pm. Those who cannot afford the full cost of treatment, we treat them at a much discounted rate or totally free. For organizing medical camps, many organisations, RWAs, temples or gurdwara management contact us. Apart from this, we also contact the Gurudwara management, RWA sand other institutions for organizing free medical camps.
What is your hospital taking up in the field of tertiary care?
Patients first go to a nearby doctor or to a nearby hospital for initial treatment. If there is no proper treatment then the patients come to us or go to another super-speciality hospital. Many patients come here for critical care, who cannot be treated properly at other places. For very critical patients, we have all the facilities, techniques and doctors available for their treatment. We have the latest technologies and machines. But there is no limit to medical science. Today medical technologies are developing fast and new machines are being developed every day. There is a lot of funding required to install these new machines. Although we have a lot of modern techniques and machines available, as well as we are trying to buy new machines too. We do not have some very advanced machines in Heart Care, but I want to install them in my hospital, so that we can serve people better and patients do not have to go out of here.
There is a lack of better medical facilities in the villages. What is your suggestion for providing medical facilities in the villages?
Good doctors in the village do not want to go in villages because there is a lack of proper hospitals and medical centers where they can properly treat the patients and make full use of their medical qualifications and skills. The primary health care centers (PHCs), which are also in poor condition, do not have basic amenities. The government should take initiative to open big surgical centers and medical centers in our villages. If the government cannot open such a center itself, then the private sector should be motivated to come forward in this direction and they should provide the necessary facilities and concessions so that they can open large medical institutions or hospitals in the villages or remote areas. The government can promote the public private partnership (PPP) model. If the government gives facility to buy equipment at low interest then we are also ready to move forward in this direction.
What difference you see in the field of medicine compared to earlier?
Compared to earlier, today there are many differences. Earlier the patients used to trust the doctors. They considered the doctor as God. Earlier, when we gave suggestions to the patients, they follow these suggestions with heart. Earlier we did not tell the patient about his disease and he used to follow whatever suggestions he had given. At that time the patient generally did not ask any question. Today it is true that awareness has increased and it is a good thing but today the patients have lost faith on the doctors. Today many people used get information about any illness on the Internet and start treating them on the basis of right or wrong information available on Internet. They start arguing with the doctors. A doctor has worked hard for years; he has years of experience, while someone who get information on the Internet starts to understand himself as a doctor. Medicine is a very broad subject. We spoiled our sleep for years, compromised our social and family life so that we could gain the knowledge, medical skills and experience of medicine. It cannot be achieved by reading on the Internet.
Today a lot of doctors are going abroad. What is the reason for this? It is not here that those who go abroad for higher education go there and they start practising medicine at the same place. Why does this happen?
Those who can afford the expenses send their children abroad and their children start their jobs abroad. Apart from this, children who go out of our country and they do not return from abroad, because in those countries, they get comfort and respect for their work. He you may work hard but you cannot get respect and love. But it developed countries; if you work honestly then you will have not to face any problem or tension. While in India, you do not have any respect for working honestly. Here there is more tension. Every day, I prayer every day that today's goes well.
How do you communicate with people about the services available here?
According to law, a doctor can not advertise for himself, but a "Neem Hakeem" can advertise for himself. We cannot promote the facilities and expertise we have. Our patients are our campaigners and our ambassadors. If we provide better medical facilities to patients and patients are satisfied and happy with our service then our publicity is automatically done. We organise free medical camps to reach other patients and conduct free OPDs in our hospital.
What are your suggestions for getting better medical facilities in low cost in private hospitals?
The cost of treatment can be reduced in private hospitals, provided that the government also took steps in this direction. If we are less taxed, machines may be purchased on lesser interest or we get financial help from the government to buy machines, we get electricity on concessional rates, then the cost of medical treatment can be reduced in private hospitals. We cannot compromise with quality care. We are not worried about earning but we cannot offer low quality medical care to patients. We cannot reduce the quality of medical service to reduce our expenses. This will not only play with the lives of patients, but it will also be morally wrong too.
Dr. R. N. Kalra in writing mood
How did you become a doctor? Did you want to become a doctor?
We have compromised our family and social life for our patients. Happiness of the patient comes first. Most of my time gets out with patients only. I wanted to be an engineer. My father had a leather business. When I was studying in 11th then I had a lot of love for mathematics. But my father said that you will have to go to medical college. At that time I could not refuse my father. My father thought that after medical studies, I managed to handle his work. When I completed two years of medical studies, my father said that you should come to handle his business. I said that now I have decided that I will become a doctor and I will continue my medical studies. My father accepted it and I completed medical education and training and I became a doctor.
When you get the most satisfaction and happiness as a doctor?
As a doctor I do not care about money. I do not see how much money came from the patient or not. My concern is that is the patients receiving proper treatment or not is they are benefiting from my treatment or not. This should be the goal of all physicians. If my patient gets cured then I think that my duty as a doctor has been completed. The satisfaction that I get for the patients recovery is the biggest reward for me.